nouseforaname
Member since Nov 29, 2006

O+
Male
Coldstream , British Columbia
Block user
Recent

Aug 27, 2023 at 10:35
Aug 27, 2023

Selling
Aug 27, 2023 at 10:30
Aug 27, 2023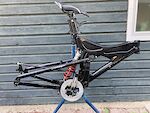 $600 CAD
Frame, cranks, chainguide, BB and Hadley/Foes rear hub. Seat and post too if you want. $600CAD plus shipping. Raceface ISIS North Shore crank and Raceface BB. Curnutt rear shock should be rebuilt - Risse Racing can do this for $175. Correct Hadley made Foes branded rear hub. Scuffs and wear from use but it had a lot of tape and inner tube wrapped on wear areas. Pm for more pics. My rural Facebook connection is painful for uploading pics. Priced in Canadian Dollarinos.

Aug 16, 2023 at 11:56
Aug 16, 2023

Aug 16, 2023 at 11:13
Aug 16, 2023

Aug 8, 2023 at 17:03
Aug 8, 2023

Selling
Mar 8, 2023 at 8:07
Mar 8, 2023

Jun 26, 2022 at 20:08
Jun 26, 2022

Selling
Jun 26, 2022 at 20:03
Jun 26, 2022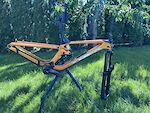 $3700 CAD
No shipping to the US. Payment by EMT (Interqc transfer). I dont do paypal. Look at the amount of stuff I've sold on here and deal with confidence. Trek Slash 9.8 m/l frame set. Zeb Select plus. Sram cranks. Dropper post and lever included. As shown in the photos. Used perhaps 4 times, I just dont have time for riding. Frame is immaculate, fork has a couple of scuffs, just the decal really. I've taken pictures of everything I could find. Cable is run for the rear der. Local pickup is free shipping will probably be close to $100. Located outside Vernon.

May 5, 2022 at 12:20
May 5, 2022
Load more...