nowthatsdoomage
Member since Jun 6, 2021

O+
Pittsburgh , Pennsylvania
Block user
Recent

Selling
Mar 17, 2023 at 7:58
3 days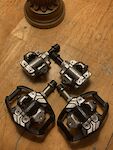 $70 USD
1 set of XT caged M8020s, ridden twice, and 1 set of 15 year old M540s that still work perfectly. The bearings and springs are all great, my knees just need a lot more float. Also have 2 sets of SH-56 (easy release) cleats I can throw in. If you're interested and have a set of Times or metal Deity/ANVL/Chromag/Kona flats you aren't using, lmk if you'd like to trade.

Mar 11, 2023 at 12:43
Mar 11, 2023

Mar 10, 2023 at 15:11
Mar 10, 2023

Selling
Mar 10, 2023 at 6:19
Mar 10, 2023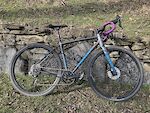 $1000 USD
This is the same frame and similar specs as Niner's 2023 2-star build. It's in great shape - my asthma is making it really hard to ride drop bars so I can't enjoy it. It's got a Shimano 105 11-speed drivetrain and hydraulic brakes. Notable bits: - Hunt 4 Season wheelset, set up tubeless - Oval 42t Wolf Tooth chainring paired with short 165mm GRX cranks - Carbon seatpost - Wheels Manufacturing thread-together bottom bracket for easy maintenance All of the wear parts you'd expect to replace on a used bike - chain, tires, brake pads, and handlebar tape - are all only around 100 miles of use. The shifting is dialed in and the brakes are freshly bled, it's ready to head out on an adventure.

Mar 8, 2023 at 11:13
Mar 8, 2023
How to Not Feel Stupid Walking Into a Bike Shop
@mariomtblt: Have you checked in on your hanger and your mates bikes hangers? I've wondered if they get a little bent over time like rims do and we just get used to slightly worse shifting.

Mar 8, 2023 at 10:36
Mar 8, 2023
How to Not Feel Stupid Walking Into a Bike Shop
One time I rolled in to buy brake pads and the guy yelled to everyone else not to sell me them. He said since my pads were contaminated I'd need to throw away the rotors and leave the bike for a couple weeks so he can take the calipers apart and rebuild them.

Selling
Mar 7, 2023 at 11:42
Mar 7, 2023
Load more...