pskelley
Member since Oct 18, 2009

Male / 36
Plymouth , United Kingdom
Block user
Recent

Apr 6, 2021 at 0:12
Apr 6, 2021

Selling
Apr 6, 2021 at 0:09
Apr 6, 2021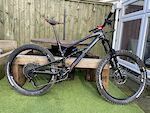 $3400 GBP
Here for sale is my 2020 Nukeproof Mega 275 Carbon Pro in size Medium/Long. Bought new at the end of the summer last year, been used at most once a week since then but has also been well looked after, cleaned and lubed after every ride. Travel is 170mm front and 165mm rear. I have added Nukeproof Horizon Carbon bars (£100) which are still full 800mm width so could be cut to preferred width by the new owner, Nukeproof horizon enduro seat (£70), Funn 35mm stem(£60), Note that the pedals are not included. Bike rides great, one of the most planted and quiet bikes I've ever ridden and would make someone an epic race bike or be perfect for chasing those Strava KOMs. Any questions at all please ask. Price is £3400 but i will consider sensible offers, rrp was £4299. May be able to deliver depending on location as I do travel all over the UK for work, I am located in Devon.

May 6, 2016 at 0:40
May 6, 2016
Ask PB - Single Chainring with a No-Clutch Rear Derailleur and Hand Pain On Long Descents
In one of Guy Martins books he talks about how he used to get arm pump but now does a strange exercise before he races and doesn't get it at all any more. He has a short piece of broom handle about shoulder width long which has a piece of string tied round the middle, tied to the other end of the string is a house brick, you hold the ends of the broom handle with your arms held out in front of you then rotate the handle in your hands to wind the string up, when the brick reaches the handle you rotate the handle in the opposite direction to lower the brick back down to the ground. I think he says he does this about 10 times before each race and never has an issue. Hopefully that makes some sense to someone :-)

Oct 12, 2015 at 6:22
Oct 12, 2015

Jul 5, 2014 at 9:30
Jul 5, 2014

Selling
Jul 5, 2014 at 9:27
Jul 5, 2014

Jan 27, 2014 at 13:43
Jan 27, 2014

Jan 14, 2014 at 11:17
Jan 14, 2014

Selling
Jan 14, 2014 at 11:15
Jan 14, 2014

Dec 10, 2013 at 13:00
Dec 10, 2013
Load more...