rawks92
Member since Nov 8, 2014

Male / 31
Blackpool , United Kingdom
Qualified in : IDP lvl 2 CTC lvl 1 Learnt to coach in Whistler
Block user
Recent

Selling
Aug 6, 2023 at 13:58
Aug 6, 2023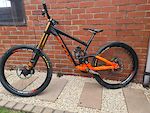 $1400 GBP
Scott Gambler 710 for sale. I don't ride enough bike park to warrant this sitting around anymore. Looking to condense the fleet from my ebike and a downhill to just the one steed. As you can see from the pictures- the bike has a dent in the frame on the right hand side. The lovely chap whom I swapped bikes with, didn't mention this and I didn't spot it either. Once noticed, I took it in to work to have it NDT'd (nondestructive tested) The results of the test were very positive in that no hairline fractures are visible meaning it is purely a cosmetic dent. Since then, the bike has been ridden numerous times without fault. This is still, however, reflected in the price. The dent looks like it was from a crash where the stanchions have gone into the frame. Both stanchions replaced due to an internal scratch found during a service. All frame bearings replaced too. The bike has only been ridden once since the latest service. Fox 40s, DHX2, Saint brakes and drivetrain, Renthal fatbars.

Selling
Aug 6, 2023 at 13:55
Aug 6, 2023

May 2, 2023 at 9:43
May 2, 2023

Apr 30, 2023 at 8:57
Apr 30, 2023

Selling
Apr 30, 2023 at 8:53
Apr 30, 2023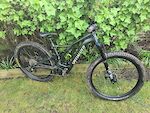 $3900 GBP
Due to an impending addition to the family, I have to make an adult decision to rid the Ebike :) I am the one and only owner and it was taken to shackwrap in the box so the frame is immaculate. I have marked the bottom of the fork, which was done on my first ever ride sadly - see the pictures, it's purely cosmetic. The bike has only has done 578km ( 360 mile ) I'm a bit of a sad bastard but I even kept the battery inside during winter as I read that the cold can cause depletion. Frame:Specialized M5 Premium alloy, 150mm travel (143mm measured) Shock:Fox Float DPS Performance Fork:Fox Float 36 Rhythm Grip, 160mm travel Motor:Specialized 2.1 Battery:Specialized 700Wh Display:Specialized TCU Wheels:Shimano MT400/510 110/148mm hubs, Roval 29 rims, Butcher/Eliminator Grid 29 x 2.6/2.3in tyres Drivetrain:Praxis 36t, 165mm chainset, Shimano SLX r-mech and 12sp shifter Brakes:Shimano SLX four-piston, 200/180mm rotors Components:Specialized alloy 800mm bar, Alloy Trail 50mm stem, X-Fusion Manic 150mm post, Bridge Comp saddle Sizes: L Weight:22.05kg (48.61lb) Contact:specialized.com Size tested:L Head angle:64.8° Seat angle actual:67.8° Seat angle effective:73.5° BB height:345mm Chainstay:455mm Front centre:784mm Wheelbase:1,239mm Down tube:729mm Top tube:621mm Reach: 446mm It does need a hard update which I believe is completely free at any specialized dealer. No mods have been done at all.

Dec 20, 2020 at 9:56
Dec 20, 2020

Dec 20, 2020 at 9:55
Dec 20, 2020

Nov 11, 2020 at 6:36
Nov 11, 2020

Oct 31, 2020 at 1:51
Oct 31, 2020

Selling
Oct 30, 2020 at 16:27
Oct 30, 2020
Load more...
Featured
Photo by rawks92