rclugnut
Member since Apr 12, 2012

Online
Male / 27
Waterbury , Vermont
Really need to ride more
Block user
Recent

May 25, 2020 at 17:13
2 days

May 19, 2020 at 15:11
May 19, 2020

Selling
May 15, 2020 at 15:30
May 15, 2020
$50 USD
This shock served me for a season and half on my banshee prime. size is 200mm x 57mm. The tune is L/L. I did end up 3d printing some volume spacers for it to give it more ramp up I can include if you are interested. Unfortunately the stanchion got pretty beat up when my dad borrowed the bike and careless loaded it onto his rack. I put a few rides on it afterwards and the burrs did buff out pretty well but I would consider filling them in properly and changing the main air seals. Rebound and compression adjustments work great. I trust the price will reflect this damage and condition. I couldn't feel a change in sensitivity or anything even with the scratches and there was no change in pressure, this could round out a cheaper build nicely.

Selling
May 15, 2020 at 15:19
May 15, 2020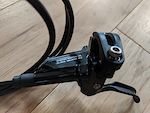 $100 USD
Pulled these off of a new (old stock) bike I bought this spring. Have only been ridden around the parking lot. Would be willing to split up the set. They come with resin pads. Front hose 33" Rear hose 59" Let me know if you have any questions.

May 14, 2020 at 15:02
May 14, 2020

Back at perry
7.8 km - 00:42 - 3 achievements

May 12, 2020 at 8:51
May 12, 2020
Deity Announces Deftrap Nylon Pedal
There's a ton of nylon blends out there, these are typically reinforced with glass or carbon fiber for strength and impact resistance. The article isn't really correct I'm stating a nylon fiber. More of a fiber reinforced nylon. So once you choose the base resin you can mix in fibers in different %. What you'll see on a lot of tools is PA6GF30 which is nylon with 30% fiberglass blended in.
Load more...