richardkapp
Member since May 5, 2014

Male / 40
Manchester , United Kingdom
Love riding trails. And downhills and jumps
Block user
Recent

Oct 20, 2022 at 9:41
Oct 20, 2022

Selling
Jan 2, 2022 at 7:22
Jan 2, 2022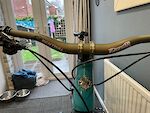 $2000 GBP
yeti SB6c mountain bike. Yeti sb6c Size large frame, 27.5" wheels Full carbon frame Renthal fat bar handle bars Upgraded carbon Envy rims on Chris King hubs. The wheels are worth more than the asking price! full XTR gears and brake set. Thompson Elite dropper post Fox 36 forks Fox rear suspension Every component are top off the range. . Everything works as it should. The bike is serviced by professional mechanics every time. The bike is used but still in really good condition and well looked after. This bike is a absolute beast of a bike. There is a reason why this bike is one of the best in the Ews. The Turq series bikes are manufactured from the highest grade carbon fiber designed to balance stiffness, durability, and compliance. Yeti says "the SB6 is uniquely suited for pounding out big enduro race days and taking on big terrain." The Yeti SB6 features 27.5" wheels, 6 inches (152mm) of rear wheel travel, and when paired with a 160mm travel front fork, this rig is capable of handling any terrain you throw at it Viewing welcome, any questions just text and I'll get back to you 07495919806 £2000

Dec 21, 2021 at 9:14
Dec 21, 2021

Dec 18, 2021 at 6:46
Dec 18, 2021

Selling
Dec 18, 2021 at 6:44
Dec 18, 2021

Oct 17, 2021 at 8:27
Oct 17, 2021

Selling
Oct 17, 2021 at 8:25
Oct 17, 2021
$2300 GBP
Cube Stereo Hpc Tm 140 Enduro Mtb. 27.5" wheels. This is a do it all machine of a bike. When you're pushing your personal limits as well as your equipment's, you need a bike that's up to the task. That's where the  Cube Stereo 140 HPC TM 27.5 comes in - an uncompromising mountain tamer that puts ultimate performance front and centre. Based around the Stereo 140's carbon and aluminium chassis, Cube have selected only the best components to make the most of its high tech design and build. Frame size 20" (large) -150mm fox factory 36 front suspension. -140mm fox float dpx2 back suspension. -Fox transfer seat post. -Upgraded handle bars to rental fatbar 35 800mm and grips to dmr,still got the original bars and grips. -I also upgraded the stem to hope. -Fabric seat, still got the original sdg seat if needed - Sram code r  brakes -Sram gx eagle gears The bottom bracket is upgraded to hope and changed the pedals to hope pedals. Both tyres are tubeless and are Maxxis minions with dd casings. All the bearings has been changed in recent service, the wheel bearings has been upgraded to enduro 5 by a professional bike mechanic. As you can see this bike is well looked after and there are loads of upgrades. The bike is still in really good condition. The bike is also been frame wrap from new. Please feel free to contact me with any questions. £2300 ono!

Oct 13, 2021 at 5:11
Oct 13, 2021

Dec 17, 2020 at 14:38
Dec 17, 2020

Oct 15, 2020 at 13:45
Oct 15, 2020
Load more...