rmxtreem
Member since Jan 7, 2007

Provo , Utah
Block user
Recent

Apr 7, 2022 at 11:13
Apr 7, 2022

Selling
Apr 7, 2022 at 11:12
Apr 7, 2022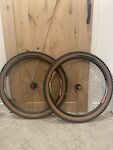 $1000 USD
I custom built these wheels for my Stumpjumper EVO. I rode them maybe 5 times. I sold the bike and kept the wheels for another build. Plans changed and I no longer need them. Here's the build: -DT Swiss XM481 32 hole rims -R hub: Onyx Vesper 148x12mm ISO Hub, XD driver -F hub: Onyx vesper 32 hole, 15x110mm -Dt Swiss 2.0mm spokes w/alloy nipples -Tires: Specialized Eliminator/Butcher 29x2.6 The orange widgets can be changed out for what ever color Onyx offers. That will run you about 90 bucks. The 4 orange nipples can be swapped out too, I have all the extra nipples, orange and black. I'm about $1400 into these wheels and tires.

Feb 13, 2022 at 20:03
Feb 13, 2022

Selling
Feb 13, 2022 at 20:03
Feb 13, 2022

Dec 11, 2021 at 8:06
Dec 11, 2021

Selling
Dec 11, 2021 at 8:04
Dec 11, 2021
$5250 USD
Condition: Used - Good, minimal wear I've had this bike for one year now. It sat all summer so I think I'll sell it. Just no time to ride at the moment. Upgraded from the stock Expert build is: Deity Skywire carbon bar Race Face Turbine R 35 50mm stem Cascade Link, 160mm rear travel The bike is in perfect condition. I've had a lot of Specialized bikes over the years and this bike is hands down the best and most versatile bike I've ever owned. Honestly never thought I would sell it. I have the factory rear link, water bladder and tool/tube pouch for the swat box. Please text or DM with questions Located in SLC area

Apr 29, 2021 at 7:38
Apr 29, 2021

Apr 19, 2021 at 6:53
Apr 19, 2021

Mar 21, 2021 at 10:02
Mar 21, 2021

Mar 7, 2021 at 21:28
Mar 7, 2021
Load more...