rowextreme
Member since Jul 23, 2006

Male / 29
Mississauga , Ontario
like to build and obviously bike.
Block user
Recent

Selling
Oct 11, 2016 at 17:30
Oct 11, 2016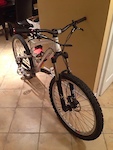 $1 CAD
Looking to trade my Transition Covert 160mm. I bought this bike and found that on the trails I ride, the full 160mm is overkill and 140mm would be better suited. I am looking to trade this bike for a 140mm travel bike. Alternatively, I would consider trading the frame, shock, and fork. Not interested in a hard tale. I can also throw in some cash if required. Not looking to ship, only a local meet up and trade. I live in Vaughan, but I can meet up anywhere in the GTA. Let me know what you have. Frame: Transition Covert Shock: Fox RP23 Fork: Rockshox lyrik 160mm Brakes: Avid Elixer Post: Rockshox reverb Cranks: Shimano Saint Shifter and derraileur: Sram X9 Rear wheel: Transition rev 32 Front wheel: syncros ds 32

Oct 11, 2016 at 17:16
Oct 11, 2016

Selling
May 18, 2016 at 17:34
May 18, 2016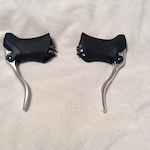 $15 CAD
Tektro road bike brake levers Used these on a fixed gear bike with bullhorn bars. I ended up selling the bike to a friend, but he opted to run a straight bar and had no need for these. Will fit regular drop bars as well. Very easy to install, just mount it, pull the hoods back, and insert the brake cable. They feel very solid and have a good amount of braking power. Weight - 272g/pair I visit Mississauga frequently, and could arrange a meet up there. Thanks for looking, Ryan

Selling
May 18, 2016 at 17:24
May 18, 2016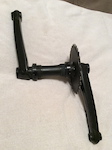 $15 CAD
Article 32 tooth crankset This came on my bike, but I switched cranksets because I wanted to run micro gearing. It was used for maybe 10 rides. It is a BMX style crankset that is meant to fit on mountain bike standard 68/73mm bikes. The bearings are smooth, and the cranks are in generally good shape. There are some spots where they got hit, I tried to show them in the pictures. The chainring can be swapped out for a lower tooth chainring very easily. The are heavy, but feel indestructible. I have a set of pedals I can include as well. Check out my other listings. Ryan

Selling
May 18, 2016 at 17:20
May 18, 2016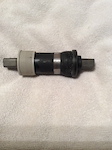 $5 CAD
Shimano UN26 square taper bottom bracket - $10 OBO I bought this as a spare for a crankset that I used to own. I changed to a crank the uses splined bbs now. I am cleaning out my shop of things I no longer need as I am moving. Does not come with crank bolts. I visit Mississauga/GTA frequently and could arrange a meet up there also. Check out my other listings. Ryan

Selling
May 18, 2016 at 17:16
May 18, 2016
$20 CAD
Shimano SM BB7900 Dura Ace BB This BB is not used. I installed it just to confirm I purchased the right size BB. I bought it as a spare, but I sold the crankset. BC1.37x24 Ryan

Apr 3, 2016 at 6:58
Apr 3, 2016

Selling
Apr 2, 2016 at 21:01
Apr 2, 2016

Selling
Mar 4, 2016 at 15:28
Mar 4, 2016

Selling
Feb 28, 2016 at 18:31
Feb 28, 2016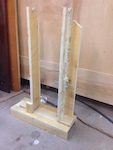 $1 CAD
Homemade truing stand for free Ad says its $1, but it is for free. pinkbike makes you put a price other than 0 in. I made this a while ago to true my wheels, but I bought a park tools truing stand and no longer need this. Used it for about 2 years, works very well for what it is. One upright slides in a dado groove to accommodate different hub sizes. A threaded bolt moves in and out to check rim for true. It slides in another dado to accommodate different rim sizes. Works for 26 or 29inch wheels. No need to take tire off. Hoping someone will have some use for it. No shipping, must pick up.
Load more...