russ23
Member since Apr 3, 2012

Male / 33
Waterloo , Quebec
Enjoy life on the mountains!
Shred it hard!
Share the love!
Block user
Recent
Aug 15, 2019 at 11:18
Aug 15, 2019
Video: Remy Metailler Urges You to Ditch Disposables
Thank you Remy to open the debate! Small things matters! We all have an impact on our environnement We all have the power to have a positive impact Its all start by small things like reuse, reduce, recycle Do your best to buy local. Bike industry (like many other industry) is based on consumerism and have a lot to do to improve their carbon footprint. Can we have one standard !?! Like it sucks I must throw my derailleur to garbage cause i cant find the little part broken from my 2 year old derailleur and non compatible with a new one... Hopefully, its greener to ride a bicycle than a motocross! Are you ready to change your habits for the future of next generation? So your kids or little kids can enjoy to do mountain bike too!? Did you try to reduce your meat consumption ? Did you know that every animal produce is link to deadly diseases? Did you know you will never miss of any nutrients going vegan? Im vegan since 4 years, just broke one of my toes during dh race. Never stop biking and working(I'm carpenter). Doctors was shocked how fast I recover. No sign of fracture after 1 month. Last year, broke my collarbone on a bad big crash. 6 weeks after back on enduro racing. Just saying every choice matter. And maybe plant diet will help you recover faster or live longer! Start small, go big, have fun on your bike guys!
Mar 12, 2018 at 19:24
Mar 12, 2018
Mar 12, 2018 at 19:14
Mar 12, 2018
Jan 26, 2018 at 14:14
Jan 26, 2018
Jan 26, 2018 at 13:44
Jan 26, 2018
Added 1 video
Jan 23, 2018 at 16:54
Jan 23, 2018
Selling
Sep 30, 2015 at 16:49
Sep 30, 2015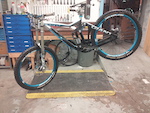 $2400 CAD
Selling my 2013 glory 0. This is a custom build bike. Bought in 2013 i build it parts by parts. Taking care of it and did major maintenance 2-3 times a year. Just completely change every bearings (pivot,bottom bracket and headset) New parts from 2015 Fork X Fusion RV1 HLR (medium spring) Bar Spank Spike 777 Bearclaw edition Wheelset Spank Spike race 28 Chainguide Sram X0 Crankset Shimano Zee Saddle Chromag moon DT Grip Renthal Tyres Brand new Schwalbe Magic Mary super gravity From 2014 Brakes Avid Code Derailleur and shifter Sram X9 Shock Rockshox Vivid Air Fork and shox have been sent to S4 suspension for maintenance 2 times a year. Last maintenance have been made in october. Bike is stored since. The goods... As you can see I've put over 2000$ in new parts and maintenance just in 2015. Everythings working perfectly. Xfusion feel so great. Tyres are Brand new and come with extra brake pads (4 pair) For more information call me or send message Buyer pay shipping Thank you Étienne ps speak french also
Sep 30, 2015 at 16:24
Sep 30, 2015
Selling
Sep 30, 2015 at 16:18
Sep 30, 2015
Selling
Mar 25, 2015 at 9:24
Mar 25, 2015
$300 CAD
2010 white boxxer world cup to sale Steer tube have been cut to 5 15/16". Come with flat upper crown. Fit perfectly on my giant glory. Only owner. Bought new in 2011. Service every year 1-2 times a year. Last service in september 2014 by s4 suspension. Have only ride 3 times since for end of season. Few cosmetic scratches. Stanchions are clean. S4 suspension mention a upgrade could be needed to eliminate stiff feelings on small roots and brake bumps cause of internals wear. But that forks still work goods. It brings me to a fourth spot in expert on last quebec cup in october. Its a perfect honnest deal for 300$ and for few extra $ you can do the upgrades with s4 suspension for 2015 charger damper and internals. You ll get an almost brand new boxxer world cup for a ridiculous small price. It was actually my option but got a better deal and get spons by S4 suspension and will ride on xfusion. Its your chance to get the best price on pinkbike for an high quality fork. BOXXER WORLD CUP! At 300$ its a big deal! call or email Thanks Étienne
Load more...