s-t-e-v-o
Member since Oct 5, 2008

Male / 29
Boroughbridge , United Kingdom
just love riding

Block user
Recent

Selling
Jun 14, 2019 at 11:56
Jun 14, 2019
$300 GBP
Selling my blue spank oozy trail 345s on hope pro 4s. These wheels are are almost brand new and you would struggle to find any marks on them. The rear wheel was rebuild 4 months ago but has only been ridden 3 times since and the front was built at the same time and has not been ridden at all. Wheels cost around £550 new and would still cost around the same now if you got the pro 4s so I feel £300 is more than generous in terms of a price. Message me with any questions, I would be happy to drop them off or post them if needed.

Selling
Jun 14, 2019 at 11:55
Jun 14, 2019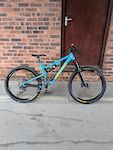 $1700 GBP
For sale is my large 2017 aluminium santacruz Bronson. The bike itself is for the most part the same as I bought it, apart from the odd little change. The pedels that are on it in the pictures are not included but I will stick my spare set on for sale (spank spikes could do with a service but do the job).as you can see in the pictures the rear wheel has a little dint in the side but it's nothing major and doesn't effect the ride. The bike can be bought ether with the stock black wheels or with or if you fancy sprucing it up I would include my blue spank spikes which are only 3 rides old and are built on hope pro 4s. Would want £2000 with those included as well (cost around £550 new and are as good as new) This bike has been an awsome bike and I am only getting rid of it as I have decided to bight the bullet and order the 2018/19 version and so no need for this. I have owned it since new and it has had very little use due to me been a fair weather rider. Last year it has only been ridden aroun 5/6 times. Don't let the fact that it is aluminium put you off as it is the same as the carbon in terms of geometry and suspension design. The bike has usual scuff marks from been ridden but is overall is decent condition. PM me with any offers or questions. I will be more than happy to answer these and could deliver the bike if needed (depending where too)

Jun 14, 2019 at 11:53
Jun 14, 2019

Oct 21, 2017 at 4:20
Oct 21, 2017

Selling
Oct 21, 2017 at 4:12
Oct 21, 2017
$750 GBP
Selling my 2012 demo 8 size medium. It has the usual marks on it as expected but is generally in good nick. As you can see there are pain chips on the top tube where the forks have hit the frame when previously not fitted correctly they are not dints though. Comes with the boxer in the front and an rc4 with titanium spring on the back. Not had chance to put everything back together yet but everything is accounted for. I would rather not post it but if you would like it posting I could do it at the buyer expense. I am around Ripon/borougbridge area but could meet anywhere around york/harrogate. Pm me if your interested as I need it gone coz ive bought a bike to do it all so I don't need 2. Bars:charge Brakes:Shimano slx Gears:9 speed x7 Cranks:e thirteen Peddles:v10s Wheels: rear Dt swiss on a saint hub Front dmax Stem: easton

Selling
Jul 30, 2017 at 9:13
Jul 30, 2017
$600 GBP
Selling my medium 2014 giant reign. Owned the bike for 2 yeas and it's been a trooper I am only selling as I have upgraded to a bronson so no need for this any more. Bike is in working order although obvious ware and tear from riding over the years. (The dropper seat post isn't great but with a it of force on the lever it does go up and down fine) probably coul do wit abit of love hence the price but would be a great bike for someone wanting to get in to abit of peddling. Stripped down the linkage and greased up all the bearing the other day and also put new pads in the brakes. Spec is pretty standard it has slx brakes and x9 gears. Offer me ether through pm or on this post.

Jul 30, 2017 at 9:10
Jul 30, 2017

Selling
Jul 30, 2017 at 9:06
Jul 30, 2017

Jun 25, 2017 at 11:18
Jun 25, 2017

Jun 25, 2017 at 11:08
Jun 25, 2017
Load more...
Featured
Photo by bea5ty