schmity
Member since Apr 27, 2007

Male / 32
Boise , Idaho
Block user
Recent

Selling
Aug 28, 2021 at 10:25
Aug 28, 2021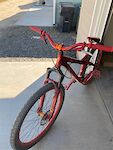 $900 USD
Specialized P3, I've had it for quite awhile but has been ridden so rarely it probably seems almost new. Completely stock. Open to any trades for a full suspension mountain bike (I'll add cash).

Selling
Jun 16, 2010 at 19:17
Jun 16, 2010

Selling
Mar 23, 2010 at 13:13
Mar 23, 2010

Jul 28, 2008 at 9:57
Jul 28, 2008
the tracks I set up are by Dorthy Stewart trail on Ataylia. Follow the signs to St. Johns college. go to the top and go to the gated off area and go through the gate. as you climb you will see a road to the left, go that way and soon you'll see a trail to the right. follow it, that is The Reignbow. The Serpent is above it. Follow this trail up and you'll see a split right and left. The Serpent is right as you go up (it's steep and twisty) and there are nasty steep/sharp trails up to the right. never named that area but it rocks! you will want high air pressure and spare tubes, yeah that sharp and nasty up there!. bring water you'll need it for the hike up.

Jun 15, 2008 at 21:57
Jun 15, 2008
I am pretty sure that land will stay. Last I heard it was all partitioned and will remain a bicycle park. I have a friend that is building (paid by the city of Santa Fe) 300 acres of trails there in the La Tierra area where the dirt jumps are. should be good for years.
Load more...