secondspincycles
Member since Mar 13, 2012

Male
Baltimore , Maryland
Block user
Recent

Selling
Sep 2, 2021 at 14:15
Sep 2, 2021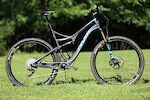 $4240 USD
I purchased this bike brand new in the spring of 2019 and have been the only owner, it was my main ride for a good chunk of time but I picked up a couple other slightly more rowdy bikes and prefer to ride those and a XC oriented HT and so this one seems to sit a bunch lately, and so it's a good time to let it go. Size XL Build XT/XTR - no changes to build I replaced the rear tire and pads in the last 5-6 months Full service including some bearing replacements last winter, with minimal miles since then. I've had one solid crash which resulted in some scuffs on the bar and right hand brake lever, these are only superficial. The only other flaw is that the fork rebound knob is missing, broken or just fallen off. You can still adjust the rebound with a small screwdriver or something but the actual knob is missing, not sure what happened there. All in all I'd say the bike is in excellent shape Sizing info: Seat tube : 22" Top tube : 25.6" Standover : 30.8" HT angle : 69.3 ST angle : 72.25 SPECS Frame MACH 429 SL Carbon Fork FOX 34 FACTORY 29" 120mm KASHIMA Headset PIVOT PRECISION SEALED BEARING Rear Shock FOX FLOAT DPS KASHIMA Rims/Wheels DT XM Series 29" 25mm inner rim w/ 36T star ratchet upgrade Tires MAXXIS Ardent Race 29x2.2 TR Crankset Race Face Aeffect, 30t, 175 mm Rear Derailleur Shimano XTR 11Spd GS Cassette Shimano XT M8000 11-42 11Spd Shifters Shimano XT 11Spd Handlebars PHOENIX Carbon Riser 740mm Tape/Grips PHOENIX Lock On Stem PHOENIX TEAM Brakes Shimano XT 8000 Saddle PIVOT WTB VOLT RACE Seat Post LEV Dropper post

Selling
Jun 23, 2020 at 16:01
Jun 23, 2020
$6300 USD
2020 Yeti SB130 Turq series carbon fiber with 12-spd XT or T1 package. I ordered this last summer but ended up having to wait over three months due to limited availability of the 12-spd XT grouppo. I bought with Reynolds XMC 1200 series 30mm carbon wheels. By the time the bike I arrived we were close to winter mode and so it ended up sitting out a good chunk of the year and this year has been spotty thus far. Based on Strava it has less than 160 miles on it. It's a size Large painted in the current model year anthracite color. Everything is in flawless functioning condition, no accidents, no hits nothing. There are a few small scuffs on the non drive side of the rear swing arm and the non drive side fork stickers. This bike retails for $8300 and based on my recent conversations with the folks at Yeti and a few friendly shops they are in very short supply. I've seen The Pro's Closet selling similarly equipped last years models for $7300 on eBay and given the age and condition of the bike I think $6300 is fair. I will consider swapping the wheels over the 1700 series from my Pivot (similar condition) for $5200 and sell the frameset alone for $4700. I've had the bike looked over by a local bike shop and it got a perfect bill of health (they basically yelled at me for not riding it). I can provide the name if anyone wants some feedback. I have all the original shipping box/materials from Yeti as well as the manuals. It has not been registered but I am not sure that the warranty would transfer. I can ship anywhere in the CONUS for the asking price, but international shipping is extra. I'm a longtime fan of the Yeti brand and am somewhat bittersweet about not keeping this bike, but it's just not a good match for me. You can check out some of my vintage Yeti stuff here if you'd like : https://www.secondspincycles.com/yeti-cycles/ Please feel free to reach out with any questions. The bike will also be listed on eBay.

Jun 23, 2020 at 15:58
Jun 23, 2020

Jun 5, 2020 at 8:39
Jun 5, 2020

Selling
Jun 5, 2020 at 8:38
Jun 5, 2020

Mar 17, 2020 at 12:21
Mar 17, 2020
Now THAT Was a Bike: 1991 Bradbury Manitou FS
Ok yeah. I need to larn the proper terms. As a guy who's been living in the world of vintage hardtails, my suspension speak at a toddler level. What I meant is that while there is some bob in the bike there is no feedback from the drivetrain. That pedaling feedback was one of the worst features of the early FS designs.

Mar 17, 2020 at 10:40
Mar 17, 2020
Now THAT Was a Bike: 1991 Bradbury Manitou FS
Bars are a bit lower??? No... it's a huge difference when you sit on eihter bike, even with sag the Pivot sits a mile higher up front which at least for me dramatically changes how the bike feels. Not gonna argue the rest, but the feel of these two bikes when just riding around, not even really pushing it is dramatically different. FWIW the wheelbase on the Pivot is a 2.25" longer, which you notice a bit in some tight singletrack, but again I'm never pushing as hard on the vintage bikes as I do on the modern ones - which isn't that hard either

Mar 17, 2020 at 10:35
Mar 17, 2020

Mar 17, 2020 at 9:57
Mar 17, 2020

Mar 17, 2020 at 8:13
Mar 17, 2020
Load more...