shenrie2
Member since Dec 21, 2009

O+
Male / 36
South Jordan , Utah
Block user
Supported Regions

Pahvant Trail System
via
RCTC

Eagle Mountain
via
LMTA
Recent

May 3, 2023 at 13:57
May 3, 2023

Ash
13.3 km - 01:07 - 5 achievements - 2 badges

Apr 29, 2023 at 7:29
Apr 29, 2023

Selling
Apr 29, 2023 at 7:29
Apr 29, 2023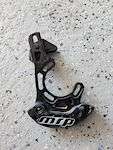 $35 USD
Very little use. I sold the bike it was on some time ago thinking I would put it on something else but never did. Message or text with any questions.

Mar 21, 2023 at 7:30
Mar 21, 2023
Guerrilla Gravity Announces 2023 Bike Lineup
In my experience, GG is a good choice if you have bike ADD. If you get suspension with easily adjustable stroke, chainstay kits will allow you to experiment with wildly different bikes by only changing minimal parts. I've enjoyed mine.
Load more...