skigates
Member since Nov 6, 2013

Male
Norwich , Vermont
Block user
Recent

Jan 18, 2021 at 10:19
11 hours
Video: Yoann Barelli on Switching to Guerrilla Gravity & His New Gnarvana
@CM999: Because you can have essentially two bikes for the fraction of the cost using GG's modular platform. Yes, that means that the lower travel bikes may be slightly heavier than alternatives from other manufactures, but I personally would take a couple extra pounds and save a few thousand dollars over having two separate bikes. In terms of kinematics, GG has done an outstanding job making the same front triangle work across their range.

Jan 13, 2021 at 9:24
Jan 13, 2021

Jul 24, 2020 at 10:34
Jul 24, 2020

Selling
Jul 24, 2020 at 10:32
Jul 24, 2020

Jul 22, 2020 at 9:45
Jul 22, 2020
Video: Cornering Cone Drills with Finn Iles
I completely agree. Interesting to see that they are generally keeping their pedals flat in this video which goes against the maybe more conventional technique of dropping your outside foot in flat corners. I'd love to learn more about the reasoning behind that.

Jun 29, 2020 at 10:27
Jun 29, 2020
Review: 2021 Guerrilla Gravity Gnarvana
I've never had any problems with headset of my Revved Frame creaking. Furthermore, I think it's a great feature of the bike. While I primarily run the bike in the long position, it gives someone a couple inches shorter than me the ability to run the same frame in the shorter position with a more personalized fit. I also love having the ability to quicken up the handling by running the shorter position for dual slalom races. It may only be 10 mm, but you really notice a difference.

Jun 29, 2020 at 10:21
Jun 29, 2020
Review: 2021 Guerrilla Gravity Gnarvana
I have a Smash and it absolutely rips everything from aggressive trail riding to the bike park. I can't even begin to imagine the shear speed and confidence that more aggressive geo and increased travel must give the Gnarvana.

Feb 7, 2020 at 10:53
Feb 7, 2020

Selling
Feb 7, 2020 at 10:53
Feb 7, 2020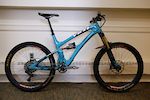 $2650 USD
2016 Yeti SB6 size large for sale. The shock was fully rebuilt in July and the fork lower legs and air spring were serviced in August. Suspension bearings were last replaced mid Summer. A new Switch Infinity Link was also installed last year. The frame has had an All Mountain Style Frame Protector for most of its life, but normal wear and tear has lead to a few paint chips on areas not covered by the protector. I've tried to include close-up images of any cosmetic damage below. Functionally, the bike is currently in great condition. Located in White River Junction, VT Buyer Pays Shipping FOX 36 Fit4 Damper (In great shape, no scratches on stanchions, however a bit of cable rub on the crown) FOX Float X Guide RSC Brakes SRAM XO1 Shifter SRAM GX Derailleur RaceRace Turbine Cranks RaceRace Cinch 32 Tooth Chainring DT Swiss 350 Hubs DT Swiss EX 471 Rims Race Face Aeffect Bars (brand new) Easton Stem Giant 150 mm dropper * Pedals and chain guard not included ** Feel free to message with any questions

Nov 2, 2019 at 11:14
Nov 2, 2019
Load more...