speppy2316
Member since Feb 20, 2011

Male / 28
Maidstone , United Kingdom
used to ride very regularly but took a break to get adult life on track now thats all sorted im making my comeback into the world of two wheels, the back end of 2017 is going to be a year of training 2018 getting back into racing mostly enduro but some DH as well.
Block user
Recent

May 19, 2020 at 3:39
May 19, 2020

Feb 15, 2020 at 7:16
Feb 15, 2020

Jan 9, 2020 at 1:21
Jan 9, 2020

Selling
Jan 9, 2020 at 1:19
Jan 9, 2020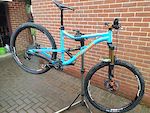 $1000 GBP
Good day to you. For sale is on high spec on-one codeine 29er i have built this from the frame up, the bike is designed to slay uk bike parks with ease, taken this bike to bike park wales, several time, black mountain, wind hill and may others never had any problems and had a lot more fun than the guys riding there big dh rigs. Spec Frame - 2017 on-one codeine 29er large Forks - 2018 fox 34's fit4 150mm travel Rear shock - 2018 ccd in line coil shock 450 spring. Head set - works components angle set -1degree Bars - easton bars cut to 780mm Stem - hope am Grips - dmr death grip Breaks - Shimano BR-M355 Hydraulic Disc (not pictured) and uber bike components floating disks with cooling fins. Drive train - full sram GX 11 speed sram dub cranks and bb Pedals - ht clip in pedals Seat post - pnw components cascade dropper 150mm Saddle - charge spoon Wheels - super star components v6 front and rear hub laced with stans flow rim Tyers - wtb trail boss front wtb vigilant rear Frame has got cable rub on the head tube and paint has rubbed off on the down tube from using roof rack. Other than that bike runs perfect and will put a smile on anyones face who rides this. Feel free to contact me with any questions.

Added 1 video
Nov 16, 2019 at 12:01
Nov 16, 2019

Oct 6, 2019 at 7:47
Oct 6, 2019

Selling
Oct 6, 2019 at 7:45
Oct 6, 2019

May 1, 2019 at 4:39
May 1, 2019

Selling
May 1, 2019 at 4:35
May 1, 2019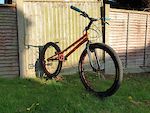 $400 GBP
Built this bike to learn how to ride trials on, however i dont get out enough of the time to make use of it, everything on here is only a few rides old, there is some damage on the chain stay from it having run a chain ring on that was too large, everything else i have purchased new from tartybikes the cranks have some damage on them after not making it up things succesfully first time, even with the damage on the chain stay and cranks the bike is strong and sound. frame -  Neon Because 26" forks - Clean X1 26" front wheel -Jitsie Front Non-Disc 26" Wheel rear wheel - Jitsie 135mm Rear Non-Disc 26" tyers - Maxxis Holy Roller 26" bars - Onza Rip Riser Breaks F& RMagura HS33 2014-19 Stem - Trail tech Head set - Echo BB- Trialtech Race ISIS with Bolts cranks - Jitsie Forged ISIS Cranks - 165mm pedals - Echo TR Platform 2018/19 - Red sprocket - Jitsie Alloy Screw On - 15t freewheel - Jitsie 108.9 - 16T bash ring  - TartyBikes CNC Bashring Chain - KMC Z610 HX, 3/32" tools Super B Freewheel Remover Im open to offers, will not accept trades of any kind collection is best. If you have any questions please let me know.

Added 1 video
Apr 8, 2019 at 7:07
Apr 8, 2019
Load more...