sslade2020
Member since Mar 22, 2020

Wendell , Massachusetts
Block user
Recent

Apr 28, 2021 at 11:50
Apr 28, 2021

Selling
Apr 28, 2021 at 11:46
Apr 28, 2021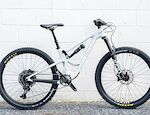 $4300 USD
***SALE PENDING *** I am selling my XS 2020 Juliana Furtado white carbon model. I bought this bike in quartine march 2020 and then only rode the bike from September to November lightly in Arkansas while working. I absolutely love this bike and am only getting rid of it because of injuries I sustained outside of riding. I modified this bike slightly by getting matching blue Chromag pedals and handlebars with a sliver stem, although I do still have the original bars to go with it if you want those. I also have some other biking gear I would be willing to sell with this bike such as a slightly used Fox MIPS Speedframe helmet(size medium), some Seven IDP Sam Hill elbow and knee pads(both size small), and some Grio biking shorts with padding and a nice Grio jersey too and another Chromag bike jersey(all clothes size small). If any of these extras interest you let me know and we will figure out a fair price. I love this bike and want to make sure it gets to the right person who will enjoy it and get lots of fun riding out of this beautiful bike! Serious inquires only! All the specs can be found here as nothing has changed from the 2020 model https://www.julianabicycles.com/en-US/bikes/furtado Please contact me for any questions or further information you feel you need. Local pick-up or shipping available.

Mar 23, 2020 at 12:05
Mar 23, 2020

Mar 22, 2020 at 15:55
Mar 22, 2020

Mar 22, 2020 at 8:55
Mar 22, 2020
Load more...