tcs2186
Member since Apr 24, 2012

Male / 27
Rochester , New York
I do all sorts of racing, road, xc and bmx
Block user
Recent

Feb 19, 2015 at 11:37
Feb 19, 2015

Selling
Feb 19, 2015 at 11:35
Feb 19, 2015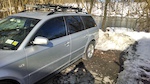 $400 USD
I have for sale a complete Thule rack system. It is the Thule 450 (crossroads) with 50 inch bars. I also have for sale a Thule Bigmouth rack and a Thule Sidearm rack. If you buy all 3 items I will throw in the 6 lock cores already installed. This rack has been on the car for 2 years and both racks are 2 years old. I have taken them all off every winter to keep them out of the salt and snow. There is nothing wrong with the racks at all. I am only selling because I sold the car that the rack was on. I am asking 400 obo give me an offer i am willing to deal and split up. Paypal only Car not included obviously....

Selling
Feb 19, 2015 at 11:29
Feb 19, 2015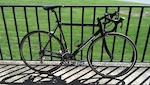 $650 USD
I am selling my 2002 Cannondale Caad5 R700, it is an great bike in great working condition, new bearings all around. The front derailleur is frozen in the highest gear (think its just a bad cable). There is a dent in the chain stay. There are no cracks of severe dents in the frame or fork. The fork is carbon. The bike has bontrager cranks. I am asking 650 its a great light bike that i just dont ride anymore. I am open to offers and paypal only.

May 9, 2014 at 20:55
May 9, 2014

Selling
May 9, 2014 at 20:53
May 9, 2014
$75 USD
I have for sale a set of Shimano SLX cranks. The arm length is 175mm. The cranks will come with 3 chain rings installed and that have about 75% of the life left on them. The cranks will also come with a shimano bottom bracket that has about 100 miles on it. I am selling these cranks because i have a new frame that is a BB30 so now i have no use for these cranks. The cranks are in perfect mechanical condition nothing is bend damaged or dented. There is some wear on the arms but that is purely aesthetic. I am asking 75.00 and I only do Paypal. If you have any questions or would like to give me an offer then just message or text me. I am open to offers!

Apr 23, 2014 at 13:47
Apr 23, 2014

Selling
Apr 23, 2014 at 13:43
Apr 23, 2014

Sep 2, 2013 at 19:30
Sep 2, 2013

Selling
Sep 2, 2013 at 19:29
Sep 2, 2013

Selling
Sep 2, 2013 at 19:17
Sep 2, 2013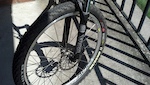 $100 USD
I have a set of Mavic Crossride wheels that are silver in color. These wheels are ready for discs or rim brakes. The wheels are quite light for the price of them, they have put very well too. The wheels are basically true the front has a small wobble but that can be easily trued on a stand (you dont want me to try to true it). I am asking 100.00 for the wheels they are a 9mm quick release with a braking surface on the rim and the hub is disc compatible. I have always run the wheels with disc brakes. The hubs are in great condition and the cassette is also in great condition. There are no dings or dents on the wheels that effect the performance of the wheel. I am open to trades for bike related things. I only use paypal. Thanks and make an offer!
Load more...