tekko
Member since Nov 23, 2011

Male / 41
White Salmon , Washington
Block user
Recent

Apr 21, 2018 at 16:52
Apr 21, 2018

Selling
Apr 21, 2018 at 16:42
Apr 21, 2018
$2750 USD
Up for sale is my beloved Santa Cruz Nomad Carbon 27.5. I purchased this frame new from Fat Tire Farm (have receipt) in Portland Oregon in spring of 2014 and built her up piece by piece to be perfect, as if I would own her forever. While yes, she has been ridden hard and put away wet at times... she has been owned by a mid 40's no kids, good job rider who spoiled her with maintenance and parts as needed. A crash and subsequent shoulder surgery took me out in late 2015, and I only rode a few days on her after that before ending up with a shorter travel 29er trail bike that I have been riding primarily the last couple years. She has been built up differently over time and I do also have a freshly built Fox 36 fork I could switch out to for additional $300 if desired. Here is how she's built now. All bearings were gone through and serviced before winter with only handful of rides on since. Frame : Santa Cruz Nomad Carbon 27.5- 2014 Headset- Chris King Shock : DVO Jade (500LB spring mounted, also includes 550) *Also comes with original Rock Shox Monarch RC3 Debonair which needs rebuild Fork : Rock Shox Pike SA RC3 with low speed adjustment Stem : Easton Havoc 35 50mm Bars : Easton Havoc 35 Carbon uncut 800mm Grips : Easton Shifter : Shimano XTR 10sp Brakes : Shimano Saint 180 ice tec rotors front and back Crank : Race Face Atlas. has 32 RF ring mounted- comes with RF 30 and 34 tooth as well *Does not come with pedals Cassette : Shimano XT 10sp, with One Up 42 climbing ring Derailer : Shimano XT 10sp with One up Rad Cage Wheels : DT Swiss M1900 Spline (newer- takeoff of new bike- traded with friend+ $ for my fancy carbon wheels) Seat Post : KS Lev with Race Face Turbine Lever Seat : Race Face Aeffect Tires : Maxxis High Roller II about 50% tread Comes with service kit for both DVO Jade shock and Rock Shox Fork. This bike is ready to shred for somebody! I have loved her, with all of my heart but it is time to let her go :-(

Jul 7, 2017 at 19:41
Jul 7, 2017

Aug 14, 2015 at 16:45
Aug 14, 2015

Nov 3, 2014 at 17:16
Nov 3, 2014

Jul 23, 2014 at 11:12
Jul 23, 2014
FINISHED: Yeti Cycles - Ask Us Anything
I just make sure my wife's bike is always fresh and carbon.. she had 2 carbon frames before I ever had one! This way she always believes I'm as much or more concerned with her having a top end bike, although she doesn't understand or care of the final spec as long as it's carbon and covered in shiny bits. Added benefit.. she will never blame the bike or the gear for being slower, etc, knowing our bikes are nearly equal.. So and I'm sure the Yeti guys should love this... Buy HER a new SB5c now and then get yourself one, or the forthcoming 6" version in a month or so.

Jul 6, 2014 at 12:10
Jul 6, 2014

Jun 2, 2014 at 23:57
Jun 2, 2014

May 31, 2014 at 16:43
May 31, 2014

Selling
May 31, 2014 at 16:42
May 31, 2014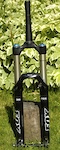 $150 USD
Here is a 2011 Fox Talas 36 160mm-120mm travel adjust Fork. Came as ordered upgrade on my 2011 Santa Cruz Nomad. I put a 2014 36Talas on this bike over the winter and have since sold the bike. Reduced to $150. boxed and ready to ship... internals and lowers still in great shape. Tapered steerer cut at 8.5" This fork has been well ridden and is ready for seals and likely a rebuild. I have ridden it hard and it's always delivered. Maintained mostly by Peter of Fox service in Squamish BC and was always maintained while I was riding it. It does have some light scratches on the stanchions on the left leg due to dirty seals. No leakage and I stopped riding the fork when I noticed, so should be good to go after rebuild. Other normal marks on stickers etc from 3 years of riding and shuttling.
Load more...