tekko
Member since Nov 23, 2011

Male / 40
White Salmon , Washington
Block user
Recent

Aug 14, 2015 at 16:45
Aug 14, 2015

Nov 3, 2014 at 17:16
Nov 3, 2014

Jul 23, 2014 at 11:12
Jul 23, 2014
FINISHED: Yeti Cycles - Ask Us Anything
I just make sure my wife's bike is always fresh and carbon.. she had 2 carbon frames before I ever had one! This way she always believes I'm as much or more concerned with her having a top end bike, although she doesn't understand or care of the final spec as long as it's carbon and covered in shiny bits. Added benefit.. she will never blame the bike or the gear for being slower, etc, knowing our bikes are nearly equal.. So and I'm sure the Yeti guys should love this... Buy HER a new SB5c now and then get yourself one, or the forthcoming 6" version in a month or so.

Jul 6, 2014 at 12:10
Jul 6, 2014

Jun 2, 2014 at 23:57
Jun 2, 2014

May 31, 2014 at 16:43
May 31, 2014

Selling
May 31, 2014 at 16:42
May 31, 2014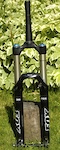 $150 USD
Here is a 2011 Fox Talas 36 160mm-120mm travel adjust Fork. Came as ordered upgrade on my 2011 Santa Cruz Nomad. I put a 2014 36Talas on this bike over the winter and have since sold the bike. Reduced to $150. boxed and ready to ship... internals and lowers still in great shape. Tapered steerer cut at 8.5" This fork has been well ridden and is ready for seals and likely a rebuild. I have ridden it hard and it's always delivered. Maintained mostly by Peter of Fox service in Squamish BC and was always maintained while I was riding it. It does have some light scratches on the stanchions on the left leg due to dirty seals. No leakage and I stopped riding the fork when I noticed, so should be good to go after rebuild. Other normal marks on stickers etc from 3 years of riding and shuttling.

Selling
May 31, 2014 at 16:35
May 31, 2014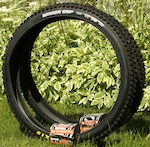 $95 USD
Brand new set of Maxxis Minion DH 3c Tires. Minion DHF 2.5" 3c DH casing Minion DHR II 2.4" 3c DH Casing $95 for the set or $55 each. Located in Hood River, OR.

May 31, 2014 at 16:18
May 31, 2014

Selling
May 31, 2014 at 16:16
May 31, 2014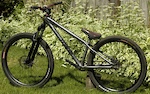 $675 USD
Transition Trail or Park Priced to move, as I'm building up a new 27.5 AM bike with frame arriving next week and still gathering parts. I purchased 2 years ago from pink bike ad and picked up the bike in Vancouver. Since then have replaced headset bearings and bottom bracket and axl. I also wire brushed the frame down to raw and clear coated it and put on full new Transtion TOP decal set. I also replaced new half link chain and replaced an old juicy 3 brake with a near 7 and added the front brake. This bike has Rockshox Argyle coil Shock. Lowers have been painted black (from white) Chromag bars- red Race Face Respond Stem Single Speed DMR Revolver Hubs laced to Syncros rims Avid Juicy 7 front brake and Elixer CR rear brakes 160mm rotor. Kenda R-Rad Tires Everything on this bike is functioning and it's ready to ride. I used this bike very lightly over the past few years and picked it up mostly for pump track and light DJ (I am 37 and not that adventurous) and couple lumberyard visits. The pump tracks close to me involve pedaling, so I have since built up a geared HT Chameleon and haven't ridden or used this bike in quite a while. It is ready for a new home. Fork could use seals and is sweating small amount of oil on stanchions. There are a few superficial rust spots where there have been some marks in the clear coat. These can be seen in the pictures. There is small amount of play/wiggle in front wheel, although the bearings seem good and it rolls fine.
Load more...