the-deakinator
Member since Mar 12, 2010

Male / 37
Bournemouth , United Kingdom
YouTube - www.youtube.com/bendeakinmtb
Facebook- www.facebook.com/Deakinator1
Instagram- www.instagram.com/deakinator1
Block user
Recent
Sep 14, 2023 at 13:05
Sep 14, 2023
Selling
Sep 14, 2023 at 13:04
Sep 14, 2023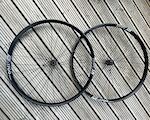 $450 GBP
DT Swiss HX 1700 WheelSet Pretty much as new came off a brand new bike and changing due to sponsored part, These wheels RRP at Rear £474.99 Front £320 Totalling £694.99 A true workhorse, the HX 1700 is designed from the ground up to be the most reliable and dependable choice for those who want their E-MTB out on the trail where it belongs, not in the workstand E-MTB's are tough on wheels, really tough, not only is there the added weight and higher maximum drive torque but E-MTB riders tend to ride further and more frequently, this adds up to a real challenge for anyone looking to design a truly durable wheel for long term E-MTB use The result is DT's mission Hybrid, the first wheel engineering project to look specifically at the challenges of heavy duty E-MTB use for wheels So, what's changed? the short answer... Everything! At the core of the HX 1700' are a custom version of DT's legendarily reliable 350 hubs with E-MTB-optimised 24-tooth ratchets and oversized hub shells for improved load transfer The welded alloy rims have reinforced spoke beds to resist fatigue and handle high loads for long periods of time The straight pull spokes are custom made for Hybrid with an oversized 2.35 mm hub interface designed to protect one of the key points of stress on any wheel In order for a wheel to pass as Hybrid certified in DT's inhouse testing lab it has to survive 50% more lifecycles, its spokes and rims have to endure 20% higher load tests and the bearings must be able to handle almost twice the maximum load of a standard wheel Whilst intended for E-MTB use, the Hybrid range is also ideal for larger riders, bike packers or anyone looking for a really durable wheelset with a high weight limit Available in a 30 mm internal width to support modern high volume trail rubber System weight limit: 150KG,
Sep 1, 2023 at 14:17
Sep 1, 2023
Selling
Sep 1, 2023 at 14:15
Sep 1, 2023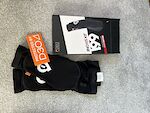 $35 GBP
661 Recon V2 Elbow Pads size large BRAND NEW.
Sep 1, 2023 at 12:23
Sep 1, 2023
Selling
Sep 1, 2023 at 12:21
Sep 1, 2023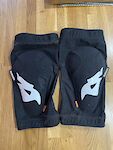 $25 GBP
Blue Grass SOLID D30 Knee Pads - Large. Used but not abused, Description, Perfect for those that pedal hard and love to let loose, the Solid Knee Guards stay in place no matter how explosive your cadence is and the larger side pads provide a greater range of protection for added safety. Extremely breathable, the air mesh fabric helps maximise airflow around the joints to ensure there is no build-up of sweat. To build confidence as you approach the berm, Bluegrass have included two layers of protection in the Solid Knee Guards, one hard and one soft which can as a pad be easily adjusted to inspire comfort and high-end safety.
Selling
Sep 1, 2023 at 12:18
Sep 1, 2023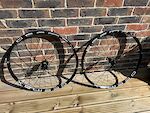 $325 GBP
Mavic Deemax E 29" Taken off a bike that's hardly been used due to swapping for sponsorship part, The name E-Deemax has become a reference for E-Bike riders this new E-Deemax 30 lives up to its name with many of the same features and technologies as higher range model but at a far more attainable price. One of the key factors is our Pinch Flat Protection technology a rim design with a wider contact surface at the top of sidewall which significantly reduces the risk of tire cuts and punctures. The rim is welded for added reliability and features a 30mm internal width with a Tubeless Ready compatibility to allow you to run lower tire pressure for better traction and control. As all our E-Deemax wheelsets, this new option is lab and field validated for a max total weight of 180Kg. Our Instant Drive 360 freewheel with a double ratchet system equips the rear hub and provide fast engagement and top-level reliability. The rear hub is compatible with Shimano HG9, Micro Spline and SRAM XD driver bodies. The E-Deemax 30 is available with 6-bolt or center lock brake rotors in 29" only and is compatible with a 15x110 front axle and 12x148 rear. The wheel is delivered with valves, replacement spokes and accessories. Key benefits Strong and durable Welded rim with Pinch Flat Protection for : Less risk of flat A super strong rim profile A perfectly sealed rim profile E-Bike specific and reliable construction 28 wide double butted spokes Super reliable ID360 double ratchet freewheel system Hubs inspired by downhill practises Tubeless ready technology A tubeless rim profile with tubeless tape make it easy to ride tubeless tires for more traction and less risk of flat
Aug 21, 2023 at 14:41
Aug 21, 2023
Selling
Aug 21, 2023 at 14:37
Aug 21, 2023
Selling
Aug 21, 2023 at 14:37
Aug 21, 2023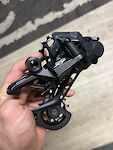 $70 GBP
Shimano Deore XT Rear Derailleur RD-M8100 12 Speed Shadow. Come off a brand new bike due to proffering other brand. Slight scratch from storage, XT Shadow plus 12-speed rear derailleur for fast and precise shifting performance optimized to take on any trail Shadow plus features a super low profile design and optimized slant angle for super light shifting action Shadow Plus uses a chain stabilising switch that when on will reduce chain bounce in rough terrain maintaining more stable drive and shifting Single tension spring prevents contact with the chainstay resulting in a silent ride Rubber bumper on pulley cage for added silent drive 13T pulleys and decreased derailleur tension prevent high chain tension in low gears Direct cable routing prevents snagging from any trail side hazards Cold forged wide alloy links and pivot body Four fluorine-coated link pin bushings Strong return spring for a positive shifting feel Specifically designed to work with 12-speed 1x drivetrains Durable sealed 13T bearing pulleys for low friction Top normal spring uses the spring to select higher gears Max low sprocket: 51T (1x 12-speed) 41T capacity SGS cage Average weight 284g
Load more...