theriotact
Member since Jul 31, 2010

Male / 24
Coquitlam , British Columbia
Block user
Recent

Selling
Apr 3, 2017 at 17:27
Apr 3, 2017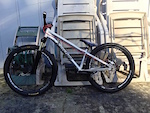 $600 CAD
got a 2011 banshee amp for sale here. 2011 size SHORT banshee amp frame Manitou Circus fork Spank Spike hoops DT Swiss hubs Avid Code brake Hussefelt Stem Hussefelt Cranks Kona Pedals Easton EA50 Monkey Bar 600 obo

Apr 3, 2017 at 17:24
Apr 3, 2017

Selling
Apr 3, 2017 at 17:22
Apr 3, 2017

Selling
May 9, 2014 at 17:03
May 9, 2014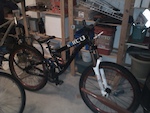 $1200 CAD
I hate to do this but I gotta sell my bike. Life happens and sometimes its expensive and you gotta let go of things that you've become attached to. My loss is your gain. I'll keep this ad short for now cause im pressed for time but ill update it later with a list of components and what not. if it looks like something you're interested in, dont hesitate to shoot me a text! thanks I'd prefer just straight up cash, but im totally open to trades for a BMX or road bike plus cash :)

Aug 1, 2013 at 13:31
Aug 1, 2013

Mar 31, 2013 at 12:03
Mar 31, 2013

Selling
Mar 6, 2013 at 11:03
Mar 6, 2013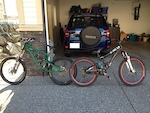 $1200 CAD
regrettably, I am forced to sell my downhill rig. it has been lovingly cared for and enjoyed. 2010 banshee scythe large frame 2008 fox 40 fork, recently serviced 2008 fox van r shock 600 lb spring chromag fubar osx 31'' chromag direct mount stem mavic 721 hoops hope pro 2 hubs hope brakes (not sure of the model, excellent stopping power) specialized butcher tires sram x9 drivetrain race face xc cranks vsixty pedals awesome deal, I hate to see it go but I need money for university. I can get you additional pictures if you need it.

Feb 26, 2013 at 18:48
Feb 26, 2013

Selling
Jan 11, 2013 at 0:32
Jan 11, 2013

Dec 7, 2012 at 22:57
Dec 7, 2012
Load more...