thistleoc
Member since Dec 3, 2014

Male / 40
Bristol , United Kingdom
Block user
Recent

Dec 3, 2015 at 11:25
Dec 3, 2015

Selling
Dec 3, 2015 at 11:21
Dec 3, 2015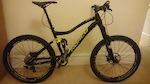 $1500 GBP
NORCO SIGHT 2 SE - SIZE MED - OVER £1K OF UPGRADES This bike came out to rave reviews (http://www.mbr.co.uk/reviews/full-suspension-bikes/norco-sight-2-review-2013) and has been a great bike to own over the last 2 years. Almost everything has been upgraded on it so it's now a better ride than ever. I'm only selling as it's the winter and I ride less and I'm buying a house and need to buy stuff for the house before getting a new bike next year. Highlights have to be the amazing pike fork and the Mavic Crosstrail wheels that are basically the same as the Crossmax XT with different spokes. It is running tubeless at the moment and have spare spokes and a spoke key. It has been converted to 1 x 10 but I am including all the old parts in case you want to convert it back. I am also including the original shock which I didn't think was worth selling so I kept as a spare. As far as I know this is working as it was when I removed it. Mechanically the bike is in perfect condition having been service late August with the following work done (receipt in photos): - Fork full service - suspension bearings replaced - rear swing arm replaced completely due to a dent from a crash within my first two weeks of ownership - headset bearings The service was £185 and it also had a new chain that I fitted. There are various cosmetic scrapes and rubs as shown in the photos but as mentioned, these are purely cosmetic and it runs great. In terms of specs almost everything has been changed. Here is the original spec (http://www.evanscycles.com/products/norco/sight-2-2013-mountain-bike-ec041223) and now it has: Frame: Hydroformed and butted 6061 alloy, Tapered head tube, Optimized trail geometry, 140 mm of A.R.T. suspension, Holloform linkarm and short chain stays, Syntace X12 142×12mm rear dropouts and axle Rear Shock: Rockshox Monarch Plus RC3 (2014 model) Fork: Rockshox Pike RCT3 150mm of travel (2014 model) Front Derailleur: None Rear Derailleur: Shimano Zee Shadow Plus Number of Gears: 1 x 10 Shifters: Shimano XT Chainset: Shimano SLX Chainring: 34t Raceface Narrow wide chain ring Bottom Bracket: Shimano XTR Cassette: Shimano SLX HG-81 10 speed Chain: Shimano 10 speed Front Brake: Shimano SLX 180mm rotor Rear Brake: Shimano SLX 160mm rotor Handlebars: Easton Havoc Carbon Bars 740 mm width 25 mm rise Stem: Norco short reach 3D forged (60mm) Headset: Cane Creek I think (tapered internal) 1.5" to 1-1/8" Grips: ODI Lock on Rims: Mavic Crosstrail Tubeless ready (2013 model) - see here that these are basically the same as the much higher priced Crossmax ST wheels Front Tyre: Hans Dampf Trailstar 2.35 Rear Tyre: Hans Dampf Trailstar 2.35 Tubes: None as set up as tubeless Saddle: Charge Spoon Seatpost: Rockshox Reverb dropper seatpost 30.9 mm: Happy to answer any more questions. Chris

Jun 23, 2015 at 0:15
Jun 23, 2015

Selling
Jun 23, 2015 at 0:14
Jun 23, 2015

Jun 9, 2015 at 13:49
Jun 9, 2015

Selling
Jun 9, 2015 at 13:43
Jun 9, 2015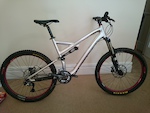 $750 GBP
Specialized Stumpjumper FSR Elite 2010 - large but see comment below - Just fully serviced at a cost of £100 and ready to ride including, new cassette, bottom bracket, new cables, brakes bled - new rear suspension bearings, shock serviced by Mojo at a total cost of £200. Bike hasn't been ridden since this work was done so in great condition and no worries about having to replace any of these parts. - £300 in total just spent on this so ready to ride and no worries of second hand parts needing replaced - Size Large but more akin to a medium as it came with a 90mm stem. The 90mm stem and 660m bars have been swapped for matching 50mm Gusset stem and 780mm bars giving way better handling. - there is wear and tear on the frame as can be seen in the photos. The lacquer has come off in many places but this is cosmetic. There are minor scuffs and scrapes but no major dents or cracks in the frame. - the brake levers have play in them but the brakes on it are great otherwise. Once you're on the bike with your fingers covering the brake this doesn't make a difference when riding. I have a set of 2012 Avid 5 brakes though that can be thrown in for free though. - I think I have some spare gyres I can also throw in. Bike has a great reputation: http://www.bikeradar.com/gear/category/bikes/mountain-bikes/product/review-specialized-stumpjumper-fsr-elite-10-37046/ And full original spec is here: http://www.specialized.com/us/en/bikes/archive/2010/stumpjumperfsr/stumpjumperfsrelite#specs Any questions please just ask!

Dec 3, 2014 at 13:59
Dec 3, 2014

Selling
Dec 3, 2014 at 13:57
Dec 3, 2014
Load more...