trvrtnn
Member since Jun 6, 2006

Male / 43
Hinton , Alberta
Block user
Recent

Selling
Sep 21, 2022 at 8:44
Sep 21, 2022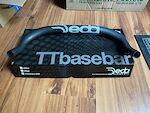 $160 CAD
Started buying parts for a build and then decided to put everything on hold for the year at least, so up for sale is a BNIB Deda Elementi DaBar TT basebar. Or bullhorns as I was going to use them. Very light, very cool. Deda measures from the outside to the outside, and they call them 42cm. Centre to centre closer to 40cm. $160 CAD plus shipping to you.

Selling
Sep 9, 2022 at 15:58
Sep 9, 2022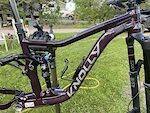 $1800 CAD
Up for sale is my 2019 Knolly Fugitive LT frame, size medium, black cherry colour that looks pretty friggin' nice in the sunshine. The alloy frame is in great shape, it has frame protection applied, no major damage just normal wear and tear. Some minor chips, scratches, and a bit of cable rub. Included in the sale is the frame, Fox DPX2 Elite shock providing 135mm travel, currently installed Works Components -1 degree angle adjust headset, cheap alloy bottle cage, seat collar, rear axle, and I can include a bottom bracket, either 30mm spindle or DUB. Other components shown are NOT included, but depending what you're looking for we can negotiate other items from the full build into a package deal. Especially the wheels, seeing as it's a 157mm superboost/trail157 rear end. Located in Hinton AB, willing to ship, prefer a local or semi local (I'm happy to meet up in Edmonton, Calgary, the mountain parks, and into BC as well) deal. Asking $1800 for the items listed, if you want the full bike or other components from it check out my ad showing the full build.

Selling
Aug 28, 2022 at 10:57
Aug 28, 2022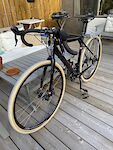 $800 CAD
Selling an alloy GT Grade gravel/adventure bike, there are some cosmetic scratches, but the bike has low km and was used as my fair weather commuter for a few years, mechanically it's in amazing shape, very low drivetrain and brake wear, tires have a tonne of life left as well, very well maintained. It's tough to tell in photos but it's a beautiful metallic dark blue paint, really sparkles in the sun. Frame size is 53, so equivalent to a small, 535mm effective top tube, 535mm centre to top of seat tube, 370mm reach, 558mm stack, 430mm chainstays, 1019mm wheelbase. Build is stock, except the tires are 700x35 Soma tires (made in Japan by Panaracer) chosen for volume, flat resistance, and not being boring looking, there isn't room for much bigger. Stock build includes Shimano Sora shifting, Tektro mechanical discs, GT cockpit, Alex wheels. The included rack is an alloy Filzer from MEC and works great for panniers, I can take it off if you don't want it. MSRP was $1150, I added tires and the rack, rode it to work sparingly, then it's been sitting the past few years since I don't live where I want to bike to work anymore and I ride my MTB for fun instead of plodding along logging roads. Asking $800 OBO, can deliver within some hundreds of km on my travels through the province and into BC. I've got more photos so ask!

Selling
Aug 14, 2022 at 19:00
Aug 14, 2022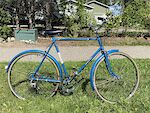 $120 CAD
Selling a classic made in Canada Raleigh cruiser. Obviously not in perfect condition but the patina just adds to the charm. Note that the tires and tubes are old, they should be replaced sooner rather than later, the fork is a little cock eyed, and the rear hub could use some adjustment as it's getting a little bit loose. BUT it's a sweet blue colour, has fenders, 5 speeds, and a Brooks saddle. Brakes work, shifts through all the gears, tires/tubes hold air, the bike is in working condition. I rode it for a few summers going to the bar or for ice cream just the way it is. Approximate geometry: 23" seat tube centre to top, 21.75" top tube centre to centre, 32.25" stand over height. I'd say it's a size large, I'm 5'8" and wouldn't really recommend it for anybody smaller. Asking $120 LOCATED IN HINTON, but I'm happy to deliver within a few hundred km as long as you aren't in a rush. I'm not keen to ship this, but if you want to pay for the costs involved (including a box of some kind) then I can take the wheels off and send it out. It's a big bike and it's heavy, keep that in mind.

Selling
Jul 30, 2022 at 10:18
Jul 30, 2022

Selling
Jul 17, 2022 at 18:53
Jul 17, 2022
$950 CAD
Selling a set of eeWings, 170mm, MTB Q factor (176mm), 30mm spindle, comes with a Wheels MFG threaded bottom bracket and a brand new 32t SRAM Eagle chainring. Cranks were used on my trail bike but show little wear, and even if they did the brushed Ti finish means you can just buff 'em back up. $750 USD or $950 CAD, I'm happy to ship or can deliver between Edmonton and Lethbridge later on in the week.

Selling
Jun 29, 2022 at 7:35
Jun 29, 2022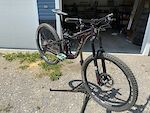 $3200 USD
Last price drop before I just keep it or part it out. $4000 CAD or $3200 USD. Selling a Knolly Fugitive LT, size medium, beautiful black cherry colour. 135mm rear travel, 160mm in front, 29" wheels. Rides like a champ, but my riding style/tastes are changing a bit and I'm looking at switching things up rather considerably in my bike choice. Read the glowing review from Bike Mag, https://www.bikemag.com/gear/mountain-bikes/review-fugitive-lt-sl/ The bike has a pretty dialled build, uncut OneUp carbon bars, Easton stem, RS Lyrik RC2 160mm fork with Debonair and Charger 2, Fox DPX2 Elite shock, DT Swiss M1700 wheelset set up tubeless front and rear, e13 front tire, DHR2 rear tire, 12 speed Shimano drivetrain with XTR shifter, XTR derailleur, XT cassette (very low kms on cassette, chain, chain ring), Wolf Tooth 32t oval Camo chain ring, NEW SRAM Dub BB, NEW SRAM GX cranks, Magura Trail MT brakes, Icetech 203mm and 180mm rotors, OneUp 180mm dropper post, SQ Labs saddle, black OneUp composite pedals will be included, NOT the Deitys shown in the photos. The bike currently has a 1 degree angleset installed, that can be removed and a Hope headset installed instead. I'd leave the angleset in there though. 1 degree slacker probably makes up for the extra 10mm up front to bring the bb back to stock height right? Maybe? Not a big fan of math so I never checked. Don't worry either way, the bb is NOT too high lol. It cost me a pretty penny to build over the past few years, and is very well maintained and in great shape. Ride wrapped from new AL frame has some scratches and paint chips but no dents, cracks, or structural damage at all. It's aluminum! You don't have to worry! Suspension stanchions are clean, wheels true without dings or dents or anything, rotors and pads good, tires good, bike is ready to rock. Located in Hinton AB, happy to deliver within a few hundred KM. Don't be shy, ask for more pics, or message or text with questions. $4000 CAD, $3200 USD
Load more...