tsm11
Member since Jun 28, 2011

Male / 34
Asheville , North Carolina
lifes short, huck it
Block user
Recent

Oct 26, 2014 at 16:11
Oct 26, 2014

Selling
Oct 26, 2014 at 16:09
Oct 26, 2014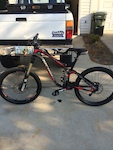 $2200 USD
Selling my 2012 Norco. Bike is Mint. Bike is pretty much stock. Ive changed the Spring to Titanuim and Added a chain guide. Stock Specs: http://www.norco.com/archives/2012/?id=truax-two Asking $2200, Willing to ship within the U.S. Let me know if you are interested

Selling
Aug 12, 2014 at 14:47
Aug 12, 2014
$500 USD
Selling my ALMOST complete Santa Cruz Bullit. This could be a sweet complete bike with only a few more parts. Manitou Stance Fork Sunrims Rhyno Lite Rims Truvativ Husssefelt Bars Origin Lock-on Grips Race Face Diablo Stem FSA Orbit 1.5 Headset MRP Chain guide w/ Truvativ Holzefeller Cranks Shimano Pedals Marzocchi Roco Rear Shock Ritchie Seatpost SOG Grand Prix Seat Only Needs Brakes, Tires, and Shifter to Be a complete Bike

Aug 12, 2014 at 14:38
Aug 12, 2014

Selling
Jul 20, 2014 at 16:12
Jul 20, 2014

Jul 20, 2014 at 16:00
Jul 20, 2014

Jul 14, 2014 at 17:43
Jul 14, 2014

Selling
Jul 14, 2014 at 17:41
Jul 14, 2014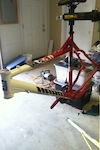 $150 USD
Im selling my HARO T-6 7005 ICS 5.0 Hardtail XC/All mountain frame. Ive ridden this bike for a few years and Im ready to Change it up a bit. Im selling this frame with a set of RACEFACE prodigy Cranks and BB. Im also throwing in a seat post and seat for free. This is a solid frame with no dents at all. Only normal scuffs. If you need anymore parts let me know. I have a garage full and maybe we can work out a deal. Im asking $150. Willing to ship within the country. Hit me up if you have any questions!

Selling
Oct 26, 2011 at 10:29
Oct 26, 2011

Selling
Oct 25, 2011 at 18:02
Oct 25, 2011
Load more...