workscomponents
Member since May 7, 2011

36
Cannock , United Kingdom
Block user
Recent

Oct 19, 2018 at 6:10
Oct 19, 2018

Selling
Sep 25, 2018 at 6:02
Sep 25, 2018
$239 GBP
2018 Fox Float DPX2 - Removed from frame and not used. Tune is - DRM - Digressive Rebound Medium and CM - Compression Medium so will work with a wide variety of frame types, was initially tuned for a Transition frame - Shock can be re-tuned if required by a fox service centre. 3 Position Adjustment Evol Low Volume Small scratch near eyelet from removal, otherwise new and un-used. Will only post within the UK / Can be collected from WS11 0BT X2 small bump sensitivity meets an improved DPS adjustment range. Recirculating oil damper design gives riders better control. One-piece EVOL air sleeve improves responsiveness and sensitivity. Three position lever with adjustable Open mode offers 10 clicks to fine-tune compression. Adjustments: Lever actuated Open, Medium, Firm modes. Open mode adjust tuning range (10 clicks). Rebound. Air spring pressure.

Selling
Sep 17, 2018 at 4:52
Sep 17, 2018

Sep 11, 2018 at 11:06
Sep 11, 2018

Aug 4, 2018 at 3:50
Aug 4, 2018

Jun 25, 2018 at 5:08
Jun 25, 2018
Review: e*thirteen's New TRS Plus 12-Speed Upgrade Kit
@southoftheborder: in reality though the patent is worthless - the big guys still wouldn't use the system for the same reasons as more traditional gearbox designs and the small guys don't have the ability to persuade the bike companies to switch over even if they did make it - until the big two make moves we can all forget it unless we want to buy from one of the ultra small brands. It's the same reason cars etc up until recently are all IC engines - the industry makes it that way, we need the bike industries version of Tesla to come and shake things up a bit.

Selling
May 29, 2018 at 5:59
May 29, 2018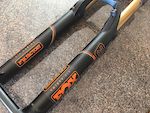 $600 GBP
2017 Fox 36 Factory 29 RC2 Forks. - Steerer tube cut and installed to a bike but fork was removed without use, one small paint chip and a couple of marks on the steerer tube but aside from this they are a brand new fork in the box with owners manual, spacers, 15 & 20mm axle. - Fork is non-boost. Can also include a set of reduced 44mm offset CSU / upper legs (black stanctions) for an additonal £150.00 if purchased with the fork - This allows you to reduce the offset of the fork which is what many manufacturers are moving to with modern 29er frames. Realistic offers taken - Delivery by express courier or collection from Cannock.

May 28, 2017 at 13:33
May 28, 2017

May 14, 2017 at 7:49
May 14, 2017

Selling
May 14, 2017 at 7:48
May 14, 2017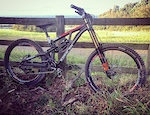 $2000 GBP
Saracen Myst - Built in summer 2016 and used for 4 days of riding in the Alps, not ridden since so in almost new condition. - 2015/2016 Saracen Madison DH Frame - Was a spare brand new frame not built / used by the team. It is a size Large with prototype 56/56 headtube (as used on the current carbon Myst) allowing +-6mm reach adjustment. Frame was covered in protection tape etc before use so has only a few very small marks. - Has almost identical geometry to the current Large Myst. Frame was fitted with brand new Rockshox Vivid RC2 at time of build and is supplied with various weights of spring. Following parts were new at time of build and are in almost in-used condition: - 2015/2016 Fox 40 Kashima Float fork - mint condition other than a small sticker mark. - Hope V4 Brakes - Saint Cranks - Saint Shifter - Zee Derailleur - Nukeproof Sam Hill Stem, Seatpost and Bar (Handlebar is brand new and not cut, just fitted) - Lightly used parts before build - Nukeproof Saddle - Saint Hubs on FR570 Rims (rear rim has a little wobble) - Magic Mary Tyres - Rear had light use, front brand new at time of build, both have plenty of life left. Bike is supplied complete with +-5mm reach and standard headset. Reason for sale is complete lack of use, not been touched since being ridden abroad - Great, almost new condition and not a used / abused example. More photos to be uploaded soon.
Load more...