xisleuk
Member since May 28, 2008

Male / 48
Midlands , United Kingdom
Block user
Recent

Aug 15, 2014 at 3:30
Aug 15, 2014

Selling
Aug 15, 2014 at 3:25
Aug 15, 2014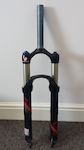 $120 GBP
Rockshox Reba SL Dual Air 100mm Forks 26" These forks are in perfect working order. I recently serviced them, replacing all seals. No oil leaks and both air chambers hold pressure. They are spaced out at 100mm, but of course can be changed by removing/adding internal spacers. They are the 2010 model. There's usage marks but very little. One of the decals has mark (see the photo) and there is a small cable rub on the top. The upper sanctions are scratch free. The steerer tube is 178mm long and has a star nut installed. The Compression adjuster/Lock out works as it should. Viewing is available in Staffordshire and cash on collection accepted or can post at additional cost

Aug 14, 2014 at 4:46
Aug 14, 2014

Selling
Aug 14, 2014 at 4:45
Aug 14, 2014

May 31, 2014 at 6:17
May 31, 2014

Selling
May 31, 2014 at 6:11
May 31, 2014
$2300 GBP
Frame: 2011 Orange Alpine 160 16" Frame in Neon Green, Maxle Swingarm Forks: Fox 36 Float R 20MM QR TS Shock: Cane Creek Double Barrel Coil with 400x2.50 Spring Wheels: Mavic EX 721 Rims, Hope Pro2 Hubs, DT Swiss Competition Spokes - Rims, Spokes and Nipples have only been ridden at one trip to Bike Park Wales, they are new built by myself. Brakes: Hope M4 4 Pots, 203mm discs front and back, Braided Lines Seatpost: RockShox Reverb Rear Mech: Shimano Saint Front Mech: Shimano SLX Double Crank: Race Face Respond Double X Type Chainguide: Gamut Double Bash and Guide Chain: SRAM PC991 Cross Step - Brand New, never been ridden, replaced the existing Shimano HG BB: Race Face X Type Shifters: Shimano XT Cassette: Shimano HG50 Tyres: Maxxis Hi Roller 2.35 Maxxpro 60a Headset: Cane Creek ZST25 Stem: Sunline V1 50mm Bars: Sunline V1 745mm Grips: Raceface Strafe Lock On Saddle: SDG Bel Air The bike has been well under used and ridden only about 30 times. Bike originally cost £4,200 (with original wheels, more like £4,500 with spec of new wheels) and was purchased from Leisure Lakes in Wolverhampton. Comes with all original paperwork. Also included is a rear mech hanger, some spare brake pads and the Double Barrel Adjustment Spanner. This bike is the perfect Bike Park bike but can also be ridden pretty much everywhere. I'm looking for £2,300. Spec and high res photos also available at www.craigrogers.co.uk/dump/alpine160 This bike will suit anyone from around 5ft 8 thru to at least 6ft, possibly more. As per all my bikes, this has been maintained to OCD levels and always looks like this before every ride.

Apr 16, 2014 at 5:51
Apr 16, 2014

Mar 12, 2014 at 10:49
Mar 12, 2014

Selling
Mar 12, 2014 at 10:47
Mar 12, 2014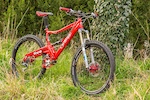 $1300 GBP
My Orange 5 is up for sale, as you can see from the spec below, this isn't your normal run of the mill Orange 5, it has a very high spec. The bike weighs around only 27lbs (that was weighed with the winter tyres, so a little more with the Nobby Nics fitted). The photos are current photos, yes it really looks this good! The only original parts remaining from Orange on this bike are the Brakes (although the calipers where upgraded with Red piston caps when I last stripped them in 2013), Shock and Fork Body (since upgraded with an RLC FIT damper, was originally the Float R suppplied by Orange). The year shown after each component is the year these where bought (new) and fitted. Frame: 2010 18" Orange 5 Forks: Fox Float RLC FIT 15QR 140mm - 2010, originally Float R as supplied by Orange, but upgraded with a RLC FIT damper Shock: Fox RP23 140mm (plus a spare RP23 that I have that I'll throw in) - 2010 (spare is 2008 probably could do with a Nitro recharge service) Crank: Shimano XT Triple (Double plus Bashring) - 2010, chainrings replaced in 2012. Will also include the original large chainring Bashring: Raceface Lightweight - 2010 Chain Guide: Blackspire Stinger - 2011, also includes a 2010 black one with some spare rollers. Bottom Bracket: Hope Ceramic - 2011 Front Mech: Shimano XT - 2013 Rear Mech: Shimano XT Shadow (Medium Cage) - 2011 Shifters: Shimano XT - Front shifter is brand new and unused, rear shifter is 2010 Shifter Cables: Jagwire Braided - 2013, front inner is brand new XT Cassette: SRAM PG990 - 2013 Chain: SRAM PC991 - 2013 Rims: Mavic XM719 - 2011 Hubs: Hope ProII EVO - 2011 Brakes: Hope Tech X2 - 2010 (Calipers fully rebuilt in 2013 and customised with red piston caps) Brake Discs: Hope Floating Saw (Front 183mm/Rear 160mm) - 2010 Brake Lines: Braided - 2010 Tyres: Schwalbe Nobby Nic 2.4 EVO Snakeskin (Summer Tyres) AND Bontrager Mud-X 2.0 (Winter Tyres) - Nobby Nics are 2012 and Mud-X are 2011 Bars: Easton Haven Carbon (711mm) - 2011 Grips: Raceface Strafe Lock-on - 2010 Stem: Raceface Turbine 60mm - 2011 Headset: Hope - 2011 Seat Post: Gravity Dropper Descender Multidrop - 2010 Seat Post Clamp: Hope Bolt - 2010 Seat: SDG Bel Air RL Ti-rails - 2012 Pedals: Shimano M647 DX SPD - 2012 I'll also include my winter Bontrager Mud-X 2.0 tyres and as mentioned above will also include a spare Fox RP23 Shock which is in working order, but needs a full service with Nitrogen recharge. Plus some other spares including part-worn brake pads, shock mounts (including a bearing), spare Stinger Chainguide. All of my bikes are meticulously maintained as you can see from the photos. Almost every ride, the bike is stripped and cleaned. I have a strict maintenance schedule with my bikes to ensure they are always showroom condition. The photos show my GPS clamp on the bars, this is not included. The paintwork is in great shape with a few cable rubs in the usual places and some tiny scratches on the carbon bars where the GPS and Go-Pro have been mounted. For the eagle-eyed out there, you may notice that the decal set is newer than the 2010 model. It was treated last year to a new decal set. The Forks and Shocks were recently serviced (by myself) and I'll also give the rest of the bike a full service before handing over. The front XT shifter is a little stiff, so I have a brand new XT Shifter to fit before handing over. I'm looking for £1,300, bike is located near Uttoxeter in Staffordshire, not quite Cannock Chase which it's been tagged as, but only 15 mins away. **** UPDATE! I have now given the bike a full service and carried out the following (along with all the usual service things); Rear Hub: Stripped, cleaned, regreased Rear Hub, bearings not required, but stripped down freehub and cleaned Front Hub: Replaced both bearings with new ones, they were ok, but one had started to get a bit "gritty" Gravity Dropper Seat Post: Stripped, cleaned, regreased Brakes: Both front and rear bled, nice and firm Front Shifter: As explained above, the one on there was a bit tight, so replaced with a brand new XT with new inner cable. This bike will now not be ridden until someone buys it. When picked up, I'll also set the suspension up for the new owner!

Dec 19, 2010 at 11:08
Dec 19, 2010
Load more...