ridin-dirty
Member since Sep 20, 2009

Male / 39
Abbotsford , British Columbia
Block user
Supported Regions

Fraser Valley
via
FVMBA

Sumas Mountain
via
FVMBA
Recent

Apr 19, 2015 at 23:02
1 days

Apr 16, 2015 at 14:04
Apr 16, 2015

Apr 15, 2015 at 23:00
Apr 15, 2015

Apr 15, 2015 at 14:55
Apr 15, 2015

Apr 15, 2015 at 14:31
Apr 15, 2015

Selling
Apr 15, 2015 at 14:23
Apr 15, 2015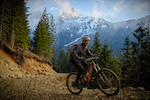 $2950 CAD
This is an incredible bike; it's fast and it's fun. It climbs great whether it be a short sprint or a long epic climb. Point it downhill and it really comes to life. The bike is light and playful. It handles bumps, roots, rocks and drops and air with ease. I especially love the way it accelerates and corners. A couple of my favorite features of the bike are 6 inches (150mm) of premium fox suspension front and back, as well as the ride 9 chip. The ride 9 chip makes the bike extremely effective in so many scenarios; for example set the bike up in XC mode for your local XC race or long day of climbing in the saddle or slacken out the head angle and drop the bottom bracket for fun sessions on your local pinner trails. You will be amazed at the difference a couple of degrees of head angle makes; and both have their places. It's like two awesome bikes in one. The bike is in very good shape. There are a couple nicks in the paint here and there, but the bike still looks show room ready. To ensure the bike is in new condition, I have recently replaced the chain and cassette, brake pads and rotors, shifter cables, bled the brakes, new tires, grips, and more!

Apr 11, 2015 at 12:02
Apr 11, 2015

Apr 10, 2015 at 11:04
Apr 10, 2015

Apr 9, 2015 at 13:05
Apr 9, 2015

Apr 8, 2015 at 23:04
Apr 8, 2015
Load more...