threefingerjoe
Member since Jan 9, 2012

Male / 34
Sheffield , United Kingdom
Block user
Recent

Jul 7, 2013 at 9:46
Jul 7, 2013

Jan 19, 2013 at 5:27
Jan 19, 2013
Video: Wideopenmag Season Ender in Malaga
I'd go with Switchbacks, they are a great bunch. Have only done their Summer AM week before but definitely going back soon. I highly recommend them, they really now what they are doing, really chilled and welcoming.

Selling
Aug 17, 2012 at 13:39
Aug 17, 2012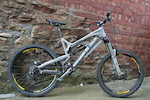 $1850 GBP
This is the sale of an 2011 INTENSE UZZI FRAME, CANE CREEK DOUBLE BARREL SHOCK, ROCKSHOX TOTEM SOLO AIR FORKS & ANCILLARY PART LISTED BELOW ONLY (NOT THE COMPLETE BIKE SHOWN) I am selling my large 2011 Intense Uzzi Frame in Raw with a Cane Creek Double Barrel Shock and a set of 2010 Rockshox Totem Solo Air Forks plus a few extra components fitted to the bike as the type of riding i am doing has changed from when i brought this frame. The frame was brought new 6 months ago and built up to that shown in the pictures. The frame has a few scratches from general use including on part of the link arms from where the chain has contacted, plus a small dent on the rear triangle which occurred when i took the bike on holiday a couple of months ago. The frame will come with the headset, bottom bracket, seat post and 2 seat clamp (1 quick release and 1 fixed clamp). The Totem forks are in good condition, only ever used for all mountain riding or light DH and have been serviced this year by TF Tuning. There are scratches on the lowers from use and the lacquer/clear coating on the lowers has been chipped in a couple of places. The stanchions are in perfect condition. These are a set of very good forks but do not suit my riding anymore. Full list of what is included in sale is: - 2011 Intense Uzzi Frame - Large - Raw - Cane Creek Double Barrel Coil Shock (assumed to be 2011 model) - Rockshox Totem Solo Air Forks (20mm Maxle Axle) - Hope Tapered Steer Headset - Hope Steel Bottom Bracket - Easton Vice Seatpost - Hope Quick Release Seatpost Clamp - Original Intense Fixed Seatpost Clamp - 4x Steel Springs for CCDB - 350lb, 450lb, 500lb & 550lb Please do not hesitate to contact me if you have any questions or want anymore photos. The information from Intense's Website on the Uzzi including the frame geometry is shown in one of the images.
Load more...