What inspires you?
For most of us inspiration comes from seeing something that gets you excited, makes you think in a new direction or triggers action. Often the action is going out to achieve the same type of experience or to simply improve upon your skill set...whatever level it may be in any sport, hobby, job, relationship…the list is endless. No matter what way you look at it, progression is the drug that fuels us. It's the drug that hooks us to mountain biking, drives us to purchase our favourite videos, magazines and translates into numerous hours in front of the computer reading and watching for the next piece of media that inspires you.
Although the level of progression is different for each individual, it still delivers the same emotions. You can be hitting a challenging big mountain line, beating the field by ½ second or hitting your first 2ft gap jump; a similar thrill and taste of success ignites us and makes us want more...the drug of progression has its teeth in you and you're hooked.
For me inspiration comes in various forms. You can get me stoked pretty easily. Give me a Lucky (Vancouver Island Beer), show me a new line on one of my favourite trails, point out a hot babe, do something amazing on your bike, tell me a funny story or make my kid smile. One element in biking that inspires me is the rider that consistently wants to learn new things, push his/her limits and to continue on the quest for progression. All Pro's have this drive...they wouldn't be Pro's otherwise. However for the purpose of this story, I want to pay tribute to riders that are highly skilled, but don't ride professionally. They're consistently focussed on getting better every time they ride...not for money or free bikes, but because they crave progression.
Meet Dave, he's one of these guys.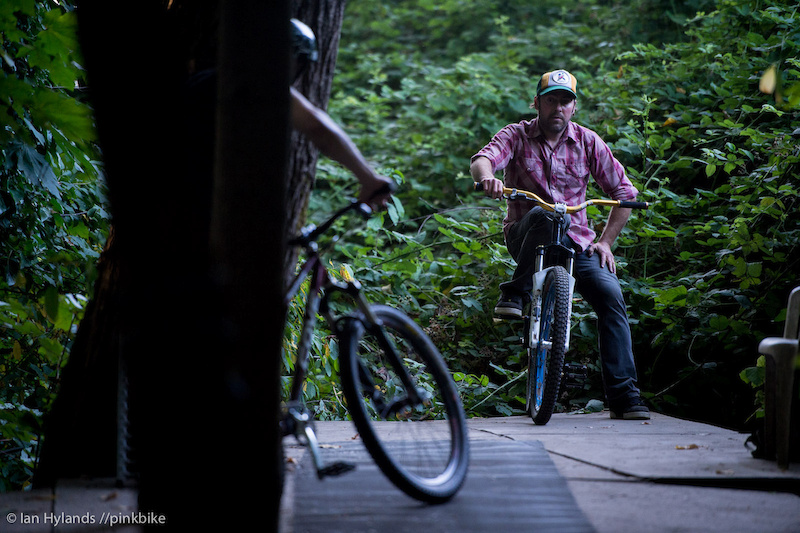 Dave sitting on the start ramp of his second home at the Bridge Jumps in North Vancouver.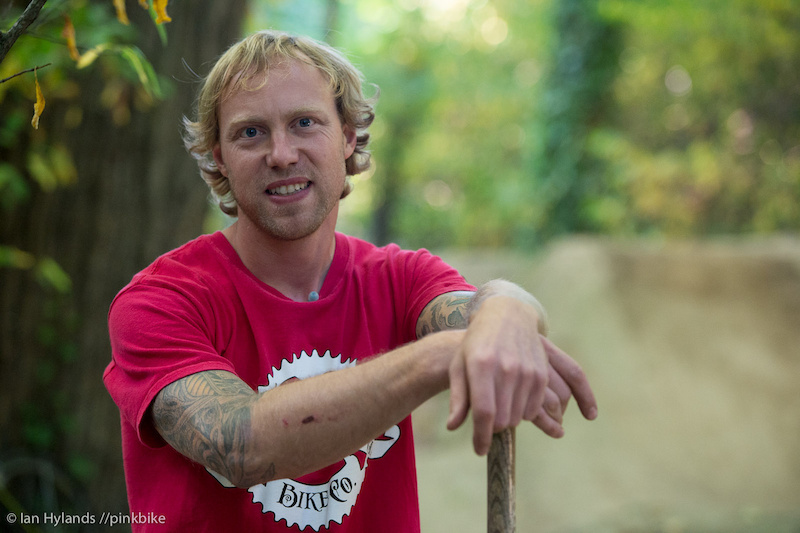 Angus, another shredder on the local scene, also a co-founder responsible for building the Bridge Jumps.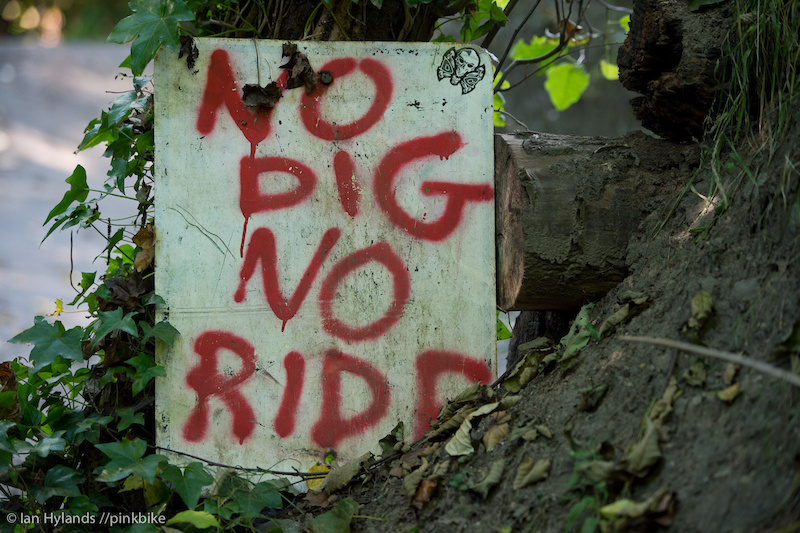 Dave's a steel fabricator living in the lower mainland of BC, Canada. He's turning 43 next April and has been a silent figure in the North Shore scene for the past 17 years. He's always telling me gnarly stories about how they used to ride trails with V-Brakes and no suspension…the same trails we ride now on our full suspension rigs. "I remember back in the day when front shocks first came out...they were the shit! Two inches of travel and you thought you were the man...8 ft pedal drops to flat." Glad those days are over, but happy guys like Dave and many others guinea pigged technology leading to what we have today.
| | |
| --- | --- |
| | I remember back in the day when front shocks first came out...they were the shit! Two inches of travel and you thought you were the man...8 ft pedal drops to flat. - Dave |
Dave's a well rounded rider. He nips on everyone's heels on DH trails, rides big Shore lines and hangs with the best at the dirt jumps. Dave loves building and always looks for ways to push himself. A few days ago during a shuttle we were chatting about a couple builds I have on the go. An easy way to tweak Dave's interest is to tell him about new challenging lines, so we had an engaged conversation. After I was done updating him on what I had in mind he says "I got something for ya…found this sweet spot for a step up practice jump." After chatting some more Dave says to me "I want to build it because I have a couple tricks I want to learn."
After we agreed to check it out the next day, I walked away thinking how cool it is to know a 42 year old guy that wants to put the energy and effort into building a practice jump so he can learn new tricks. Most 40 year old riders are just stoked to get out and ride. Dave on the other hand is still putting himself through the mental and physical vigour's of learning on his bike. Riding with Dave stokes me out because he serves as a reminder that life is short and we need to take advantage. Like Bender said "Life's too short not to go big…" Well…maybe not that big Bender, but for most of us the message is the same…enjoy it while it lasts!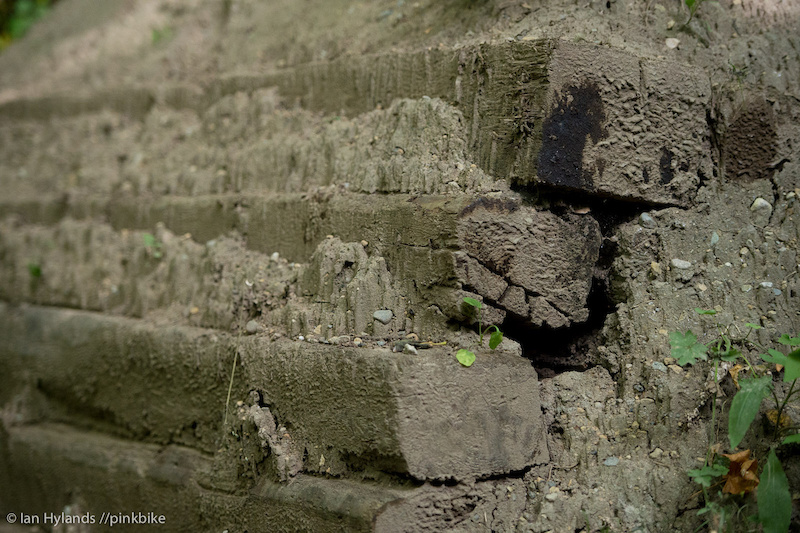 There is a lot to be said about a local ripper. Pros and companies do their part in the industry to continue pumping out media and coverage to keep people stoked on riding and to grab the interest of new riders to grow the sport. Guys like Dave silently kill it inspiring themselves and people around them. One of the most enjoyable aspects of riding is shredding with buddies. You know what I'm talking about, smiles on everyone's faces at the bottom of a trail, guys talking about how they almost ate shit and the overall bro down because you all enjoyed the same experience we're lucky to have at our finger tips. The catalyst whether you notice it or not, is one or more in the group that push everyone in a non discrete way. If you are one of these riders…two thumbs up. If you have a riding buddy that gets you stoked to ride for any reason, buy him/her a beer. Progression, improvement, addiction…whatever you name it is what leads you to the trail head again and again to continue enjoying the riding experience.
We thought we would have a mellow shoot to provide some photos for the story at the jumps that Dave and some key dudes built over the past six years. Hope you enjoy!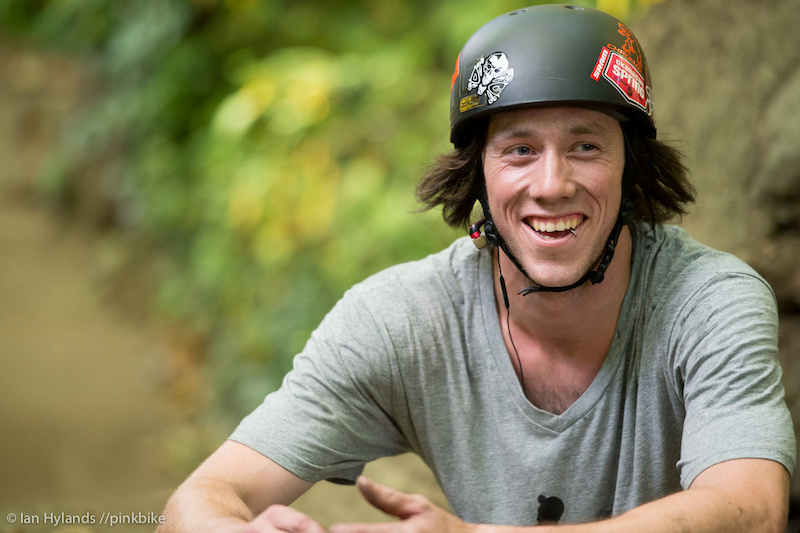 This was the first day back on his DJ bike for Lawrenuk in 6 months. Good to see him back on it.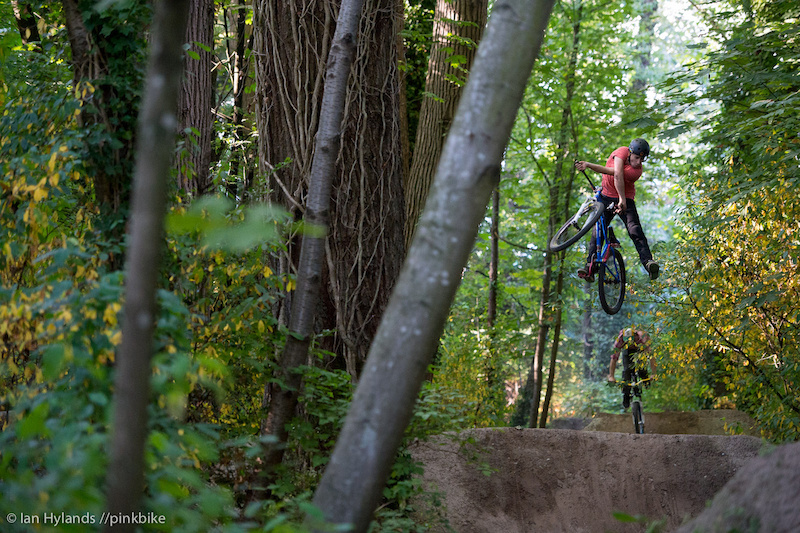 Nick Myer has spent countless hours working on the jumps over the past couple years. If you need a guy to shape a lip then ride it better than you, give Nick a call.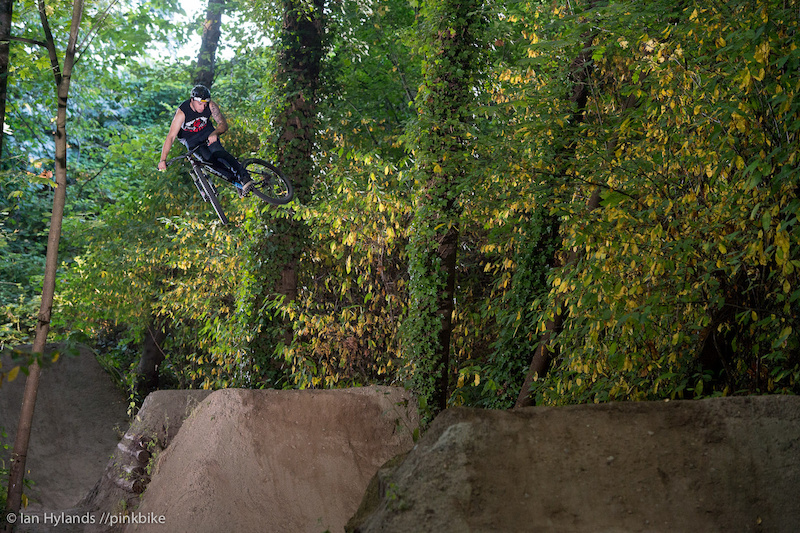 Ryan Myer one and...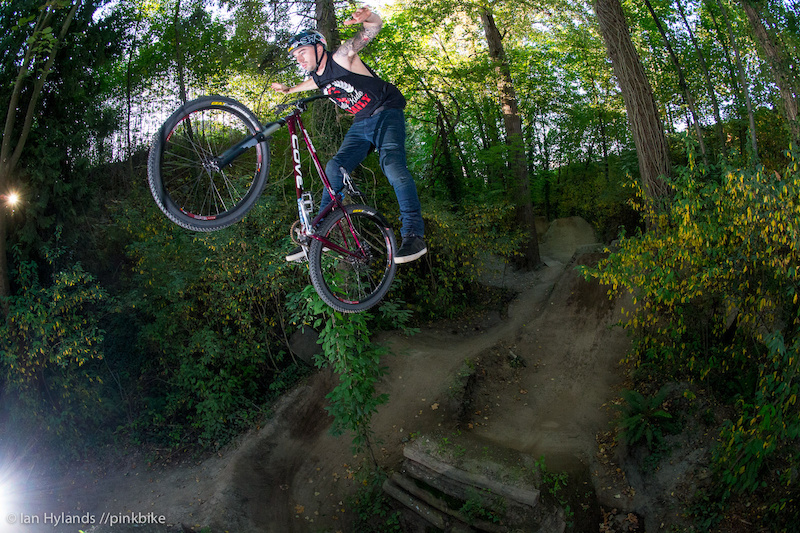 two.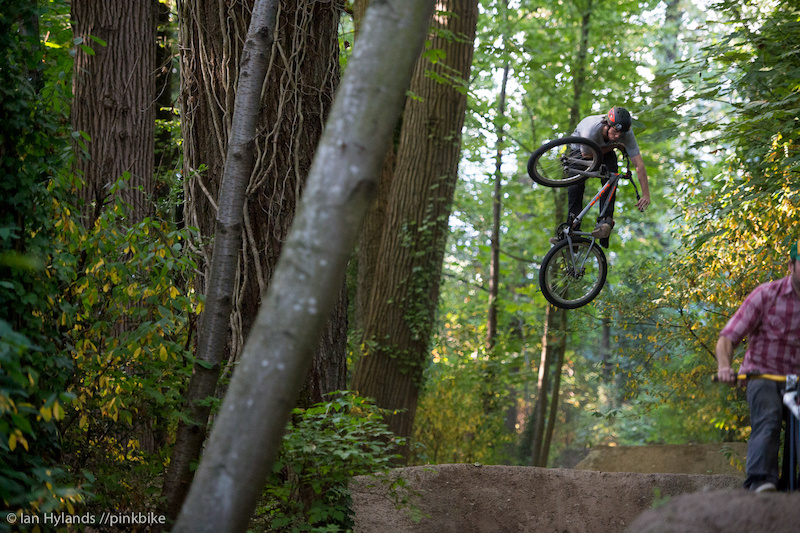 Nice to see Eric didn't forget how to buzz his shoulder during his time off.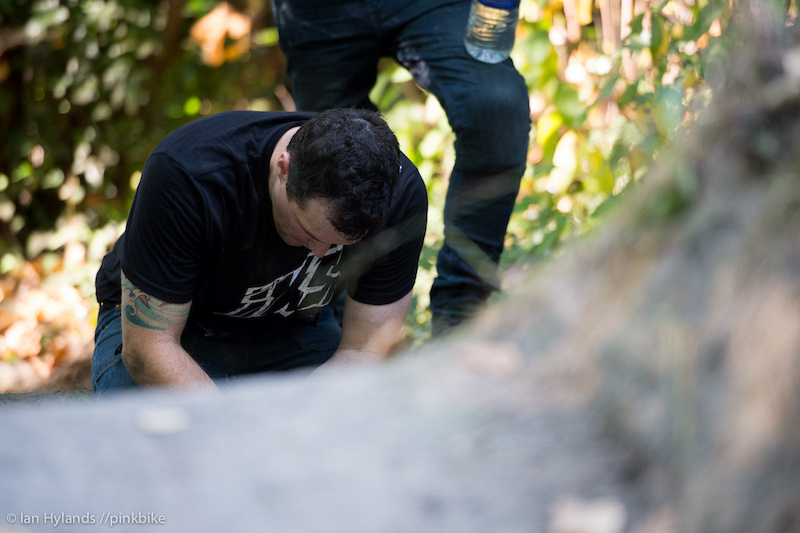 I had a rough day. Thirty minutes into our session I made a mistake followed by a bad decision. This is me contemplating my life and whether or not I would be able to have any more kids.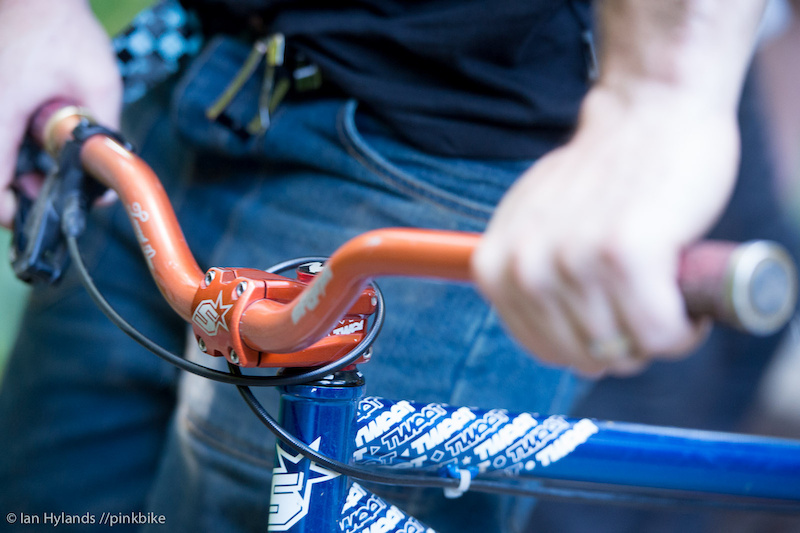 Off to the hospital...thanks for the ride Ryan!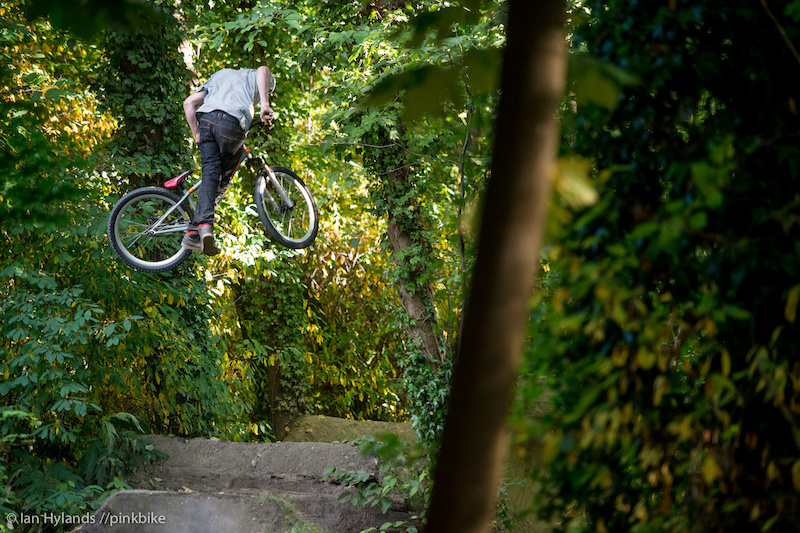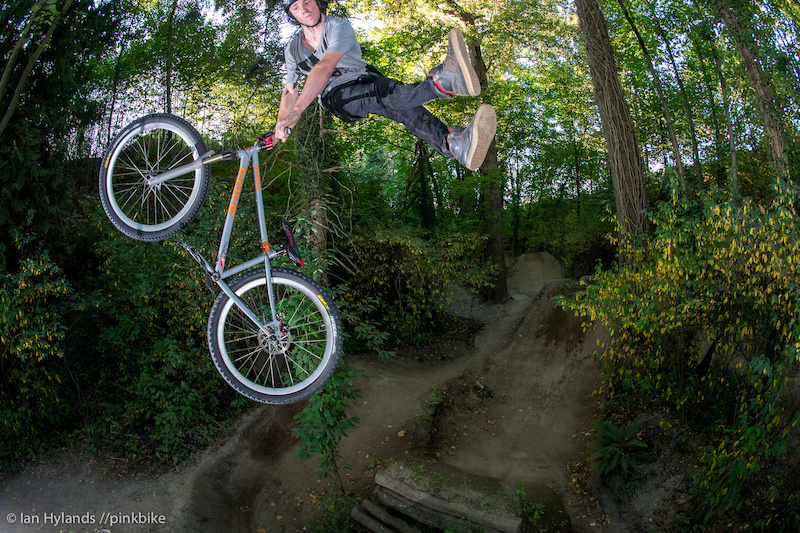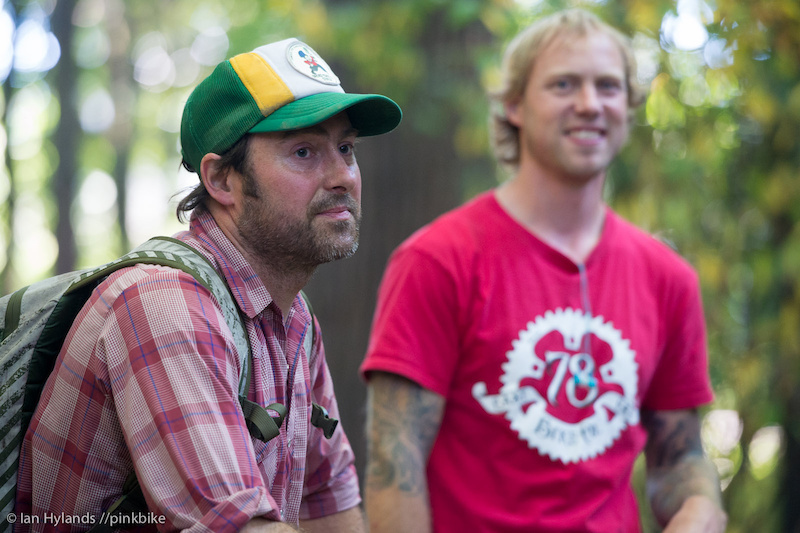 Thanks guys!
Story is brought to you by the guys at
Spank
.