Darcy Turenne seems to have something figured out in the industry of ours as she is one of the few successful riders making it as a freerider and she's a woman in a sport heavily dominated by men. It's great to see the ladies side of the sport gaining recognition and support from with in and outside the industry.

While in Whistler a few weeks ago I was able to sit down with Darcy for a bit and talk to her about life and bikes. Here's what she had to say:


Well Hello Darcy!

Where are you from and how's it shaped you to where you are today?
I'm from Comox, a small town on Vancouver Island and I know growing up there had a huge influence on me, particularly when it comes to mountain biking. There wasn't a lot to do there and the outdoors is so close by at all times that taking up mountain biking just made sense. Even when I started there was a huge scene and a lot of people rode. I remember one year being on the national team when there were 4 people on it with me from the Comox Valley alone. Just being surrounded by nature and such a strong scene was really influential as a young rider.
How often are you home?
Home lately has been where ever my suitcase and bike land. I'm never at my house. These days I'm on Vancouver Island maybe 50 to 80 days a year.
Well today we find ourselves in beautiful Whistler BC, what brings you here?
I'm up here for the 2009 Norco product launch and to reveal the new freeride bike I designed to the world. And to SHRED!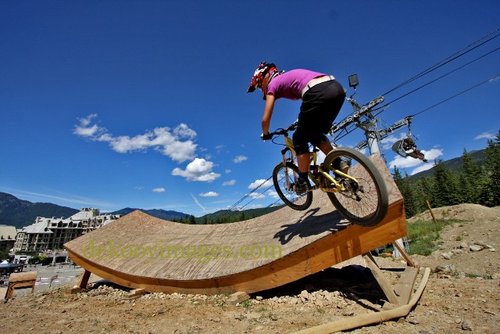 Ya Norco has brought out the majority of their team riders for this event, I saw Hoots, Cobra, Boyko and Leech kicking around too. So you say that you are unveiling a new bike, give us a quick run down on it.
Yeah, those dudes are my roommates for the week. It was so nice and clean until they came along! Boyko really has to do something with those knee pads of his.
My new bike is sick...if I don say so myself! Haha. It's a women's specific freeride bike that I designed with Norco and had a lot of input from other girl riders. It's a 6" travel bike that is good for big mountain riding and park riding. I took it to the slopestyle course today too and it was awesome! I'm really stoked (and relieved) that it rides so well. Super light and nimble but stable enough to charge in the rough stuff. So stoked!
Oh, and it's called the "Vixa" and the series of bikes I helped design is called the "Forma" series.
Darcy Turenne talks about her new Norco Vixa and the sponsors that keep it rolling

:

What are the other bikes in the Forma line up like? What style of riding are they orientated too?
There are three hard tails and they range from beginner to advanced. Good for going up and they are light and pretty.
Light and pretty hey! So tell me about your day in the park today. Anything exciting happen?
Rode with some slow dudes. OHHH!! BURN!!! Just kiddin'. We went up to the top of the mountain today for a big Norco lunch then got to go ride the new trail called "
Ninja Cougar
" that hasn't even been opened yet. Let's just say that I have a new favorite. Sorry Dirt Merchant, you're out -
Ninja Cougar
- you're in.
Nice, so in between all the meals that Norco kept feeding us there was actually some riding going on?
What are your plans for the next week?
Well, tomorrow I plan on doing a little podcast for the Norco website, then ride ride ride as much as I can. Looking forward to spending some time at home on Vancouver Island because as of next Saturday I'm gone every single day till October. So I think I'll do some fishing with my dad and have as much friend and BMX time as possible.
Oh wow! So the life of a professional freerider is that of traveling to foreign lands and all play or is it a grueling job?
Umm, I would say it's a little bit of both. I really can't complain about my job, but yeah it's true, I don't get home that often. I have a storage locker as a home!
So is it assumable that due to your rigorous traveling and jet setting life style that you are you single right now? Do you like the bikers or non-which are better?
Haha, yes I'm single. I can't image how hard of a job it would be to be my boyfriend right now because I'm always gone!
I guess it's cool if a guy can bike. I think they'd have to because they'd probably get pretty sick of me talking about biking related stuff after a while!
Tell me about at least one of your great adventures in the past few months?
Well, I haven't been to anywhere that doesn't speak English lately but I did a float plane drop in the Chilcotin mountains which was out of this world. Nothing better than doing shuttle runs in a plane!
Pretty soon I'll be in Croatia though so that'll be cool too!
Shuttle runs in a PLANE! That is awesome!

Well I remember running into you back in Portland at Aaron Lutze's place as that is where all the Canadians beg to stay - Thanks Aaron! At that time were you on your way south or on your way home from a stay down around the Oakley head office?
I was on my way south for a month of visiting friends, riding BMX, and hanging out at the Oakley headquarters in So-Cal. It was a great way to pass the winter gloominess of Western Canada!
Ya the rain on the wet coast gets more than a little dreary at times. So tell me about about you were doing hanging out at Oakley?
Well, the head office is down in southern California and I went to visit a few of my managers and good friends, as well as the guys at Bike mag, and my other friends down there. I also took a trip to Woodward and rode a ton of BMX.
Also, I did a photo shoot for
Men's Journal magazine
. It was a freezing cold day in Malibu and I felt like I was at home but had to wear a tank top.
Aw muffin! You poor thing a photo shoot for Men's Journal! How'd that come about?
I don't know actually! They contacted Oakley looking to feature me in an article called "Action Figures." So funny. There were a few other athletes - a surfer, triathlete, motocross rider, wakeboarder, snowboarder, and skier.
How I was head hunted I don't know!
Nice being head hunted can't be that bad and it must stoke your sponsors out too. Any other good head hunting stories like that recently?
Yeah it saves me from a lot of work hustling like I usually do. Actually yes, I do have a story. When I was in LA the web guy at Norco got an email from an intern at
Rolling Stone
looking to get in touch with me. I thought it was a joke but it turned out that they wanted to feature me in their annual sports edition. I think Shaun White was in the same issue last year or something. Anyways, I've always wanted to be in Rolling Stone (although I always thought it would be for music!) and all of the sudden I'm on the phone with the editor! They came out to Vancouver Island to shoot in the rain forest by my house and the issue will be coming out later this summer. It still blows my mind because I respect that magazine so much...there's a great head hunting story for you!
Holy crap, you're gonna be in Rolling Frikin' Stone! Good word Darcy! But just think, that's just a drop in a pond compared to this article - Hahaha!
Yeah, I've always wanted to be on Pinkbike.com!!!!! That's the pinnacle of my career. I think I should retire now.
*
The Rolling Stone magazine with Darcy in it should be on your news stands now!
*
Why do you have a neck tie (that isn't mine) around your head? Where do you get your sense of style from?
Well, it was my headband, then I drank a glass of wine and started getting crazy and it ended up sideways and backwards. My sense of style....hmmmm, I think anyone can wear anything no matter how out there it is and if they are confident and rock it, it can be classified as good style. I'm sure I've made several fashion mistakes because of this philosophy...
Aside from a few fashion mistakes along the way tell us about making a career out of being a "Pro" female freerider.
Making a career out of riding has been something that has always been on my "to do" list since I first started biking. It was one of those things that I was just so determined to do that I never saw any other option than to make it happen! I went to university and got a degree as a backup plan for when I'm too old and sore to ride my bike professionally, but for now I'm putting 100% into biking. Being a woman freerider is a new side of the sport that is just emerging and so far I think it is going really well. I'm enjoying myself, that's for sure!
Darcy Turenne helmet cam on A-Line with Radek filming

: