1armbandit
Member since Apr 17, 2017

Male
Markham , Ontario
1 armed MTB er.
Block user
Recent

Aug 23, 2018 at 11:06
Aug 23, 2018

Selling
Aug 23, 2018 at 10:44
Aug 23, 2018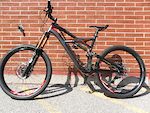 $3600 CAD
2012 Specialized Enduro Expert Evo, 2x10 spd, Original owner, bought NEW. Upgrades from stock; Front fork (Fox Team 36 R/C ADJ/H/L SPD)KASHIMA coating, 20 mm thru axle, Disc's F/R( HOPE Sawblade), Pedals(BLACKSPIRE)TI/ALUM , Handle bar (EASTON Haven Carbon), Rear cassette (SRAM XX 1 PC), Rear derailleur (SRAM XO) Clutched, Rear derailleur hanger (North Shore billet Alum ), Seat (Specialized Phenom/ TI rails). Chain(KMC TI/NI coated Hollowpin All above mentioned purchased (NEW) in winter of 2014/15. Mtb has always been stored inside (Not the Garage). Maintained on a above average service schedule and overhauled ever 2 yrs. All services and parts mentioned below purchased winter of 2016/2017. Mtb has had a complete Chassis and Suspension overhaul/rebuild. (NEW) Cables, (NEW) Brake pads (SRAM), (NEW) Chain (KMC TI/NIT, coated hollow pin), (NEW) Bottom bracket (ENDURO Ceramic bearings), (NEW) Specialized Blacklight Command Post, (NEW) SRAM XO Clutched rear derailleur, (NEW) Specialized Phenom Seat (TI) rails, (NEW) Fox Suspension service: seals,wipers, oil, F/R. Bills to prove purchases of parts, tools, service, and equipment, contact with Dealer/Service shop for references. Has not been used since overhaul, (16/17). Everything that you see in the pictures, comes with the purchase of the MTB. (NEW) Specialized tires 3 pairs, Hand tools(Park Tool), Pump(Lezeyne), Service post(Spec), Jersey(Spec), Protective gear(TLD), Bike stand(Park Tool PCS 10), Spare tubes(Spec), Tire levers(Park Tool 3 pcs), CO2 cartridges 16/20, Tire gauge(Topeak LCD, Memory, Preset, Bleed button), Grips(Spec), Grip shifter(Sram XO), Command post lever +cable kit/x 2(Spec), Chain lube(Finish line/Ceramic wax),SRAM XO Clutched rear derailleur. purchased (NEW) (14/15), (NEW) SRAM rear derailleur pulley wheels (15/16). And other misc spare parts not shown. (This is a package deal). Nothing that you see in the ad is sold separately. Everything is in excellent working cond, and is "new" or "like new" cond. If interested in more details please contact. Thank you.
Load more...