BuddhaDharma
Member since Mar 22, 2018

Male / 38
Calgary , Alberta
Block user
Recent

Nov 4, 2020 at 10:05
Nov 4, 2020
Review: Shimano Deore M6100 12-Speed Drivetrain - Low Price, High Performance
I have Deore and it's not bad.... I was surprised after coming off of XX1 eagle stuff. I also have GX eagle and am really impressed.... With this being said, C'mon! Why no cage lock on the Deore? IMHO this should be a minimum requirement.. WTF! It's so minor but for someone who travels constantly with my bike I really miss the SRAM cage lock.

Selling
May 1, 2020 at 11:43
May 1, 2020
$6200 CAD
Hello, I'm looking at a selling my Ripmo V1 with a Biknd Jetpack V2 XL travel case ( option) Reason for sale: the industry I work in has been upended by COVID. The bike is also located in Vancouver and I live in Calgary and there is no reasonable way of getting back to me. Instead, It's collecting dust which is a shame for such an awesome bike! Built : winter winter 2018 Bike is in CANMORE AB ***Local Pickup is Optimal. *** - Shipping negotiable Stats: Full Invisiframe kit Extra Clear tape On chainstays etc - it'll be evident I failed art class. 2019 Fox 36 Factory Grip 2 w/ Vorsprung Luftkappe installed ( amazing upgrade) 2018 Fox Float X2 / has a 2020 float X2 -> bike comes with both shocks WTB Verdict Wet Front TCS high grip/ DH casing 2.5 WTB Judge ( original Tire) high grip/ DH casing WTB Vigilante ( original tire) 2.6 high grip/ light casing Chromag BZA 35 Bar ( Carbon) Chromag ( Carbon Stem) Headset Cane Creek 40 Rim: stans sentry / SRAM 900 Hub F Rim: stand sentry / Industry 9 Torch R ( LOUD) Brakes: SRAM code RSC 200/ 180 Sadddle : Chromag Lynx DT Dropper: Fox Factory Transfer 150 mm w. Wolftooth lever Cranks : Race Face Next R 170 mm Drivetrain : XX1 Shifter / derailer Cassette: X01 ( black) Extra: Works -1 Angleset ( in Calgary shipping is separate) + $ 140 Due to demand for the bike price is OBO.

Apr 15, 2020 at 14:57
Apr 15, 2020

Apr 8, 2020 at 20:38
Apr 8, 2020
BC Parks Closes All Provincial Parks Due to Covid-19
Mental health and physical health have a symbiotic relationship! Look at " the Body keeps score" This is a global traumatic event... Not sure taking away people's outlets who may have lost relatives, their job, their business is a particularly great idea. Oh! And everyone had lost their social engagement system as well.. I'm not advocating for stupidity and not following physical distancing.. I'm all for that. But maybe in moderation .. Oh wait! People can watch CNN for 12 hours, eat completely shitty food, not exercise and get traumatized and that's totally fine! No problem fighting off a dangerous virus with a tapped out nervous system!

Apr 3, 2020 at 8:41
Apr 3, 2020
New Zealand Health Minister Criticized for Mountain Biking During Lockdown
Oh man! Poor guy. He's not parked next to anyone and the trails aren't full enduro. Lol Firstly, this should be called physical distancing not social distancing. I've waved to people from a more than safe distance and people turn their heads and have a panic attack. We're humans we need human contact! If we become paranoid of one another and decompressing we will have lost ourselves! So.. take away some people's retirement savings ( market crash), their jobs and social engagement system and then outdoor recreation / ways of decompressing... I think we have conditions rife for PTSD/ CPTSD and other serious mental illnesses. This guy WAS setting a good example. Mental health and physical health ( mind and body) are connected. How the fack can one fight off this virus if their nervous system is already jacked up and running at 100% capacity? This is a traumatic event and part of trauma involves decompressing and releasing. So, people watch CNN for 12 hours a day, eat trash and have generally terrible heath which is TOTALLY fine. But try to bolster your immune system and maintain mental health .. no don't do that!!! In Alberta Canada parks are closed for social distancing ( and because of littering). Don't we want people spread out? I've been laid off.and I could be looking at a career change... the loss of these trails was definitely hard on me. - as hard as the career. #bikesaren'tcancelled

Mar 12, 2020 at 10:36
Mar 12, 2020

Mar 12, 2020 at 10:22
Mar 12, 2020

Selling
Mar 4, 2020 at 19:10
Mar 4, 2020

Dec 17, 2019 at 10:52
Dec 17, 2019
Field Test: 2020 Ibis Mojo HD5 - An Easygoing All-Rounder
Was curious to give this a whirl. The sizing on my HD4 has felt a bit small at 5'11 ( I ride a large) I tested a pivot firebird/ a ripmo and tie sizing is way better. I do agree it's not much of a change when considering the old Hd4 is marketed to run a 160 or 170 mm fork which will net a similar HTA ( at 170) as the current Hd4.

Nov 30, 2019 at 13:34
Nov 30, 2019
O'Neal Announces New Bike/Hike Traverse Shoe
These might be ok for winter! I 150 CAD is way better than the price of some of the winter bike- stuff. Combine these with some gaiters and gore Tex socks and it might work ok.
Load more...
Featured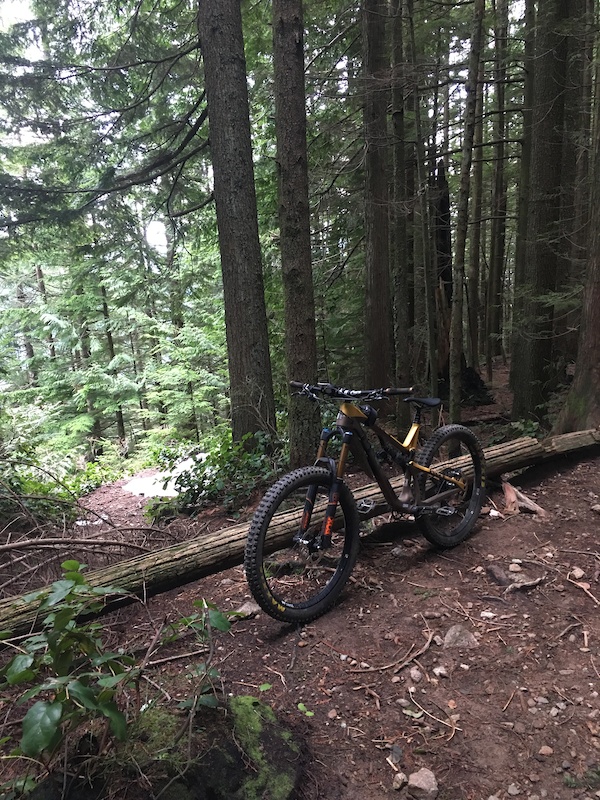 Photo by BuddhaDharma