HaydukeLives
Member since Nov 6, 2015

O+
Male / 35
Bellingham , Washington
Block user
Recent

Sep 22, 2022 at 17:18
Sep 22, 2022
Video: The Making of a Trail Dog with Stevie Sticks & Andrew Taylor
Why whenever a trail dog video shows up on this site people feel the need to tell everyone how they feel about trail dogs? Every single f*ckin time, "I don't like running over poop" " I don't like dogs with bad recall" " I don't like having to stop for a dog" " my dog is the best boy and rides just fine" " I keep my dog on a leash around other people" Me me me me me. Quit making everything about how you're feeling. You're riding a bike in the woods for fuck sake, it's not a big deal if every once in a while your perfect life is interrupted by dumb menial shit.

Sep 1, 2022 at 17:21
Sep 1, 2022
Field Test: Transition Patrol Carbon - The Party Machine
Unfortunately I would disagree with almost every part of this review after owning the alloy one for a couple months. I disliked mine so much that I had to give it up after 15 or so rides that frustrated the hell out of me. That being said, the right size and right rider might have a ton of fun, maybe I just like my stuff smaller and snappier

Aug 19, 2022 at 20:25
Aug 19, 2022

Aug 2, 2022 at 19:52
Aug 2, 2022

Selling
Aug 2, 2022 at 19:48
Aug 2, 2022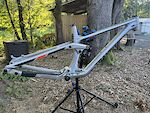 $1900 USD
Selling my barely ridden Patrol Frame. Purchased in the beginning of May directly from Transition. Ridden under 15 times due to my affinity for bikes that are too small for me, Unfortunately this thing is long, low, slack, and too much bike for my dainty style. The good: - the frame is nearly brand new - It comes with internal hoses already routed, so you can save yourself from flipping your lid - fox float x 160mm - dub bottom bracket included - fsa headset included - tail gate protector already mounted - The fair - I ride wrapped most* of it, and managed to scratch an area that I didnt think I would scratch ( the chain stay) Not terrible, but could be unsightly for you fancy insta art bike types - I was running an nx derailleur and guess what... my chain fell off mid pedal and boom! bound up behind the chainring, couple little nicks there All in all this a great frame for new geo types, make me a great offer and its yours

Jun 21, 2022 at 7:37
Jun 21, 2022

Jun 17, 2022 at 7:27
Jun 17, 2022

Jun 8, 2022 at 20:20
Jun 8, 2022

Jun 7, 2022 at 17:49
Jun 7, 2022

Jun 7, 2022 at 7:25
Jun 7, 2022
Load more...