Hixee
Member since Apr 11, 2008

Male / 26
Brighton , United Kingdom
Block user
Recent

Mar 24, 2020 at 7:06
Mar 24, 2020

Selling
Jul 24, 2019 at 12:34
Jul 24, 2019
$140 GBP
Have swapped frames so no longer need this shock. In good condition and regularly serviced. No scratches on the air shaft or damper shaft. Has an EVOL air can which increases the size of the negative and should make it more buttery off the bottom. Fox Float DPS E2E: 200mm Stroke:51mm EVOL Air Can 22mm x M8x1.25 Shock hardware in both ends. Can include offset bushes. NO TRADES

Jun 16, 2019 at 10:45
Jun 16, 2019

Selling
Jun 16, 2019 at 10:42
Jun 16, 2019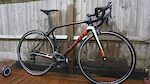 $900 GBP
Selling my road bike as its now sat for a year without use. Gutted to let it go, one of the comfiest race bikes I've ridden. Very few miles into the drive train, original BB still running perfectly smooth. Never been crashed, the cosmetic scuffs are from clumsy cafe stops. 2016 Giant TCR Advanced 2 54cm Frame 90mm Stem Fizik Performance Bar Tape Full Shimano 105 Drivetrain - regular cable/housing changes Superstar Pave 28 Wheels - Absolutely solid and with Ti Axles Upgrade: https://road.cc/content/review/140076-superstar-components-pave-28-wheelset (£194.99) Fabric Scoop Pro Flat Saddle (£129.99) Shimano R550 Pedals (£69.99) Continental Grand Prix GT Tires (£79.90)

Apr 2, 2019 at 9:55
Apr 2, 2019

Selling
Apr 2, 2019 at 9:53
Apr 2, 2019
$350 GBP
A change of bikes leaves these unneeded. Awesome forks and absolutely ripped on the front of my 5010. Perfect trail fork! 2018 Fox Float Fit 4 Kashima 150mm Boost 15mm Boost Axle Serviced by Flotec Suspension In September. Still buttery smooth.

Selling
Apr 2, 2019 at 9:44
Apr 2, 2019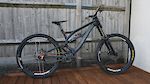 $2400 GBP
Selling my Pivot Phoenix Carbon DH Bike in Large as i just dont use it. Did a full set of bearings just after i got it and its had recent brake bleeds and suspension services so it runs really well. Absolutely awesome bike; silent and zippy. Spec highlights: - Fox Float X2 Rear Shock - Singlespeed or Shimano Saint Setup (not pictured) - Zee Brakes - Spank Cockpit Asking for £2400. Cheers.

Oct 19, 2018 at 6:26
Oct 19, 2018

Selling
Oct 19, 2018 at 6:19
Oct 19, 2018

Selling
Apr 7, 2018 at 8:03
Apr 7, 2018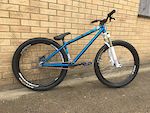 $800 GBP
Sadly come to the realisation of how little this bike has been ridden in the last couple of years so time to let it go. Spec as follows: Frame: Octane One Void Forks: Manitou Circus Expert Rear Wheel: Spank Spike 35AL on NS Rotary Front Wheel: Halo Freedom Disk on Funn Bullet Tyres: Continental Race King Folding 2.2 Cranks and BB: DMR Cult Sprocket: Federal (i believe) Stem: Funn Strippa Light Bars: Sunline V1 Brake: Avid Elixir Pedals: Superstar Nano-Tech Flats Saddle: Cult DAK Pivotal The last picture shows how the paint has deteriorated. The paint on these frames was a bit cheap and its done well to last this long. I can assure you this is purely cosmetic. If it really bothers you for an additional £120 I can powder coat to any colour.
Load more...
Featured
Photo by Hixee