LLon
Member since Aug 1, 2011

Male / 37
Vancouver , British Columbia
Block user
Recent

Feb 20, 2013 at 21:38
Feb 20, 2013

Feb 20, 2013 at 11:06
Feb 20, 2013

Selling
Feb 20, 2013 at 10:54
Feb 20, 2013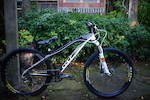 $1250 CAD
Mint shape - literally never ridden 2013 GT La Bomba 1. Saint Cranks Saint Derailleur Saint Chain Ring MRP Chain Guide (not shown but now installed) Fox F series fork Formula RX brakes Kore Bar Kore Stem Beautiful bike and I don't believe you can get La Bomba 1 (black and white) in Canada, so you wont see many of these around I have two Larsens, a high roller and 2 minions so it's your choice of tire.

Selling
Oct 6, 2012 at 16:37
Oct 6, 2012
$3500 CAD
2012 Medium Transition Tr 250 The bike is in incredible shape and has been well maintained - First $3250 takes it and you won't find a 2012 cheaper with such a solid part spec - its literally near mint condition! Not shown in all of the pictures but currently on the bike are a saint derailleur (9spd) and black seat post Specs Fox DHX RC4 w/Kashima Fox Van 180 Race Face Atlas Cranks 2012 XT brakes with ICE rotors Easton Havoc Bar Easton Havoc Stem Straightline 32 tooth front ring DMR Vault pedals I9 front wheel MTX rear wheel (but i will include a I9 rear wheel with 135 and 142 spacing adapter - you will need to purchase a 150 rear hub to run it on this bike) Minion front tire Highroller rear Chromag Seat Saint Rear Derailleur (9spd) and top of the line chain and Sram rear 9spd cassette Any questions just let me know.

Oct 6, 2012 at 16:23
Oct 6, 2012

Jul 29, 2012 at 14:02
Jul 29, 2012
Colorado Freeride Festival - Semenuk wins Shimano Slopestyle
No one was robbed - fairly judged could have gone either way. If you really think Canadians and Americans team up and slag euro riders at FMB events by ranking them 2nd!!! you're an idiot. The British are just jealous at how much better our Oympics were

May 10, 2012 at 20:12
May 10, 2012

Selling
May 10, 2012 at 20:06
May 10, 2012

Feb 5, 2012 at 12:10
Feb 5, 2012
MEC to distribute Ghost bikes in Canada
The get more tax breaks as COOP. Pay little to no corporate income tax - as it is allowed to be reinvested in the co-op. Thats the benefit of being a coop. It's not about adapting to the 21st century its about Corporate Social Responsibility and corporate morals. But either way they're going to sell them.

Feb 2, 2012 at 21:36
Feb 2, 2012
MEC to distribute Ghost bikes in Canada
I believe that if you think it will help local bike shops you are sadly mistaken. Apparently people love MEC on pinkbike though. Not supporting a business because your too scared to go into the store is just ridiculous argument. Whenever you start something new your a "newbie" and everyone was a newbie at one point.. admit your a newbie and walk in, its not different at MEC then any other bike shop.
Load more...