MTBmj89
Member since Oct 24, 2012

Male / 34
Baltimore , Maryland
Block user
Recent

Oct 30, 2019 at 16:43
Oct 30, 2019

Selling
Oct 30, 2019 at 16:41
Oct 30, 2019

Sep 21, 2019 at 17:13
Sep 21, 2019

Selling
Sep 21, 2019 at 17:12
Sep 21, 2019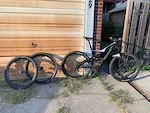 $2250 USD
Selling my Stumpjumper. Comp Carbon front frame, aluminium rear triangle. Its in used (some shoe rub, and cosmetic light wear) but nice shape and has been well cared for. Bike has AMS frame protectors and Deity Mohawk Carbon Bars cut to 775 Mil, and a set of Sensus grips and mud guard. Also has a 65mil Raceface Atlas stem. PLEASE note: the bike will be sold with the stock wheels/tires and not the I9s in the few pictures. Thanks for looking! Set up basically stock: See below for specs. TiresSpecialized tubeless-ready, Front: Butcher, 650B x 2.3; Rear: Slaughter, 650B x 2.3 WheelsRoval Traverse 650b, hookless alloy, 29mm inner width, 24/28h, tubeless ready Fork Brand & ModelRockShox Yari RC 27.5, Solo Air, rebound & compression adjust, 15x110mm Maxle Ultimate thru-axle, 150mm-travel Frame ConstructionSpecialized FACT 9m, carbon front chassis, M5 alloy rear end, Trail Geometry, SWAT™ Door integration, PF30 BB, fully enclosed internal cable routing, ManFu link, 12x148mm dropouts, sealed cartridge bearing pivots, replaceable derailleur hanger, 150mm-travel ShiftersSRAM GX HandlebarsSpecialized, 6061 alloy, Tape/GripsSpecialized Sip Grip StemSpecialized Trail, 3D forged alloy BrakesSRAM Guide R, hydraulic disc CassetteSRAM XG-1150, 11-speed, 10-42t FrameSpecialized FACT 9m, carbon front chassis, M5 alloy rear end, Trail Geometry, SWAT™ Door integration, PF30 BB, fully enclosed internal cable routing, ManFu link, 12x148mm dropouts, sealed cartridge bearing pivots, replaceable derailleur hanger, 150mm-travel CranksetRaceFace Aeffect Rear ShockRockShox Monarch RT, Rx Trail Tune, AUTOSAG, rebound and 2-position compression adjust, 197x48mm Rear DerailleurSRAM GX SaddleSpecialized Body Geometry Henge Comp SeatpostSpecialized Command Post IRcc, S: 100mm travel; M-XL: 125mm travel

Jan 5, 2019 at 19:27
Jan 5, 2019

Jan 5, 2019 at 13:52
Jan 5, 2019

Selling
Jan 5, 2019 at 13:51
Jan 5, 2019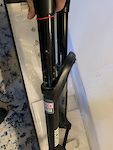 $300 USD
Reduced to 300 shipped! I have here for sale a Rock Shox Pike RCT3 Solo Air 160 for sale. Fork was rebuilt this year and has not been ridden since. It is all new with all fresh new internals including: new air spring w/ seals, rebuilt damper, and new oil and dust wipers. Fork was a take off from a friends bike back in march 2017, and since it has been rebuilt its been sitting in my shop and I have no use for it since it is for 27.5 100 mil spacing(non boost). Steerer has been cut to 6.4 inches. Overall condition is good (was only used for half a season before it was rebuilt), just has some cosmetic rubbing on the crown which is normal and during the rebuild the small blemish on the tube was taken care of. Im looking to sell this as is to someone who can use it, or I would consider trading for a decent set of carbon cranks that with fit a PF-30 frame with 52 mil of chainline. Let me know if you have any questions! Thanks for looking!

Selling
Jan 5, 2019 at 13:41
Jan 5, 2019

Apr 5, 2018 at 15:44
Apr 5, 2018

Selling
Apr 5, 2018 at 15:33
Apr 5, 2018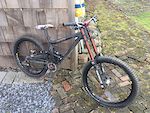 $1500 USD
This bike is still for sale! Im looking to find a good home for it. Putting my DH bike up for sale as some life changes have gotten in the way of me being able to ride DH much anymore. The bike: Very nice bike, fast and well kept over the last years that I have owned it. frame was purchased new at the end of 2013 and all of the parts are 2014 parts installed that spring. The fork has since been ungraded and Is now a 2017 Marzocchi 380 Ti which can support 26 or 27.5 wheels. Wheels are I9 torch hubs laced to Mavic 823 rims set up tubeless Cranks are E13 trs race 36 tooth Renthal chainring Drive-train is 8 speed sram Avid Code brakes 180/203 rotors Deity Stem and Race Face Carbon Bars Rear shox is currently the stock Fox DHX RC-4 that it came with and 400-450lbs spring. It has always performed well and is in good condition. Overall the bike is nice and well kept. Bearings and seals were serviced over the winter and its ready to ride. I have well over double what I am asking into the build. So given the price and what the bike is, the buyer is going to be getting a very good deal. Let me know if you have any questions. Thanks!
Load more...