Some of the tightest racing we've seen all season went down on Tuesday night as the series welcomed Pinkbike.com as a new sponsor!February 8th - Tuesday night's racing seemed faster and tighter than previous nights. It may have been due to the track getting harder and faster, or maybe because there's only one race left after tonight and there's still lots of points on the line, or maybe because Pinkbike.com signed on as a new sponsor and the riders were fighting for prizes. Or maybe it was because all the smiles, high fives and track practice has resulted in some of the best racing and riding we've seen all year. The race can be organized and run smoothly, but it's the riders who are out there elbow-to-elbow and putting on the show. Big shout-outs go out to all the committed riders in the series!
Sponsoring the Abbotsford Indoor Series, Pinkbike joins longtime supporters
Kona Grass Roots
,
Abbotsford BMX
,
Chromag
,
Smart Water Canada
,
Decline Magazine
, along with the guy who's put in as much work as the race organizers,
Clayton Racicot
. Clayton snapped
225 MORE PICS
on Tuesday night. If you'd like a professional photo shoot from a rider's perspective, whether it be a Sunday ride or event, hit him at
ClaytonRacicot.com
!
Now let's get to the racing. In U13 Meaghan Carmichael took on Travis Regnier, Aidan MacDonald and Keifer Bernier over 3 motos. Regnier took home another win with MacDonald & Bernier trailing just behind.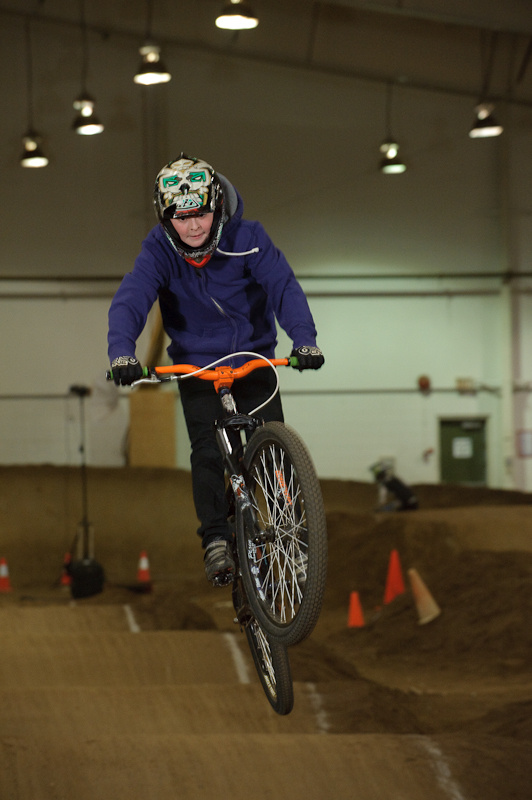 The Camera won't keep U13 Travis Regnier from keeping his eyes on the track ahead as he dials in the big double. How old is this kid?!
In U15, Jesse McLeod took home another win ahead of Cole Bernier and Tanner Gehman. This gives McLeod a healthy lead while leaving behind him a fight for the
#2
spot with Cole Bernier, Darien Landers, and Carson Price. Take a look at the points lead, then have a look at the pics of the U15. The racing has been way tighter than the leaderboard lets on.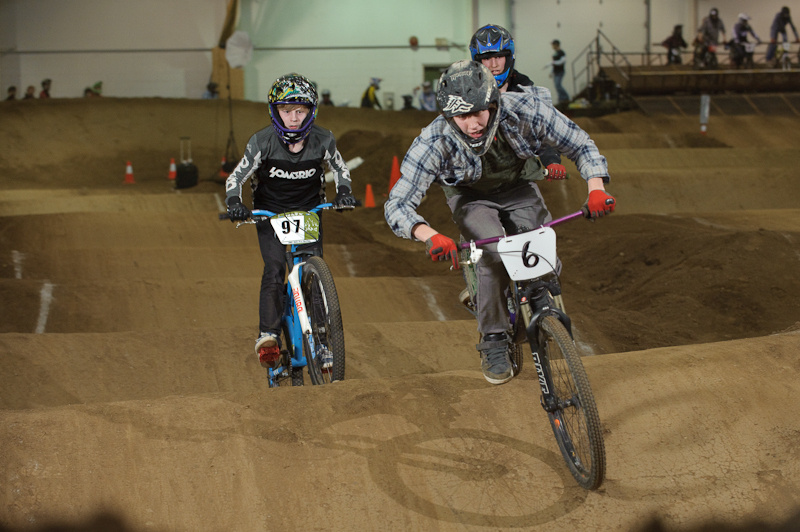 McLeod leads Big Brother Bernier into the 3rd turn. These guys have raced tight all season.
In Junior, The 4 way series battle between Cole Swanson, Kyle Murphy, Carson Jordan, and Liam Wallace got even tighter with Jordan missing the main and Hunter Welykholowa taking 4th on the night. This leaves a 3 point gap between 2nd and 4th going into next week's finals. All riders have vastly different styles, but Kyle Murphy pulled it all together to keep the lead on the series.
In Open Vet Men, It was Martin Newman who took the win, but Andrew Ewart placed 2nd and kept his lead on the series. But the story of the night was Bryan Giois, the rookie,who made the main and took 3rd place on the night. David Jennings also made his 1st Main and took 4th on the night and added 2 more points to his leaderboard total.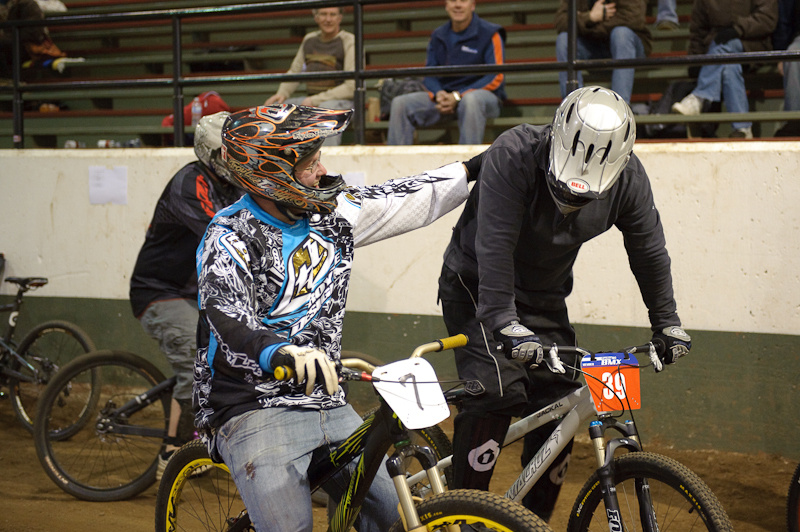 Vet Opens Travis Petersen and Andrew Ewart are just glad the night is over. Is the Advil store still open?
In the 1st Mash Up of the evening, World Cup DH Pro Micayla Gatto took on
#1
Paula Armstrong and the rest of the Open Women's class. Paula took home 2nd on the night and 1st overall in Open Women ahead of Karaleen Westmoreland and Kelly Jones.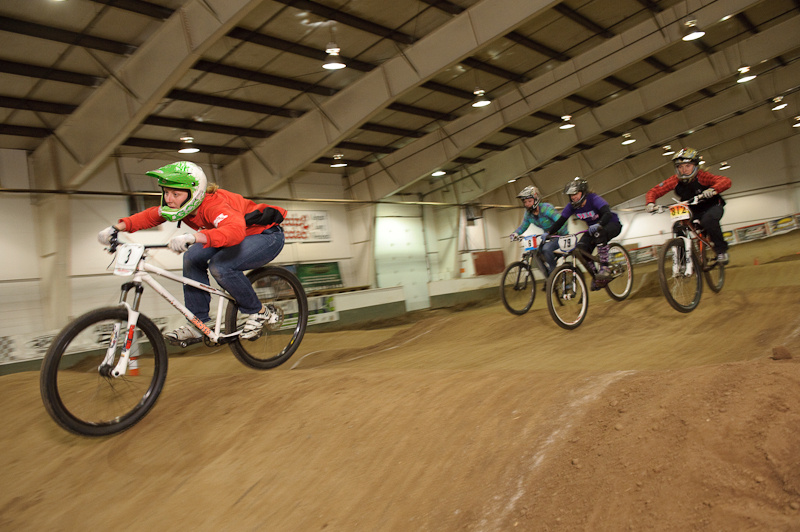 Think Paula Armstrong knows how far she is ahead of the pack here? Well, she knows now.
In Open Men, Tyler Shymr took home the win on the night and the largest lead gap in the series. Glenn Francks took 2nd with only a 4 point gap separating him and Sean Best holding the
#4
spot.
#3
Bob Jones may also have something to say about it with only one race left in the Series.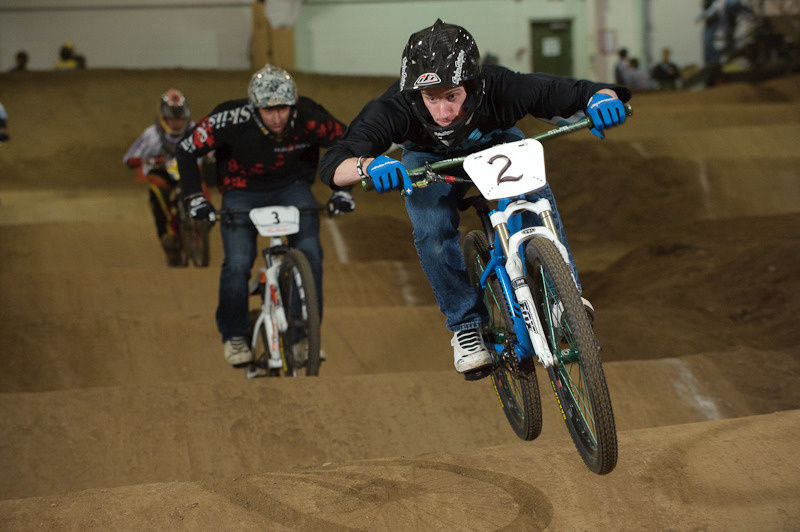 Tyler Shmyr building his gap on Glenn Francks on the dirt and on the leaderboard.
The 2nd Mash-Up of the night was when the wiley Vet Pros and the blistering fast 4x Lites took on the Pro Men in a battle with some familiar faces from them moving pictures. Ex 4x'ers now known for their mind blowing riding on film showed up as Kona/Monster's Graham Agassiz and Rocky Mountain/Dakine's Geoff Gulevich banged elbows with ex 4x Champ Tyler Gorz and current
#1
Cam Murphy.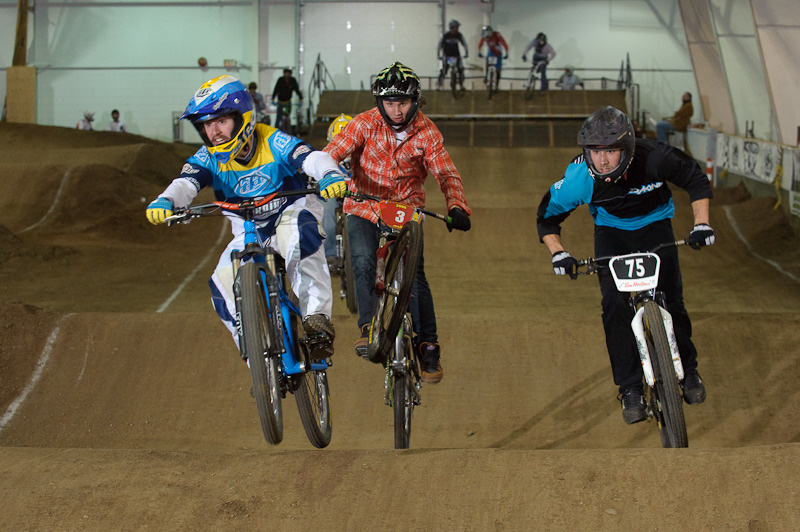 Gorz, Aggy & Gully ripping down the 1st straight to see who's moustache blows the best in the wind. Aggy trumps all with a sick manual bar tweek. Gettin Loose!
The Pro Mash-Up Semi Final
#2
saw Brian Onofrichuk, who barely made it out of qualifying take on RD Watters, Lites
#2
Jordan Timmer and Pro
#2
Harold Woolnough. Woolnough would go on to take the win closely shadowed by the O'Show. Watters and Timmer would be left battling for points in the consolation round. In Semi #1, A super tight race went down as Lites
#1
Bart Brown and Pro
#1
Cam Murphy took 1st and 2nd ahead past 4x Champs Adam Muys and Tyler Gorz.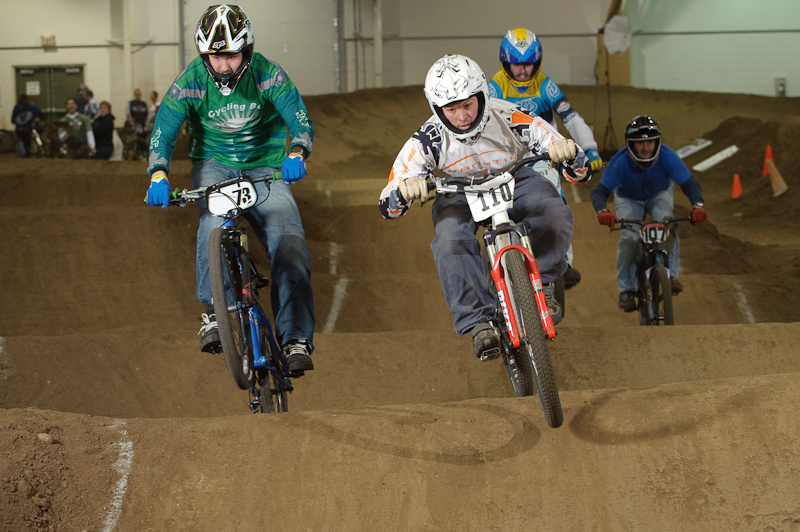 RD Watters leading the pack into the 3rd turn a second before Bad News Muys tee'd him up for a brilliant pass. Watters looks strong all night up against the Pros and Vet Pros.
In the Main, Woolnough scored the lane choice, but couldn't hold back the speed of Cam Murphy into the 1st turn. Murphy and Woolnough battled through 4 straight, but Murphy didn't let up. Woolnough takes 2nd with Bart Brown and Brian O 3rd & 4th. Brown effectively wins lites for the evening, and Brian O takes home the Vet Pro win.
Here's how it looked after the dust settled
:
U13 Boys
1st Travis Regnier 6 pts
2nd Aidan MacDonald 4 pts
3rd Keifer Bernier 3 pts
U13 Girls
1st Meghan Carmichael 6 pts
U15 Boys
1st Jesse McLeod 6 pts
2nd Cole Bernier 4 pts
3rd Tanner Gehman 3 pts
4th Carson Price 2 pts
5th Chris Davis 2 pts
6th Morgan Morrison 1 pt
7th Jason Reddy 1 pt
Junior Women
1st Kelsey Begg 6 pts
Junior Men
1st Kyle Murphy 6 pts
2nd Cole Swanson 4 pts
3rd Liam Wallace 3 pts
4th Hunter Welykholowa 2 pts
5th Carson Jordon 2 pts
6th Ben Friesen 1 pt
7th Mitchell Gehman 1 pt
8th Scott Middleton 1 pt
9th Tyler Jackson 1 pt
10th Eric Wong 1 pt
11th Colton McLellan 1 pt
Open Vet Men
1st Martin Newman 6 pts
2nd Andrew Ewart 4 pts
3rd Bryan Gioia 3 pts
4th David Jennings 2 pts
5th Travis Peterson 2 pts
6th Steve Baxter 1 pt
7th David Kishi 1 pt
8th Andrew Carmichael 1 pt
9th Mike Noseworthy 1 pt
10th Kim Knowles 1 pt
11th Paul Pennimpede 1 pt
Open Women
1st Paula Armstrong 6 pts
2nd Karaleen Westmoreland 4 pts
3rd Kelly Jones 3 pts
4th Crystal Lambert 2 pts
5th Beatrice Jakob 2 pts
7th Marie Cunha 1 pt
Open Men
1st Tyler Shmyr 6 pts
2nd Glenn Franks 4 pts
3rd Bob Jones 3 pts
4th Barton Moore 2 pts
5th Sean Best 2 pts
6th Tom Power 1 pt
7th Devyn Pelley 1 pt
8th Lucas Bacso 1 pt
9th Nick Tingren 1 pt
10th Kyle Bury 1 pt
11th Jason Lucas 1 pt
12th Andres Paez 1 pt
4x Lites
1st Bart Brown 6 pts
2nd Jordan Timmer 4 pts
3rd RD Watters 3 pts
Pro Vet Men
1st Brian Onofrichuk 6 pts
2nd John Starcevic 4 pts
3rd Dustin Homeniuk 3 pts
Pro Men
1st Cameron Murphy 6 pts
2nd Harold Woolnough 4 pts
3rd Adam Muys 3 pts
4th Tyler Gorz 2 pts
5th Geoff Gulevich 2 pts
6th Graham Agassiz 1 pt
Rockabilly Racing's Abbotsford 2010-2011 Indoor 4x Series Standings after 5 races
:
U13 Girls
1st Meghan Charmichael 12 pts
2nd Cleome Hope 6 pts
U13 Boys
1st Travis Regnier 28 pts
2nd Aidan MacDonald 22 pts
3rd Michael Meade 9 pts
4th Keifer Bernier 8 pts
U15 Girls
1st Erin Kinnie 6 pts
U15 Boys
1st Jesse McLeod 28 pts
2nd Cole Bernier 15 pts
3rd Darien Landers 12 pts
4th Carson Price 10 pts
5th Jason Reddy 8 pts
6th Tanner Gehman 5 pts
6th Morgan Morrison 5 pts
8th Kevin Weed 3 pts
8th Daniel Crane 3 pts
10th Eric Moore 2 pts
10th Nic Rodgers 2 pts
12th Ben Hope 1 pt
Junior Women
1st Kelsey Begg 18 pts
Junior Men
1st Kyle Murphy 30 pts
2nd Carson Jordon 15 pts
3rd Cole Swanson 14 pts
4th Liam Wallace 12 pts
5th Eric Wong 7 pts
6th Hunter Welykhlowa 6 pts
6th Tyler Jackson 6 pts
6th Ben Friesen 6 pts
9th Colton McLellan 5 pts
10th Scott Middleton 3 pts
11th Mitchell Gehmen 2 pts
11th Joey Mackillican 2 pts
11th Sheldon Wegleitner 2 pts
11th Parker Haralds 2 pts
15th John Cook 1 pt
16th Tanner Salkien 1 pt
Open Women
1st Paula Armstrong 24 pts
2nd Crystal Lambert 16 pts
3rd Beatrice Jakob 15 pts
4th Kelly Jones 9 pts
5th Karaleen Westmoreland 8 pts
6th Amanda Girard 4 pts
7th Thea Reynolds 2 pts
8th Marie Cunha 1 pts
Vet Open Men
1st Andrew Ewart 26 pts
2nd Steve Baxter 13 pts
3rd Martin Newman 10 pts
3rd Travis Peterson 10 pts
5th Kim Knowles 9 pts
6th Paul Pinnempede 7 pts
7th David Jennings 4 pt
7th Andrew Carmichael 4 pt
9th Bryan Gioia 3 pt
9th Mike Noseworthy 3 pt
9th Richard Jarman 3 pt
12th David Kishi 1 pt
12th Jim Corrick 1 pt
Open Men
1st Tyler Shmyr 30 pts
2nd Glenn Franks 14 pts
3rd Bob Jones 13 pts
4th Sean Best 10 pts
5th Nick Tingren 7 pts
6th Devyn Pelley 6 pts
7th Barton moore 5 pts
7th Lucas Bacso 5 pts
7th Daniel Anderson 5 pts
10th Andres Paez 4 pts
10th Joseph Reeves 4 pts
10th Dan Graham 4 pts
13th Tom Power 3 pts
13th Kyle Bury 3 pts
13th Matt Juhasz 3 pts
13th Mike Meade 3 pts
13th Kyle Vanditmars 3 pts
18th Jason Lucas 2 pts
18th Andrew Tait 2 pts
18th Patrick Podolski 2 pt
18th Ryan Morford 2 pt
18th Jason Lucas 2 pt
18th Jason Stolze 2 pt
24th Mitchell Pennimpede 1 pt
24th Reece Wallace 1 pt
24th Paul Moyes 1 pt
24th Adam Trotter 1 pt
24th Seth Cairns 1 pt
4x Lites
1st Bart Brown 30 pts
2nd Jordan Timmer 20 pts
3rd RD Watters 13 pts
4th Kyle Isaman 5 pts
5th Dave McNaught 4 pts
6th Wylie Easton 3 pts
6th Alex Tinsley 3 pts
8th Tim Gadd 2 pts
9th Filip Starcevic 1 pt
9th Connor Evans 1 pt
Pro Women
1st Jess Weed 16 pts
1st Micayla Gatto 16 pts
Vet Pro Men
1st Brian Onofrichuk 30 pts
2nd Dustin Homeniuk 18 pts
3rd John Starcevic 8 pts
Pro Men
1st Cameron Murphy 30 pts
2nd Harold Woolnough 20 pts
3rd Adam Muys 9 pts
4th Todd Castonguay 6 pts
5th Tyler Gorz 2 pts
5th Geoff Gulevich 2 pts
7th Graham Agassiz 1 pts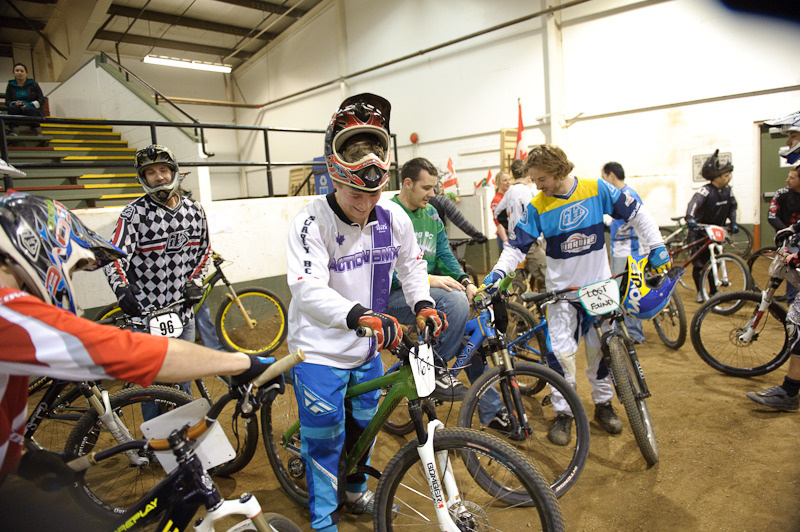 Pro #1 Cam Murphy's all smiles after taking on the impossible task of holding off #2 Harold Woolnough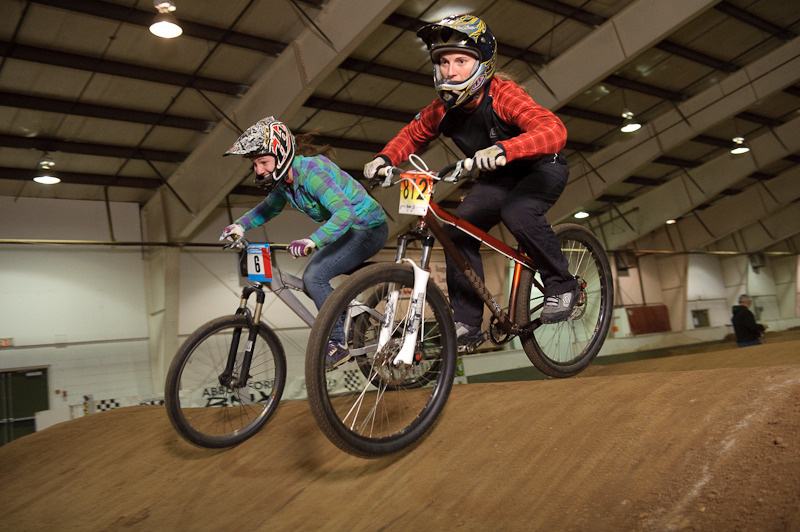 Karaleen Westmoreland and Kelsey Begg battle into the 2nd turn. Kelsey looks stoked on being pumped.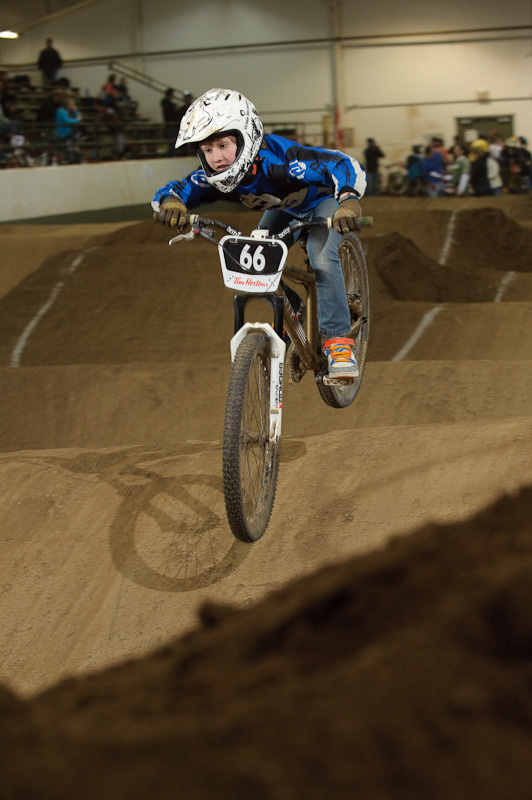 Clayton's shutter obviously JUST missed Keifer Bernier dialing in the big set. I'm not even lying right now. Go Keifer!!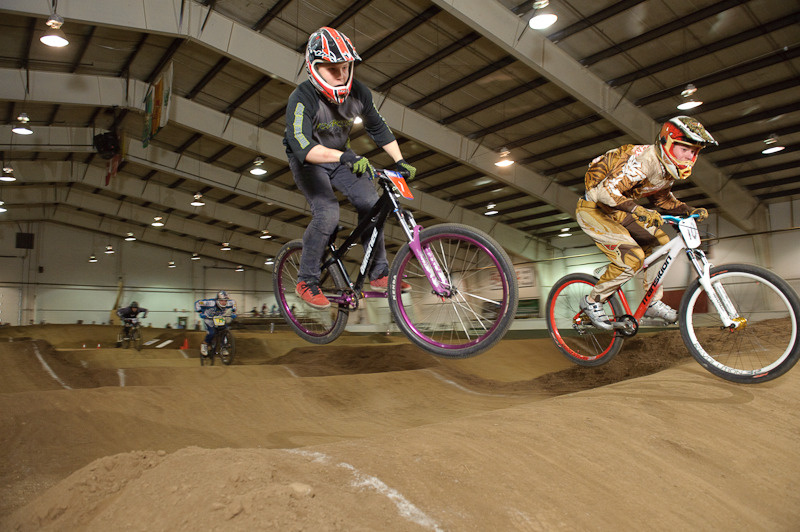 Murphy & Swanson coming off the big set. That's the way it's done. Autograph's will have to wait ladies...
Cool Story! Finals Next week! See you then, and remember who makes this all possible!
Kona Grass Roots
Abbotsford BMX
Chromag
Smart Water Canada
Decline Magazine
Clayton Racicot
PinkBike.Com