Mattynf
Member since Sep 12, 2010

Male / 36
North Bay , Ontario
Block user
Recent

Added 1 photo
Apr 2, 2019 at 18:07
Apr 2, 2019

Selling
Jan 16, 2019 at 15:28
Jan 16, 2019

Selling
Jan 16, 2019 at 15:26
Jan 16, 2019

Selling
Nov 21, 2018 at 18:14
Nov 21, 2018

May 14, 2018 at 14:24
May 14, 2018

Selling
May 5, 2018 at 5:02
May 5, 2018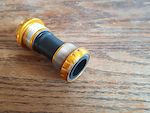 $90 CAD
Chris King Threadfit bottom bracket. Standard BSA threaded for 24mm (Shimano/Race Face/FSA/etc.) crank spindles. Gold anodized. It has a couple seasons of use on it, but was flushed with fresh grease 1-2 times per year using Chris King's BB greasing tool and a high quality marine grease. Bearings run like new. MSRP: $270 CAD Asking $90. Accept Paypal or e-money transfer. Will ship within country if buyer pays full cost of shipping.

Jan 21, 2018 at 6:23
Jan 21, 2018

Selling
Jan 21, 2018 at 6:23
Jan 21, 2018
$175 CAD
Selling off my beautiful Silca Sliding T-Handle Folio set. I've had this for roughly a year, but it's only seen maybe 8-10 days of use either in a shop or at races. Some of the tips on some of the tools have never even seen a fastener. The folio itself has mild dust and maybe a couple small grease spots on it, but is nearly perfect. I've attached a close up photo of the center tips from the 4mm, 5mm and T25, which would have been the most used tips, to show that they only have mild discolouration, and no real wear. The folio has a couple slots for extra tools to slide into, and an extra storage pouch in the corner. It drapes nicely over a bike stand or top tube, and has a carrying handle. Contains: Hex - 2, 2.5, 3, 4, 5, 6, 8, 10 Torx - T25, T30 $175 CAD (MSRP: $265) Will ship within Canada if buyer pays the full cost of shipping.

Dec 8, 2017 at 15:07
Dec 8, 2017
2017 Pinkbike Awards: Athlete of the Year Nominees
"In the oldest and arguably most competitive discipline of mountain bike racing..." Downhill is the oldest form of mountain bike racing, not cross country. The earliest known mountain bike races were time trials down "Repack". I'm sure most people on here know this.

Oct 30, 2017 at 9:39
Oct 30, 2017
Load more...