NAELns
Member since Feb 20, 2015

Male / 24
Whistler , British Columbia
Block user
Recent

Aug 21, 2022 at 2:49
Aug 21, 2022

Sep 8, 2021 at 14:11
Sep 8, 2021

Selling
Sep 8, 2021 at 14:09
Sep 8, 2021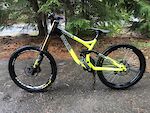 $1500 CAD
Selling my DH bike. The bike rides great and smooth. Minor superficial scratches on one of the fork stanchions (on the photos). The fork was serviced at the beginning of August. The back wheel is new and was built this summer. The frame is in great condition, it was wrapped for a few years. Obviously, some cosmetic paint damage is present but nothing serious. Main specs: Fork - Fox 40 2014 Factory Series FLOAT 26 203mm Read Shock - Fox DHX Brakes - Shimano Saint Cranks - Shimano Saint MRP Chain Guard Bars - Carbon Chromag BZA 35mm Cassette - SRAM 10 spd Derailleur - Shimano ZEE 10 spd Stem - Chromag Seat/seat post - Chromag Giant pedals Front Wheel: Novatec Demon Rim Novatec Hub Minion DHF Tire Back wheel: Rim - Spank Skipe Hub - Hope Evo Pro 2 Spokes - DT Swiss Minion DHR II Tire Contact for more photos if needed.

Aug 9, 2021 at 23:13
Aug 9, 2021

Selling
Aug 9, 2021 at 23:12
Aug 9, 2021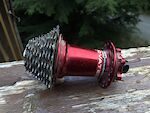 $10 CAD
Great condition overall, but the freehub's teeth are damaged by the cassette - if taken off, most likely can't be used for a new cassette. Can be used as the main body with a new freehub.

Jul 16, 2021 at 18:40
Jul 16, 2021

Selling
Jul 16, 2021 at 18:38
Jul 16, 2021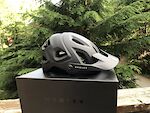 $160 CAD
Absolutely brand new helmet, never used - has all the labels and stickers on it. I bought it thinking I will use it but ended up not. Size Medium (M) - 54-58 cm Mips with BOA sizing adjustment. Extra forehead padding. Retail price - $200 + tax (around $220 total). Around $60 savings.

Selling
Jul 6, 2021 at 15:05
Jul 6, 2021

Aug 23, 2020 at 18:49
Aug 23, 2020

Selling
Aug 23, 2020 at 18:43
Aug 23, 2020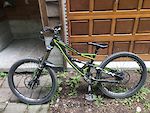 $890 CAD
Bought this bike at the end of June, so haven't done much changes to it. Leaving BC so I need to sell it, overall good condition for its age, obviously with cosmetic scratches on its frame and components over the years. Been ridden in the bike park only since July this season. Runs great, so far haven't had major issues. Did a brake bleeding and put a new set of rear brake pads like a week ago. Main info on components: Fork: FOX 34 float RCT2 FIT not sure which year, but not a default option. I think it needs service but runs great so far. Rear Shock: RockShox Monarch R, was recently put by the pevious owner. Brakes: Avid Code with new brake pads on a rear break. (rear brake lever reach is inconsistent, might be some air in the hose, but so far great braking power) Derailleur: Sram X7. Now has a new cable. Shifter: Sram X4 Bottom Brackets: Truvativ Howitzer XR Butcher Tires, a new one upfront A month old RaceFace Grips. Chromag Bar No frame cracks Could potentially ship it anywhere - buyer pays for shipping. Text me if interested or for more/detailed photos and other info.
Load more...