STINKY-MINTY-1
Member since Mar 7, 2009

O+
Male / 28
Whistler , British Columbia
Block user
Recent

Jul 6, 2023 at 14:48
Jul 6, 2023

Jan 30, 2023 at 19:19
Jan 30, 2023

Selling
Jan 30, 2023 at 19:18
Jan 30, 2023

Jan 30, 2023 at 19:05
Jan 30, 2023

Jan 28, 2023 at 20:00
Jan 28, 2023

Selling
Jan 28, 2023 at 19:51
Jan 28, 2023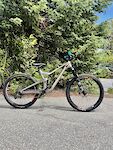 $4000 CAD
2021 Scott ransom, frame has just been warrantied and rebuilt so it's brand new and never ridden Fox 36 up front used, had a new csu last year, serviced in august last year with new bushings and ridden for 2 weeks until I sent the frame for warranty. Shock was serviced at the same time. Brand new gx derailleur, cassette and chain were new in June last year and used for 4 weeks. Hope pro 4 hubs, both new in 2021 built up with a 27.5" FR560 on the rear, 29" ex471 on the front, 2 brand new continental tires Code RSC brakes bought mid 2021, discs were new and pads both have lots of life left, front and rear freshly bled. Will also include 2 spare sets of brake pads Deity cockpit, and saddle all in good condition, just a little rubbing from having a full face hanging on my bars. Super sick bike that I've had an absolute blast riding, 170mm travel front and rear has never held me back on anything and climbs like a beast! Let me know if you have any questions! Looking forwards to meeting somebody who's gonna love this guy as much as I have!

Jan 26, 2023 at 17:16
Jan 26, 2023

Selling
Jan 26, 2023 at 17:16
Jan 26, 2023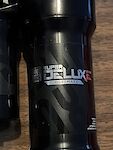 $400 CAD
Brand new rockshox super deluxe ultimate, taken off my new bike. Hoping for a quick sale, happy to ship at buyers expense! Thankyou!

Selling
Jan 26, 2023 at 17:13
Jan 26, 2023
$750 CAD
Brand new, custom 1 of 1 ultimate cockshox prik. Originally known as the rockshox lyrik ultimate, 27.5. 110x15 axle, debonair spring, charger 2.1 damper. 205mm steerer tube. Taken off a new bike Before ever leaving the house. Rude wrapped already. Happy to revert to original graphics but I would have fyi take the ride wrap off, and it's way less fun like that. Hoping for 750 obo and have to move house soon so hoping to sell quick! Located in Squamish, but in whistler most days, and happy to ship at buyers expense

Apr 22, 2022 at 1:26
Apr 22, 2022
Load more...