anotherbikerguy
Member since Jan 2, 2009

Male / 26
Eugene , Oregon
Block user
Recent

Aug 29, 2020 at 11:27
Aug 29, 2020
Bike Check: Greg Callaghan's Devinci Spartan - EWS Zermatt 2020
Bar width? Saddle height? Crank length? Chainring size? Cassette range? Brake rotor size(s)? Tire pressures? The bike checks this year have been pretty bare-bones. Don't get me wrong; I still like seeing the photos... just wish there were more data to nerd out on.

Aug 7, 2020 at 17:26
Aug 7, 2020

May 27, 2020 at 11:39
May 27, 2020

Selling
May 27, 2020 at 11:37
May 27, 2020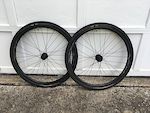 $175 USD
Need an inexpensive set of winter wheels for your all-road/gravel bike?Are you riding 650B and wanting to experiment without spending too much money? Buy these wheels! (Or make a trade--see end of post.) Stock wheelset off of a Giant Revolt. Aluminum, 700c, 12x100 and 12x142 thru-axles, 6-bolt disc, 28 J-bend spokes, Shimano/SRAM freehub body. Max. rim pressure 80 psi (according to manufacturer). Tires: Giant Crosscut AT 1, 700x38, tubeless with some fresh sealant added recently. Wheels and tires ridden about 8 months, under 1000 miles, primarily on pavement with occasional dirt/gravel roads. Tires still have good tread. Bearings are smooth, freehub body not gouged. Anodizing is worn away from a few spokes in some places, which I assume is from transportation, storage, or other incidental wear, but no spokes are gouged or bent. Never thrown a chain into the spokes. No rotors, cassette, or axles included. Located in Eugene, OR. Local sale preferred but will ship at buyer's expense (you cover PayPal fees + shipping). Potentially interested in trade/trade + cash for new or like-new Shimano composite road pedals, a 105 or Ultegra compact crankset in good condition, or Salsa Cowbell handlebars.

Selling
May 27, 2020 at 11:35
May 27, 2020

Apr 17, 2020 at 13:19
Apr 17, 2020
Hacks, Bodges & DIY Projects From the World Cup Pits
Dropping the seatpost farther takes (marginally) more time & energy, which can make a difference when you're operating at your limit. And if you fumble the timing of getting it back up, or for some reason it gets stuck down (maybe a broken lever from a crash, for example), having a saddle that's 2 inches below optimum pedaling position isn't as bad as one that's 4 or 6 inches too low. Definitely not things that are applicable to most riders or most situations but I can see the logic for a World Cup-level XC race.

Jan 17, 2020 at 10:47
Jan 17, 2020

Dec 9, 2019 at 15:48
Dec 9, 2019

Oct 11, 2019 at 7:14
Oct 11, 2019
Jordie Lunn Passes Away After Crash in Mexico
Just a couple days ago I was watching Jordie in the video of Cam McCaul's backyard race, thinking about the first time I saw him in Roam all those years ago. This is hard to believe. Rest in peace. My heart goes out to the guys who were riding with him, too. It's got to be an awful experience to lose a friend like that.

Oct 8, 2019 at 6:59
Oct 8, 2019
Load more...
Featured
Photo by anotherbikerguy