bendy
Member since Mar 12, 2009

Male / 26
Shropshire , United Kingdom
Block user
Recent

Selling
Jun 9, 2018 at 7:44
Jun 9, 2018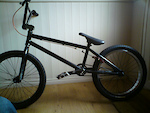 $50 GBP
Originally a £500 bmx, selling cheap due to worn condition (not shown in photos). I can't upload new photos from my phone for some reason and I don't own a pc. It has no front tire (I had patched a slash many years ago but binned it now), scratches on most of the parts (mostly minor but a few bigger ones on the rear of frame from grinding attempts. Not much rust other than the cranks where I wore the paint off, and the chrome on the rear is a bit flakey. The BB and headset are nice and smooth along with the wheels. BB, bars and sprocket didn't see much use before it got put in the shed and forgotten about. The bars that are currently on are black but higher and wider than the ones shown in photos. The sprocket is a bit bigger than the one shown, and the grips are camo not black. The other parts are exactly as you see in the photos. Thank you, Dan

Selling
Jun 9, 2018 at 7:32
Jun 9, 2018

Selling
Jun 9, 2018 at 7:28
Jun 9, 2018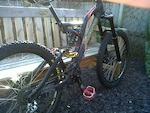 $100 GBP
Good condition for its age, this was my first downhill frame from when I was 14, it's been sat in the attic for the past 6 years. Kept it for sentimental value but now it needs to go. As the title says it's a size small, and although it has parts on in the picture it will only come with the headset, BB and seat clamp. The price does not include postage, pick up is welcome, and if you're in West Midlands I may be able to deliver. Thank you, Dan

Apr 17, 2017 at 3:41
Apr 17, 2017

Apr 14, 2017 at 12:54
Apr 14, 2017

Feb 24, 2017 at 10:26
Feb 24, 2017

Jan 11, 2017 at 13:07
Jan 11, 2017
Bex Baraona's EWS Fundraising Raffle
@Racer951: At no point did I say anything bad about the raffle dude. I think it's a good idea, just can't understand why her sponsors won't help her out with cash instead of product. There's nothing wrong with questioning things either, that's how we improve our knowledge. Also, my original comment contained only 1 opinion (that her sponsors can afford to help her) and a question regarding some numbers. At no point have you reacted to the opinion I gave. You just got mad because my numbers were a bit off. How about I get mad because you overlooked the point of the post, which was as simple as - her sponsors have money, she doesn't, her sponsors should give her money.

Jan 11, 2017 at 3:58
Jan 11, 2017
Bex Baraona's EWS Fundraising Raffle
Didnt mean to post. Don't know how to undo haha but now I'm here, @Racer951 , it's not an issue of my sensitivity, it's a question of why you seem to be unable to show others a bit of common courtesy.

Jan 10, 2017 at 14:28
Jan 10, 2017

Jan 10, 2017 at 14:14
Jan 10, 2017
Bex Baraona's EWS Fundraising Raffle
@Racer951: Why do you have to start trying to insult me? You could have just explained the situation in a pleasant manner like Chris and Ash. You also forgot to explain why I was an ass and I'm not too sure what common sense has to do with fund raising/marketing? You may be an expert, however we are not all that knowledgable. I am aware that there has to be a mark up to create profit, the bigger point was that the majority of top brands are not exactly short for cash, So I can't understand why they don't just help her out with her cash flow.
Load more...