biker-green
Male / 35
North Vancouver , British Columbia
Block user
Recent

May 22, 2020 at 14:34
May 22, 2020

Selling
May 22, 2020 at 14:34
May 22, 2020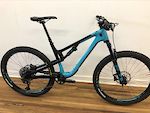 $3999 CAD
Mint condition 2018 Rocky Thunderbolt, women owned very low miles. This bike is stock with the exception of the Deity bar which matches the paint perfectly and a Reverb dropper with 1x remote. There is no visible wear/marks/damage anywhere on the bike. Spec'd with Fox Performance Elite suspension, Sram GX Eagle drivetrain, XT brakes and Stans rims on a DT Swiss 370 rear hub/RMB front hub. More details on the bike can be found here: https://www.bikes.com/en/bikes/thunderbolt/2018

Apr 26, 2020 at 19:08
Apr 26, 2020

Selling
Apr 26, 2020 at 19:07
Apr 26, 2020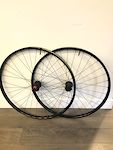 $600 CAD
Brand new set of stans Arch wheels, which are a pre built wheel set straight from stans on their Neo hubs. I have both XD and Shimano style freehubs and will install whichever the buyer needs. These wheels are new and I'm selling because I have decided to go all out and get some carbon wheels for my new bike build. I did have these wheels mounted up and have since removed everything. I also removed the decals as seen. Brand new, dead straight and comes with new black alloy valves and already taped as they come out of the box. Full details here: https://www.notubes.com/arch-mk3-wheelset-neo

Apr 21, 2020 at 13:26
Apr 21, 2020

Selling
Apr 21, 2020 at 13:25
Apr 21, 2020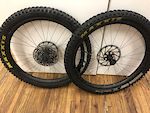 $950 CAD
These wheels were bought new in 2017 along with an Enduro 29 to have as an option to run 27.5+ on the bike. They didn't end up getting very much use as I found them only suited to some of the terrain I ride. They are in great shape, perfectly true and there is no damage. Tires and rotors are included if you want them, the cassette is not. (could be for more money if you need one). This is the only set of tires that have been on these wheels, so you can see how little use the whole package has had. Will ship at buyers expense, will just be hard to find a box.

Mar 28, 2020 at 21:13
Mar 28, 2020

Selling
Mar 28, 2020 at 21:13
Mar 28, 2020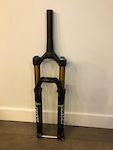 $250 CAD
This fork is in great shape and was taken off a bikes that has not seen more than a hand full of rides a year for the past 3 or so years. It is in great shape all around, no marks, dings or wear. The fork was service end of last summer and has only a couple of rides on it since. This is the the top of the line fork from its time and still compares to current Fox factory products. The fork has 195mm of steer and I have left the headset race on it as this race will work with basically every headset on the market. Will remove if preferred. hub spacing is non-boost 100mm spacing with 15mm axle.

Nov 5, 2019 at 15:45
Nov 5, 2019

Selling
Nov 5, 2019 at 15:38
Nov 5, 2019
Load more...