billyjack
Member since Oct 19, 2008

Male / 47
Kamloops , British Columbia
I make things out of carbon fibre! For a living! Can you believe dat?!?
Block user
Recent

Jun 25, 2020 at 11:15
Jun 25, 2020

Selling
Jun 25, 2020 at 11:13
Jun 25, 2020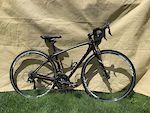 $1550 CAD
My wife doesn't ride road enough anymore to justify keeping Ruby, so she's got to go. (The bike I mean .lol) This is THE MOST STUNNING Specialized carbon frame ever made! Why, you ask? It's because this Ruby has a gloss red clearcoat over unidirectional carbon fibre, that's why! No bondo, or filler, or paint covering up flaws. Like I've seen on more expensive S-Works frames. This one was made right from the start. Frame is a 48 cm. And was fitted to my wife, who is 5'0". Full stock spec on the bike with upgraded Continental Ultra Sport tires. An upgraded Specialized Body Geometry women's saddle as well, and a bottle cage thrown in for good measure. It will sell with either the Shimano spd pedals on it in the photos, or Shimano road spd pedals instead. Buyers choice. As you can see, she's in amazing condition and has honestly less than 1000 kms on her. We moved from Vancouver to an area that is suited to gravel riding, so Ruby has just been collecting dust, sadly. It is a beautiful bike that rides like a dream. Looooooooong distances preferred! The Ruby is designed for comfort, and is the women's cersion of the Roubaix. As always, buyer pays shipping, and only within Canada. I've worked in the bicycle industry for decades, and will pack and ship safely, and sensibly. Texing or emailing is the best way to get me. Thanks for stopping by. Billy

Dec 24, 2019 at 8:44
Dec 24, 2019

Jun 26, 2019 at 21:25
Jun 26, 2019

Jun 23, 2019 at 15:36
Jun 23, 2019

Apr 12, 2019 at 7:47
Apr 12, 2019

Apr 12, 2019 at 7:39
Apr 12, 2019

Sep 26, 2018 at 20:21
Sep 26, 2018

Selling
Sep 26, 2018 at 20:20
Sep 26, 2018

Sep 26, 2018 at 19:18
Sep 26, 2018
Load more...