(left) Danny Grant on a trip to Calabogie Peaks, Ontario in 2007 (right) Danny with his son Keith at Whistler earlier this summer
It is with heavy hearts that we say farewell to a longtime pass holder, friend, father and husband.
On Saturday, October 10 at roughly 5:30 pm, Danny Grant, age 58 from Georgetown, Ontario, passed away following an accident on Blue Mountain's Haole trail. Not only was Danny a longtime Bike Park pass holders, but he was also well known and considered to be a friend by many of the Lift Attendants, Patrol Team, Trail Crew and Bike Shop staff. Danny was riding alone at the time of the incident, and was found with no vital signs by another rider who immediately notified Trail Crew and Patrol. Patrollers responded and began CPR, but were unable to resuscitate him.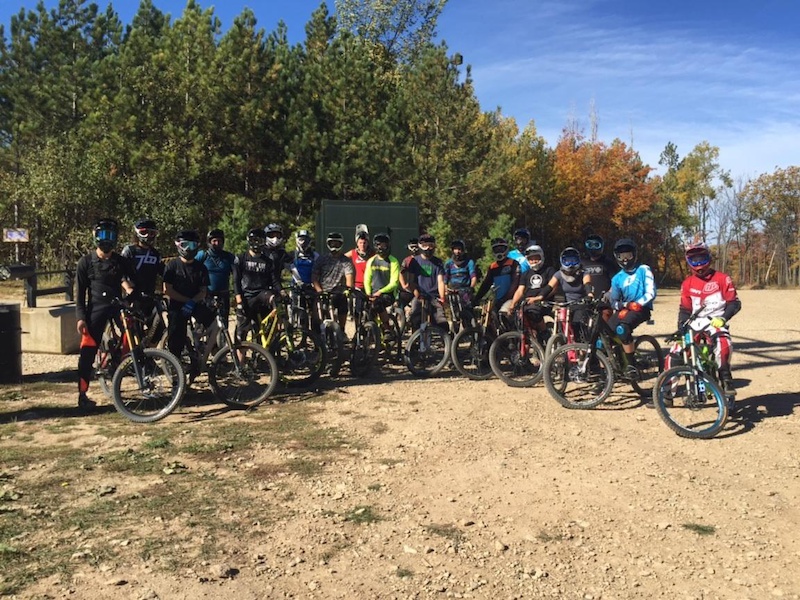 A group of more than 20 riders, including Danny's son Keith, gathered together on Closing Day at Blue Mountain to ride in honour of his memory
As news of the accident broke on social media, many fellow riders began to share their condolences and words of support. A somber mood hung over the Bike Park on Sunday, but throughout the day a small memorial started to take shape at the top of Haole. Flowers were placed by riders who knew Danny, and by others who simply wanted to pay their respect to him, his family and his loved ones. Danny's son Keith returned to the trails on Monday morning for Closing Day where he was joined by more than 20 fellow riders for a group ride in honour of Danny. The support shown for Danny's family by our local biking community following the accident was overwhelming to say the least. The weekend, and the 2015 season, was capped off with one final group run down H2O, just the way we felt that Danny would have wanted it.
Keep it rubber side down, Danny.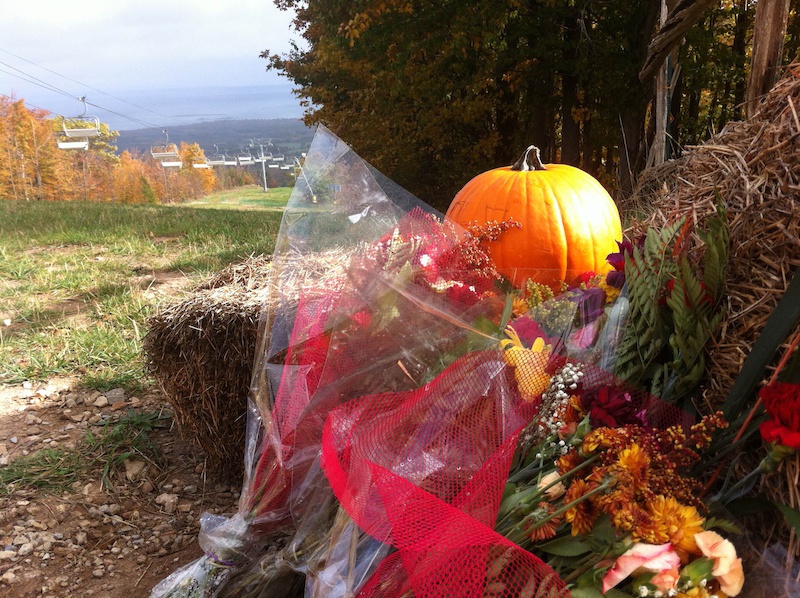 The memorial at the top of Haole on closing weekend"This has really been a tough few days, I know it has been for everyone. I remember Danny arriving on the scene, with the idea that 'Hell, if I'm going to be here with Keith, I might as well race.' So many moments and memories, from Horseshoe to Fortune to the innumerable times at Blue (buzzing his rear tire and Danny giving me a hard time). Watching on the chair, doing runs through the dump with John, amazed at what a great rider he'd become. He was always a pleasure to be around and I'll miss him from the lift line, the parking lot, the race lineup, just knowing he would be there. It's also about the immensely positive mark he left with all of us."
- Brian MacDonald
"Such a great guy! Always enjoyed his conversation in line, on the gondola or in ski season. He was an inspiration to be an active dad and take your kids everywhere you go. So happy on life! What a loss! My condolences to his family. You will be missed!"
- Paul Wojciechowski