bmannn
Member since Sep 6, 2001

Online
Male / 46
Cochrane , Alberta
Block user
Recent

Feb 17, 2020 at 15:01
Feb 17, 2020

Selling
Feb 17, 2020 at 14:57
Feb 17, 2020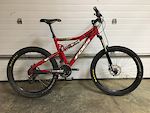 $1850 CAD
So here is an amazing trail bike I built up a couple of years ago. Most of the parts have seen about ten rides. The frame has seen two seasons of use. Bike has the following spec: xtr crank and wheel skewers. SRAM XO cassette, rear mech, and shifters. Rockshox reverb dropper post, dt 240 hubs laced to stans rims, Thomson stem, Chris king head set, chromag bars, and a Rockshox revelation 150 mm u turn fork. The rear shock is a curnutt coil with 130mm travel. The reason this bike has seen so little use is I have mainly been riding dirt bikes the last nine years, butr a back injury last summer got me out on the mountain bike again. I enjoyed it so much, I decided to give enduro racing a try this year. While the foes is a great trail bike, it is a little under gunned for enduro so I got an instinct bc to race. The only older parts on it are the hayes stroker brakes and SRAM x7 front mech (both work perfectly so there was no need to change). This would be an awesome bike for someone who wants a great riding frame with a fantastic build for a great price. This bike was ahead of its time with a slacker head angle and beefed frame for trail riding. I promise you this ride will blow away any thing else in this price range. I would love to keep it, but know that it would not get ridden enough to justify it. Bike does not come with pedals, and now has wtb seat. Anyways if you have any questions, shoot me a message and I will do my best to answer you.

Dec 31, 2011 at 12:45
Dec 31, 2011
Cedric Gracia Rides Andorra on a KTM 350 - Video
Cool video, there has been a strong link for years with moto and mtb's - it's all two wheels. Ktm owns the market in Alberta and BC as most of the Japanese manufacturers have not produced any thing new on the trail and enduro side for a long time. If you have the means, there 300 is considered the ultimate trail bike by most. And remember before you go knocking motos, a ton of riding areas were developed by them and they were some of the first to fight to keeping riding areas open. It may not be for you, but that does not mean its inherently bad for everyone. Happy New!!

Sep 9, 2011 at 0:39
Sep 9, 2011
KTM's Lineup Looks Promising – Eurobike 2011
Well, I think that anybody can complain about the bikes if they - don't use a truck to shuttle, or don't use a ski lift to get to the top of a run. If I could zip up a shuttle road with out a truck that would be awesome. This is far far from a dirt bike (about 40hp far). The price is crazy high right now, but kudos to ktm for increasing the options available to us. Instead of being close minded about something new, open your minds to innovation. This could be huge in the future for keeping riding areas open, its silent, non polluting, and a heck of lot less intimidating to a non downhiller than a diesel full of 10 bikes. Think farther than just today.

Mar 3, 2011 at 13:34
Mar 3, 2011

Feb 28, 2011 at 11:02
Feb 28, 2011

Feb 15, 2011 at 16:02
Feb 15, 2011
Norco's Prototype DH Bike Explained On Video
Hmmm, have you ever noticed a Honda motocross bike looks a lot like a Suzuki that looks like a Kawasaki that kind reminds me of a Yamaha. Could it be because instead of focusing on looks they focus instead upon performance? There is a reason most Motorcycles share similar design elements - because it makes the most sense. As Downhill research has improved it has allowed designers to come up with the most efficient and practical applications for bike design. They are only so many practical ways to do this, hence more and more designs looking similar to each other. I love a unique frame as much as anyone, but I love being able to faster, farther, and higher even more. I will always trade "looks" for performance any day of the week, and thats what the manufacturers are giving us. If you really need to look special because of the bike you ride, go buy a cruiser as that is what they were built for.

Selling
Oct 14, 2010 at 9:39
Oct 14, 2010

Selling
Oct 14, 2010 at 9:09
Oct 14, 2010

Selling
Oct 13, 2010 at 11:31
Oct 13, 2010
Load more...