chickenlassi
Member since Jul 13, 2004

Male / 49
Kelowna , British Columbia
Block user
Recent

May 25, 2020 at 19:33
May 25, 2020

May 25, 2020 at 18:08
May 25, 2020

May 18, 2020 at 11:39
May 18, 2020

May 18, 2020 at 11:27
May 18, 2020

May 12, 2020 at 17:28
May 12, 2020

Selling
Apr 27, 2020 at 18:38
Apr 27, 2020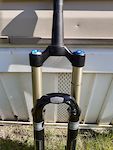 $200 CAD
So this is the story of 2 stories, one happy and one not as happy. The guy I bought this off of had a 2013 26in specialized Enduro. He bought it used from a friend of his and within the warranty period he found that the frame was cracked because it was carbon so it was replaced. 2013 was the last year of 26 in enduros so he was given unknowingly a frame with different wheel size. When he took it back to the shop and told them that his pedals keep hitting the ground what's wrong with it they scratch their heads and finally figured out Spesh gave him a 29 inch frame. So being an old guy with lots of money he bought new wheels and a new fork. And the old wheels and fork set in the garage until his wife said something. This is my extrapolation but I have a wife so it's certainly possible. So he put it on pinkbike and I wanted the wheels but I don't have a 15 mm fork so I bought it as a package deal. That's where the happy story ends and the sad story begins because while I was looking at the axle and everything else, no scratches on the stanchions, like new hubs, like new wheels a fork that's been well taken care of I didn't notice the tapered steerer tube. I have a Works performance 2 degree angle set in my Turner and in order to use his fork I need to get not just a new headset but lose 2 degrees of slackness. So to make a short story long I need to sell the fork so that I can find a 15 ta with a straight steerer tube. This is the talus model with 160 and 120 mm of travel. I'm sure it will go down to 120 from the 135 I show in the pictures but I was starting to make indentions in my vinyl floor so I didn't push any harder.

Selling
Apr 27, 2020 at 18:37
Apr 27, 2020

Apr 27, 2020 at 18:23
Apr 27, 2020

Apr 27, 2020 at 10:07
Apr 27, 2020

Apr 22, 2020 at 10:39
Apr 22, 2020
Load more...