clark
Member since Oct 11, 2000

Male / 46
Whistler , British Columbia
i like bikes.
Block user
Recent

Aug 10, 2023 at 10:51
Aug 10, 2023

Selling
Aug 10, 2023 at 9:55
Aug 10, 2023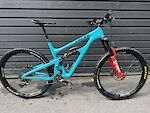 $3500 CAD
I have ridden this bike a lot for 4 seasons, the longest I've ever kept a bike, because I loved it so much. One of the first bikes with "modern" geometry, still very much "up to date". I'm picky about setup, so it's always kept in excellent mechanical condition. Zero bike park days or shuttling, 100% pedalling. The climbing position is comfortable, with fairly "neutral" pedalling characteristics, a good balance between support and minimal pedal kickback, a happy medium between a firm Santa Cruz and an active Specialized feel, for example. Its a confident descender, especially in rough terrain at speed. Good support but not harsh, especially with the Cascade link and coil suspension. I'm not a good enough rider to have found its upper limits. The big weakness on these bikes is paint, and mine is no exception - it has a lot of scars from some minor crashes, but nothing beyond just the paint. I haven't tried to hide them. Pivots are tight and smooth. Half the bearings were replaced last summer, including a new Switch Infinity link, the other half were included in the new Cascade link this summer, when I also serviced the Switch Infinity link. Avalanche-tuned Marzocchi coil shock with spherical front bearing, tuned for a 210-lb rider, a massive upgrade over the Fox X2 shock, which I can also include. Sprindex 450-500# spring. I've ridden it with and without the Cascade link, and I prefer the feel with it - a bit more support, especially at end-stroke, and a bit less feedback in rough terrain. Z1 coil 170 fork, my favourite of all the ones I've had on this bike (Lyric, Zeb, 36, 38). The CSU has just started creaking, but feels incredible, even with the simple damper. 2 softer springs included, very easy to swap. XO1 Eagle drivetrain in good condition. Code RSC brakes, recently bled. OneUp 210 mm dropper still running strong. DT Swiss XM-1501 wheelset (not pictured), slight rear rim wobble, but no flat spots or dents, smooth bearings and freehub, solid spokes. Lots of tires to choose from, current running DHF front, Dissector rear for summer. Have Assegai/DHR2 for slippery winter conditions, and various others which I can include. Stem/bar: Chromag Ranger 50mm and Fubars 40mm riser. Also have Raceface 35mm stem with Yeti carbon 800mm bar. I have a new bike coming, so hoping to pass this one along to a good home.

Oct 9, 2022 at 17:27
Oct 9, 2022

Selling
Oct 9, 2022 at 17:25
Oct 9, 2022

Selling
Oct 9, 2022 at 16:20
Oct 9, 2022
$1250 CAD
Nearly new, only a few rides, looks mint, zero scratches. Feels lovely, much stiffer chassis than old lyrik, but I would prefer a Zeb (would consider a trade). Steer tube 7.25".

Oct 2, 2022 at 15:03
Oct 2, 2022

Selling
Oct 2, 2022 at 14:57
Oct 2, 2022

Jun 16, 2022 at 9:33
Jun 16, 2022

May 14, 2022 at 12:37
May 14, 2022

Selling
May 14, 2022 at 12:36
May 14, 2022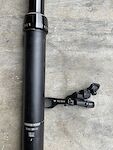 $100 CAD
Used briefly, replaced with longer travel post. Works great, smooth action, no play. Includes remote with SRAM Matchmaker fitting.
Load more...