davidvonslingshot
Member since Aug 25, 2008

Male / 50
Ottawa , Ontario
Block user
Recent

Mar 21, 2022 at 8:01
Mar 21, 2022

Selling
Mar 21, 2022 at 7:58
Mar 21, 2022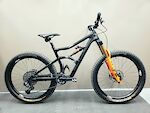 $7850 CAD
Frame has been ridden 4 or 5 times since warranty replacement (old frame cracked at seatpost collar) Fully wrapped from new. Fork was also new when frame arrived. XX1 AXS group. ENVE Bar Stem XTR9120 Brakes i9 Rear hub, litebicycle carbon wheels with ENVE decals Price does not include the pictured AXS dropper, I will install a 150mm brand new reverb post --- AXS dropper is an upgrade for $650 more. Injury prevents me from riding it.... buy it before I change my mind. will NOT part out

Selling
Feb 19, 2022 at 11:42
Feb 19, 2022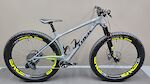 $6125 CAD
Frame - NEW. Size "L" which the rear sliders say 18.5 but please check the Trek website for proper geometry to confirm fit. Fork - Rockshox Pike, fresh oil in October Bar/Stem - 70mm Bontrager Line Pro and carbon 35mm x 760mm bar (Stock) and new silicone grips Brakes - NEW Shimano XT 9120 4 piston - pads bedded in Dropper - NEW Rockshox Reverb 150mm with stealth remote Saddle - Bontrager Montrose (stock used) Crank - Truvativ 175mm (stock used) with New 34t 12spd AXS ring Chain - 12spd XO (97km as per strava) Cassette - Eagle 12spd XO 10-50 (97km as per strava) Rear Der - AXS XX1 (97km as per strava) Wheels - NEW Litebicycle 50mm carbon with DT Swiss 350 boost hubs with custom ENVE decals, they are NOT ENVE. Tires - Bontrager XR4 Tubeless (97km as per strava) Cages - Elite (97km as per strava) shipping on your dime, no problem. check other ads for more info

Feb 10, 2022 at 18:23
Feb 10, 2022

Selling
Feb 10, 2022 at 18:22
Feb 10, 2022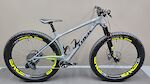 $6125 CAD
*Warranty replacement frame is brand new* **components are either new, or 97km of use as identified in ad** Frame replacement took way longer than anticipated, and accumulated way too much stuff while waiting so blowing this out. weight as pictured is 28.0lbs Frame - NEW. Size "L" which the rear sliders say 18.5 but please check the Trek website for proper geometry to confirm fit. Fork - Rockshox Pike, fresh oil in October Bar/Stem - 70mm Bontrager Line Pro and carbon 35mm x 760mm bar (Stock) and new silicone grips Brakes - NEW Shimano XT 9120 4 piston - pads bedded in Dropper - NEW Rockshox Reverb 150mm with stealth remote Saddle - Bontrager Montrose (stock used) Crank - Truvativ 175mm (stock used) with New 34t 12spd AXS ring Chain - 12spd XO (97km as per strava) Cassette - Eagle 12spd XO 10-50 (97km as per strava) Rear Der - AXS XX1 (97km as per strava) Wheels - NEW Litebicycle 50mm carbon with DT Swiss 350 boost hubs Tires - Bontrager XR4 Tubeless (97km as per strava) Cages - Elite (97km as per strava) **wheels are DT Swiss 350 on litebicycle with ENVE60forty decals** Stock wheels are still available Duroc 50mm on Bontrager hubs with XD driver. WYSIWYG Frame was completely custom wrapped. No trades, no stories, no "gotta get permission from XyZ" No paypal either, willing to do facetime/whatever to ensure you are comfortable with your transaction before sending monies over but Paypal is a nightmare and I'm not willing to entertain it or krypto either. Sorry. Lengthy history of selling high end new/extremely well maintained cycling goods. NOT negotiable. **NEW $$$** Stache was discontinued, which is a sad thing. 29+ rocks to a level you have to ride to understand. Plush, but snappy. I have way too much stuff here, so this is nearly brand new - someone should enjoy it. Happy to box it up, shipping costs are nuts - so please do a quick quote on bikeflights from Ottawa Canada to your destination to see what you are in for. Happy to send it to myself so you don't get taxed if going over borders. peace.

Feb 7, 2022 at 5:51
Feb 7, 2022

Selling
Feb 7, 2022 at 5:48
Feb 7, 2022

Jan 31, 2022 at 9:04
Jan 31, 2022
RideWrap Releases Dealer Software for On-Site, On Demand Protection Kits
Again, I find it hard to conceive that shops can do this in a relatively dust/dirt free environment in a timely manor to make money. How quickly can even the best install this pre-cut kit on a full suspension mountain bike for instance? Those suggesting mobile installers - same deal - how on earth would you have the space and contaminate free area to do so. The cutter being small enough to get tucked away...... these items are dust sensitive. Even if covered, the lifespan in a shop environment would be quite subjective....... Wrapping your bikes - yes. Suggesting this business model..... questionable.

Jan 31, 2022 at 7:04
Jan 31, 2022

Jan 27, 2022 at 18:57
Jan 27, 2022
Load more...
Featured
Video by TheFEST