dragonsback79
Member since Mar 4, 2009

Male / 44
Irvine , California
Block user
Recent

Mar 14, 2023 at 8:12
Mar 14, 2023

Selling
Feb 2, 2023 at 13:35
Feb 2, 2023

Dec 1, 2022 at 8:46
Dec 1, 2022

Sep 16, 2022 at 9:21
Sep 16, 2022
GoPro Launches the Hero 11 Black & Mini
Sweet, high res shots so I can post all the illegal trails I ride for every weekend warrior to find and drag tire down. I hope the next gen has GPS coordinates built in.

Aug 23, 2022 at 9:41
Aug 23, 2022

Jul 5, 2022 at 9:55
Jul 5, 2022

Selling
Jul 5, 2022 at 9:55
Jul 5, 2022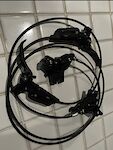 $300 USD
2 months old This is for the set, front and rear Excellent shape with zero issues. Take off from my new bike, roughly 10 rides on em. Will include both rotors for another $50

Jun 13, 2022 at 15:20
Jun 13, 2022
Video: Aftermath of the Laguna Beach Fire on Sewer Drop with Richie Schley
@Bertrude: No, that trail (s) was raped as well by them. It's one thing to come ride and have fun, its another to come, ride, have fun and maybe pick up a shovel and give back. Always nice to feature trails on your IG, have a TON of riders come after, ride it and just leave it destroyed. But that's how things are now.

Jun 13, 2022 at 8:16
Jun 13, 2022
Video: Aftermath of the Laguna Beach Fire on Sewer Drop with Richie Schley
Please don't follow this guy on IG, he does this all the time. Has lived here part time for years and is STILL INSENSITIVE to any local etiquette FFS. And please remove this AD, it's going to cause SO much more damage than you guys are aware (Outdoor). These KOOKS deserve to be popped by the rangers and OC Fire, and everyone else surely to go there today and just destroy the area. Thank you Outdoor for the wonderful work!

Selling
May 16, 2022 at 9:12
May 16, 2022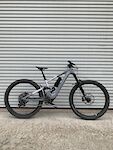 $9000 USD
2022 Specialized Kenevo SL Expert Size: S2 (if you are 5'8 and below, this is your size) The frame is in EXCELLENT shape with no scratches or dings in the carbon. The bike is 10 months old and was ridden, so normal wear and tear for that period. The battery is in excellent shape, and so is the motor and has all the latest updates. I am selling my Kenevo SL, I am the original owner and it's never been registered. Warranty is all you. I will give you the original receipt. ***NEW SRAM EAGLE XG 1295 CASSETTE, SRAM XO1 Oil Slick Chain and FRONT WOLFTOOTH Chainring. These items have less than 5 rides on them.*** Fox 38 Performance Elite 170mm Fork Fox X2 Float Elite 170mm Rear Code RS Brakes with 220 rotors front and back One Up Seat Post Dropper 150mm Roval Traverse Alloy Wheels with DT Swiss hubs, rear has been upgraded to 54 Tooth ratchet internals. SRAM GX AXS Rear Derailleur. Wireless Deity Carbon 780mm Bars Original Deity Knuckleduster grips *RANGE EXTENDER NOT INCLUDED. This model did not come with one. Please do your research on the Kenevo SL before buying. The SL stands for super-light. This eBike weighs in around 40lbs and has 2x your power or 35Nm/240 Watt Battery. If you want a full power 4x you motor...look at a regular 53lb Levo. This bike rides like a regular mountain bike, feels like one, BUT it also feels like you are a PRO rider on the climbs and always in shape. It's very nimble and responsive. This bike simply destroys the DH. There is nothing else I'd rather have. It's planted and responsive. I am 5'8 and it fits me like a glove. Any questions, please ask me! Happy to help! Thank you
Load more...