"A Big Year" Casey Groves' 2010 Video presented by Troy Lee Designs and a sit down to learn more about Casey and what's instore for 2011.
Age
: 19
Hometown
: Kelowna BC Canada
Height
: 5'7
Weight
: 165lbs
Sponsors
: Transition Bikes, Troy Lee Designs, Rockstar Energy Drink, Fox Racing Shox, Gravity, Industry Nine, Pinkbike.com, Straitline Components, Geax, Demon Dirt, Five Ten, Sensus, Chromag, TSG International, Spy Optics, Camp of Champions, Cyclepath Kelowna, Pinnacle Elite Athlete and Beach Travelers.
Where did you grow up
?
I grew up in Kelowna BC and still live here to this day. I don't think I will ever leave here, it's perfect and right in the middle of the best riding in BC.
How did you get into Mountain Biking
?
All the kids in the neighborhood rode bikes and we had a little jump on the corner of my road. I would watch them for hours on end, going over and over this little lip with no landing, I was amazed and fell in love with bikes at that moment. Believe it or not...I used to hate riding a bike!
And how old were you when you started riding
?
I started riding mountain bikes when I was 12 or 13.
How did you first get introduced to TLD and/or Troy
?
Cam Zink introduced me to TLD. I remember at Crankworx, right after the awards, Zink and I were talking and I said I would love to ride for TLD and it would be a dream come true basically. After a few emails and text messages, the next thing I knew I was in contact with TLD and being asked for my clothing sizes. Thanks Cam!
How long have you been riding for TLD
?
I have been riding for TLD for nearly 4 months now!
Which TLD products are you using
?
You will see me wearing TLD T-shirts, shin guards, the D3 & D2 Helmets as well as a few race kits!
Do any athletes/riders influence or inspire your style
?
When I grew up watching MTB videos I was inspired by Cameron McCaul & Darren Berrecloth. I basically took the two of them and produced me!
What do you like to do when you're not riding
?
I like to chill with my friends, go camping, work on vehicles, basically all outdoorsy stuff.
What bands/music are you into
?
To be honest I like everything except Heavy Metal or Any Metal.
List three goals you have for the upcoming season
:
My first and main goal is to have fun! Second up is to podium every event again. Lastly I want to create a BADASS segment in Barred for Life 2!
List a few highlights of your career
:
1st place Whistler Air Affair – that's where it all started for me
1st place Crankworx Best Trick 2008 – break through year
3rd place Crankworx Slopestyle 2010!
9th place FMB world tour 2010!
What's your favorite race/event and why
?
I would have to say Goatstyle Bike Jam because it is so chill, but at the same time it's now a main event. It's rad to be able to have fun and still compete for the top spot without too much pressure.
What's your idea of an epic day of riding
?
Hmm, I will develop my epic day here at home. First I will go to Subway and grab a foot long cold cut with cookies and a medium fountain drink, then head to Dreamland to dig. Once I'm bored of shoveling I would ride with my close buddies on the hip line and step up, then come around dinner time we would go ride Postil or Vapor DH trails, finishing by driving directly to the beach to clean off the day's dirt and go home! I can't wait for those days again!
What's the best thing about being a professional athlete
?
All the cool places you get to go and all the friends you get to meet along the way!
If you weren't a professional athlete, how would you want to spend your time
?
Honestly I would most likely be in school right now taking biology and marine sciences. I wanted to become a diver and marine biologist before riding became a career.
If you were running things, what would you change about the industry
?
I would change the lack of respect there is for a lot of the athletes as well as promote the builders out there, without them…we wouldn't be riding!
Who would you like to thank
?
Anyone who has ever given me a compliment, tip, or criticism. It has made me learn and get me where I am!
Any words of wisdom
?
Stay in school and Don't do drugs!
Talent is 25% of a professional, determination & passion are the keys to achieving the other 75%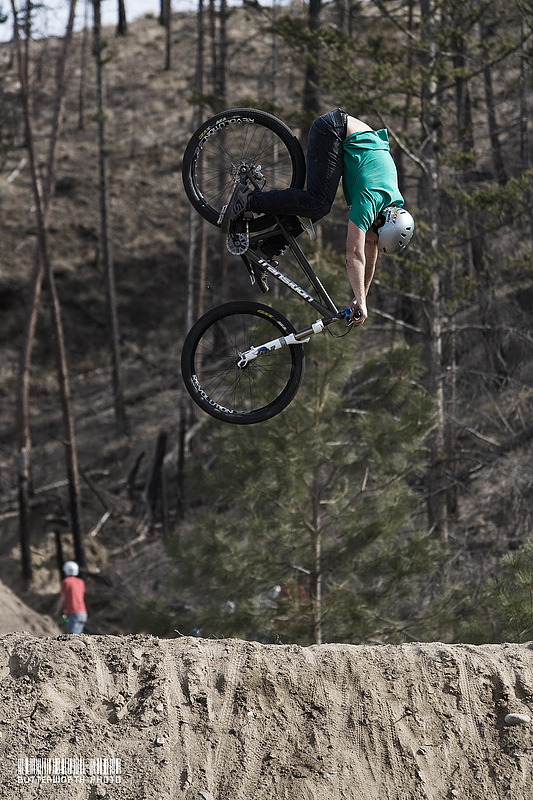 All pics by
Matt Butterworth
.